Cordless hair trimmers are convenient. It removes the cable clutter and it allows you to trim your hair on the go. The best cordless hair trimmer can be used anywhere as long as the battery doesn't run out of juice. If you're looking for the best options, we've reviewed 3 of the bestselling trimmers in the market.
CORDLESS
TRIMMER
TRIMMER
BRAND
EXPERT
RATING
CHECK PRICE
Panasonic ARC5
Electric Razor and
Trimmer

Check Price

Wahl Lithium-Ion
Cordless Haircutting
Kit

Check Price

Andis Slimline Pro
T-Blade Trimmer

Check Price
Before anything else, let's discuss some points first.
Cordless vs. corded trimmers
Deciding between a cordless and a corded trimmer seems easy. Cordless types are convenient, so it seems like a default choice. Still, we have to consider some factors here.
Although convenient, cordless trimmers can only last for a specific period and it needs to be recharged. If you run out of power in the middle of your grooming, you'll need to wait until it recharges or you'll have to plug it to an electrical outlet.
Also, once the battery dies, you'll have to get a replacement or purchase another trimmer.
On the upside, cordless trimmers are unbeatable for traveling users. Also, since it's cordless, you can use it on the tub or sink, so you don't have to deal with the mess on the floor.
Aside from that, many cordless trimmers are waterproof and can be used through running water. This makes cleaning easy.  
Benefits of using a cordless trimmer
✂️Use it anywhere
Since you no longer have to deal with cords and being stuck on the electrical outlet, you can trim anywhere. You can trim outdoors so you don't have to deal with cleaning.
For the traveling user, the best cordless clippers and trimmers are indispensable. It's like having a barber in your luggage. You can freshen up and re-touch your look without the need to go to a salon or barbershop.
✂️Flexibility
Cordless trimmers come with different combing guards that let you trim in various lengths. Some will even have nose and ear trimmers.
Since you can adjust the trimming length and speed, you can use a cordless trimmer in various applications.
✂️Perfect or body grooming
If you need a beard, head hair, and body hair trimmer, a cordless unit is a good choice. The lack of cord allows you to run it all over your body. Also, it cuts the risk of electrocution, more so if you're using the trimmer in the bathroom.
Some disadvantages to keep in mind
As much as cordless hair trimmers are useful and convenient, you should remember that it has its limitations. It will run out of power and you'll need to plug it to the nearest power outlet to work. Most of the time, you can still use it while plugged, but you can't use it with the same ease when it's fully charged.
Also, you'll have to replace the battery every now and then.
What to look for
When purchasing a cordless hair trimmer, you should look for the following aspects:
✂️Motor power
If possible, look for a motor with variable speed. This will let you trim in various speeds and settings. Through this, you can use the trimmer on various hair types and you can also share it with the other members of the household.
Also, you'd want a clipper with the most power in it. Although it's a rechargeable type, many major brands produce high-powered hair trimmer that can compete with corded counterparts.
✂️Durable frame
Hair trimmers will take the beating of daily use. It's why we recommend that you purchase one with a durable metal frame. This guards it against chipping and damages should it fall or gets exposed to blunt force.
A durable frame will guard the motor and battery to ensure optimal performance. You can also look for rubber grips for an ergonomic trimming experience.
✂️Blade quality
If there's one thing you should really be meticulous about, it's the blade of the clippers. Most of the blades used on hair trimmers nowadays are made of either high-carbon steel or stainless steel. Both are durable and retain the edge for long.
However, high-carbon steel blades are prone to rust. It's best to opt for a stainless steel blade if you can't find a titanium-coated carbon steel version.
✂️Water resistance
Since you're going to use the trimmer on the bathroom, it's essential that you choose a water-resistant model. This prevents electrocution and it makes cleaning a total breeze. It's best if the whole trimmer is washable.
✂️Battery life
When it comes to cordless trimmers, battery life is a make or break part. You'd want one that can last for at least 30 minutes per charge. Most of the time, Lithium-ion batteries are used on trimmers since it's long-lasting than other types. Some trimmers use Ni MH batteries which runs out of juice but still decent enough to last a grooming session.  
✂️Trimming guards
Hair trimmers can come in either a solo item or a grooming kit. Grooming sets have multiple trimming guards that allow you to trim your hair in different lengths.
You can also look for other accessories like a nose or ear trimmer, pouch, and more.
3 Best Cordless Hair Trimmer Options
OUR TOP PICK: Panasonic ARC5 Electric Razor and Trimmer
Power

Performance

Value for money
Summary
What we really dig about this trimmer is its powerful motor equipped with a Linear drive. This delivers about 14,000 cuts per minute and its cutting power remains on top until the charge runs out.
Aside from that, we like the sophisticated 10-stage LCD display that projects the charge level. Also, it has an automatic cleaning feature that you can use in a press of a button. If you're always in a hurry, the ARC5 Trimmer could be the right choice for you.
Also, you can engage the pop-up shaving trimmer with a push of a button.
Pros
-30° Nanotech blades
✔️Multi Flex Pivoting head
✔️Active Shave Sensor Technology
✔️The battery lasts for 2 weeks in between charges
Cons
❌The rectangular shaving area takes some time to get used to
RUNNERS-UP
Wahl Lithium-Ion Cordless Haircutting Kit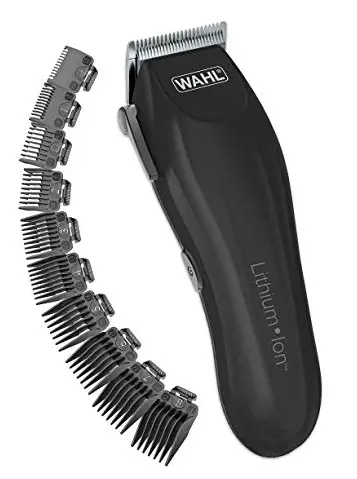 The Wahl Haircutting Kit comes with the self-sharpening precision blades that can kill any type of hair. The multi-cut clipper has a taper control that gives you the freedom to trim with the length that you want.
Be it your beard, hair, or body hair, you can use this chic Wahl Trimmer. This can run for two hours in between charges so you can groom your body in just one go. Also, its Lithium-ion battery holds the charge up to a year when not used.
This kit comes with 10 Secure Snap attachment guards and ear taper guards so you can trim with no worries. Aside from these accessories, the kit comes with blade oil, blade cleaning brush, cleaning cloth, and a storage case. Make sure that you oil the blades before every use.
We really like its fast-charging batteries. If you're in a hurry, a 15-minute charge will go a long way on this trimmer. Overall, the 2-hour performance will require a charge time of 3 to 5 hours.
This trimmer is compatible with 100 to 240 volts.
PROS
✔️2 hours of runtime per charge
✔️The battery holds the charge up to a year
✔️Works for all types of body hair
Andis Slimline Pro T-Blade Trimmer

The Andis Slimline Pro T-Blade Trimmer has an ergonomic and balanced design perfect for dry-shaving. It sports a rotary motor with excellent power, speed, and life that's rare for a cordless unit.
This is powered by a Lithium-ion battery that can last for 2 hours with a charge time of 2 hours and 15 minutes.
What we really like is the close-cutting T-blade that could be zero-gapped. This is why barbers use many of Andis Slimline's trimmers. Also, we love that it has a charging dock that skips the hassle of fumbling with the charging cord.
Another big thing about this trimmer is it can hold its charge even if left idle for weeks. And when zero gapped, boy, the sharpness is unbeatable.
PROS
✔️Powerful battery
✔️Close-cutting T-blade
✔️Zero gap mode for better trimming
CONS
.
❌It labors a bit when trimming very thick hair

Final words
The best cordless hair trimmer is a great investment when you want to up your manscaping. Make sure that the features match your needs. Nevertheless, the 3 options we reviewed here are reliable and will last for years.
So what do you think of these cordless hair trimmers? Let us know below in the comment section!