Growing a thick beard isn't always a smooth experience. Like your head hair, it can also experience "bad hair days". The key here is to trim it regularly and to use the best beard trimmer for thick beards. For excellent beard care, we've scouted the best trimmers in the market. Check which one makes a solid set for you.
BEARD
TRIMMER
TRIMMER
BRAND
EXPERT
RATING
CHECK PRICE
Philips Norelco
Multigroom Series
7000

Check Price

Panasonic Cordless
Men's Beard Trimmer

Check Price

Wahl Groomsman
Rechargeable Beard
Trimmer

Check Price

Hatteker Men's Beard
Trimmer Grooming
Kit

Check Price

Remington PG6025
Battery-Powered
Beard Grooming Kit

Check Price
Why use a beard trimmer?
Trimming a thick beard may sound counterintuitive, especially if you want to make it lush. In the course of growing a beard, there's one point where you'll need a handy trimmer. Beard growers are very much familiar about "The Itch".
Also, the tips of your beard hair may grow split ends, which will may it look unkempt. It keeps your beard well-groomed. Besides, you only have to trim a few millimeters or centimeters at a time.
Beard Trimmer Buying Guide
If you're looking for a beard trimming kit, we recommend that you consider the following points first:
✂️Power
The trimmer's power refers to its overall torque. If you're purchasing a trusty trimmer, you would want a unit with lots of power in it. More power means you'll get more hair in just one pass. It saves you from lengthy grooming time and with more precision.
✂️Speed
Always look for a trimmer with variable speeds. This lets you use the trimmer not just in your beard, but also in your head hair. Also, as your beard grows, you'll need different trimming speeds to suit the style that you want to achieve.
Sure, you can settle in a trimmer with a single speed, but think twice of its sustainability in the future. If you can purchase another set in a year or two, then we don't have major issues here.
✂️Dry vs. wet trimming
Some beard growers opt to dry trim their facial hair dry. Sometimes prefer to trim it wet.
Usually, a thick and coarse beard is better trimmed dry. This type of beard looks different when it's dry than when it's wet. The shrinkage that wetness brings means you may not get the perfect cut.
Meanwhile, straight, thick beards can be trimmed wet, especially, if it's really long.
If you're a wet trimmer, you'd want a piece of equipment that can withstand moisture. Take note that not all trimmers are washable except its attachments, especially electronic types.
Although you can find water-resistant trimmers, it's not a good idea to trim with a dripping wet beard. It makes cleaning the trimmer a chore.
✂️Corded vs. cordless
One of the biggest considerations when purchasing a beard trimmer is whether it's corded or not.
Corded trimmers offer unlimited power as long as you have an electrical outlet nearby. Also, most of these models have higher torque.
However, corded models aren't convenient at all times. If you're traveling, it's best to get a cordless trimmer. It's handy and you wouldn't have to look for a power source.
Cordless trimmers are perfect for on-the-go users. Also, you no longer have to fumble through cable clutter every time you're going to use it.
Also, if you just want to re-touch your thick beard, a cordless type would suffice. You just have to recharge or replace the batteries once it runs out of juice.
✂️Length options
Just like its trimming speed, you wouldn't want a unit with only one length setting. Most trimmers come with various detachable combs to allow you to trim on various lengths.
Aside from removable guide combs, some units even come with a precision trimmer.
These adjustable length settings let you use the trimmer in every beard length. Also, if you decide to cut it short, you no longer have to purchase another unit just to get the exact length that you want.
✂️Build quality
You'd want a beard trimmer that can take the beating of daily use. A lot of buyers often overlook this part, especially when they got too hooked on the power and aesthetic of the trimmer.
As much as possible, look for one with a metal chassis. If you're choosing a plastic unit, it's best to look for a durable version.
Plastic frames are lighter and more affordable. Still, some won't last long. But then again, it all boils down on how you maintain and handle the trimmer.
✂️Blade types
Here's a quick look on each blade material and what type of beard it suits best:
*Carbon steel
If you want a sharp and long-lasting blade, carbon steel is unbeatable. However, it's not ideal for wet trimming since it tends to rust quickly. Since beard grooming happens in the bathroom, getting the blade wet could be unavoidable.
Carbon steel is the same material used in most knife blades. High-carbon steel is durable and very hard, so it has excellent edge retention. It also tends to be more affordable than other blade types.
Just make sure that you clean the blades thoroughly before storage to prevent the onset of rust.
*Stainless steel
Stainless steel is the best option for those who are trimming their beard wet. It's also ideal for thick beards. However, it's softer than carbon steel blades and tends to lose its edge a tad quicker.
Since it's softer, the edge is easy to sharpen. When it comes to toughness, we can say that stainless steel is much better than carbon steel. It doesn't chip or stain easily. It's tough, but not necessarily hard.
*Titanium-coated carbon steel
If you have the money to splurge, you're better off with titanium-coated carbon steel. It bears the hardness of carbon steel but paired with titanium to make it rust-resistant.
The only downside here is the hefty price. Aside from that, this is worth the purchase.
*Ceramic
One of the latest blade types is ceramic. It offers premium cutting quality and durability. And since it's ceramic, it will never rust. Ceramic blades also retain its edge longer, about 10 times than most steel blades.
Also, since ceramic blades are non-porous, it has a lower chance of bacterial growth. However, it may also cost more than the usual steel blades.
✂️Available accessories
Every trimmer comes with a set of accessories. It usually includes comb cutting guards, blade oil, edgers, vibrissae clipper, and so on.
The more accessories there are in the kit, the more expensive it gets. Still, it saves you from the need to purchase the items separately. You can look for a kit with accessories that matches your need.
✂️Noise level
No one wants a beard trimmer that sounds like a wrecking machine. Look for a unit that has a low buzz that's quiet enough not to hurt your ear.
TOP 5 BEARD TRIMMERS
OUR TOP PICK: Philips Norelco Multigroom Series 7000
Edge Quality

Reliability

Value for money
Summary
The package contains 14 trimming guards and a vibrissae clipper attachment. It also comes with a charging cord and a charge indicator. Also, you can operate it as both a corded and cordless trimmer.
What we really love about this trimmer is its stainless steel frame with a rubber detailing. This is also fully washable and you don't have to worry about ruining the electronics.
Overall, this is compatible with 100 to 240V, a perfect choice for both home and on-the-go use.
Pros
✔️Can be used as a corded and cordless trimmer
✔️Comes with 14 different trimming guards
✔️Self-sharpening blade
Cons
❌Not the ideal trimmer for your private parts (it can cut!)
RUNNERS-UP
Panasonic Cordless Men's Beard Trimmer

If you're obsessed with precision, the Panasonic Cordless Men's Beard Trimmer is the ideal choice. It sports a Precision 45 Degree blade that trims in a super-sharp 45-degree angle. These stainless steel blades are hypoallergenic and will deliver a smooth trim on your thick beard.
This best beard trimmer for thick beards allows you to groom your beard in 39 different precision settings, including detailing, sculpting, cutting, and trimming.
This Panasonic trimmer has a cordless operation powered by a Ni MH battery that can run for 50 minutes per charge. Overall, this trimmer has an ergonomic rubber and plastic frame that's easy to grip. Also, it's very convenient to clean using warm water.
You can use this trimmer both in wet and dry trimming. Moreover, its quick-adjust dial lets you change grooming lengths in a snap. However, it only comes with one guard, which isn't a big issue since the trimming length is adjustable on the trimmer itself.
The only gripe we have is it takes hours to charge. Still, we can forgive that part considering the design and technology of this unit.
PROS
✔️39 precision settings
✔️Quick adjust dials from 1 mm to 10 mm
✔️45-degree angle blades
CONS
.
❌Only lasts for 50 minutes per charge
.

Wahl Groomsman Rechargeable Beard Trimmer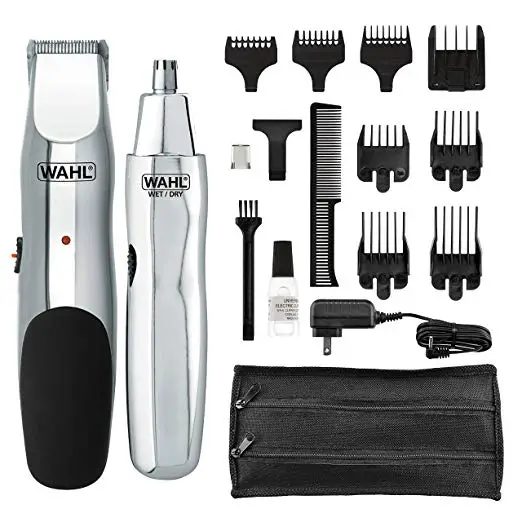 Wahl is a popular grooming brand and for a good reason. Their Groomsman Beard Trimmer set is a powerhouse tool for every bearded guy. It sports high-carbon precision-ground blades that stay sharp for long with a self-sharpening nature.
This Wahl Trimmer has 14 cutting lengths that allow you to achieve various beard styles. It offers trimming lengths from 1/16" to ½". You'll also get a bonus ear and nose trimmer.
The main trimmer has a 6-position beard regulator with 3 stubble combs and 4 hair guide combs. All of these accessories can be stashed into the travel zipper pouch.
Also, what we like about this Wahl trimmer is it suits dual voltage settings. If you're traveling, this is a handy kit to keep your beard suave for all occasions.
This Wahl set boasts a cordless operation on its chic stainless steel frame with rubber grips.
We've tried using this on chest hair and it worked well. Based on our experience, you can use it on your body, except where the sun doesn't shine.
PROS
✔️Self-sharpening high-carbon precision-ground blades
✔️Nose and ear trimmers included
✔️14 trimming lengths
CONS
.
❌A bit louder than other trimmers
.
.

Hatteker Men's Beard Trimmer Grooming Kit
The Hatteker Men's Beard Trimmer Grooming Kit level up your beard grooming experience. It has self-sharpening blades that don't rust or irritate the skin. Also, it bears a digital charge indicator so you can quickly check if your tool needs to be recharged.
Aside from that, this set comes with 12 attachments to suit your beard grooming needs. The trimmer is powered by a Lithium-ion battery that can run for 60 minutes per charge. You can re-charge it on an electrical outlet or your laptop.
Also, the whole trimmer is washable together with all the attachments. If you want to store it on your cabinet, you can purchase the dock tray separately.
The package comes with a USB charging cord, nose and ear trimmer, and a manual. It's pretty stable but don't expect it to cut you bald if you're planning to use it on your head. Anyway, the Hatteker set is an excellent trimmer for the price.
We also like that it's lightweight for such trimming power. And for the price, we don't have any major complaints.
PROS
✔️Digital charge indicator
✔️12 attachments for various beard styles
✔️Self-sharpening blades
CONS
.
❌It loses charge when not in use
.

Remington PG6025 Battery-Powered Beard Grooming Kit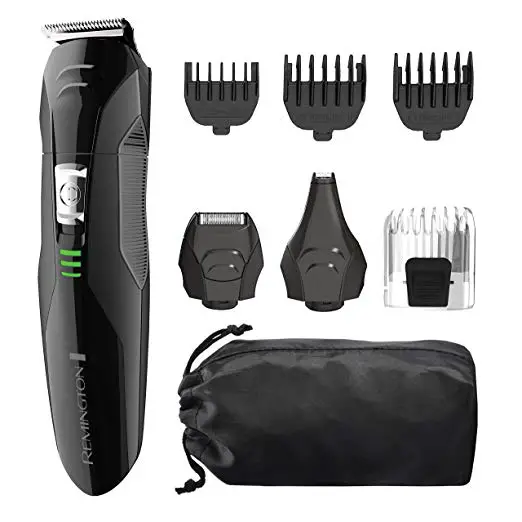 If you're on a budget, you shouldn't miss the Remington Beard Grooming Kit. It has 14 settings including nose, ear, and a detail trimmer. Aside from that, you will get 8 lengths of hair clipper combs including a stubble comb and a snap-on beard comb.
The Remington beard kit has a cordless operation powered by a Lithium battery. It can run for 70 minutes per charge. To monitor the charge, you can check the indicator light near the handle.
This best beard trimmer for thick beards is very convenient to use since all the attachments are washable. It also comes with a storage pouch so you can keep it handy when traveling.
The self-sharpening blades of this trimmer ensure that you'll get smooth and bump-free trims. It also gives you full control at any angle.
What we like the most here is it works well on the groin area. Just be careful since it can cut the skin if used hastily. Also, this can work as a corded trimmer as long as there's a little charge left before plugging it in.  This works for women for down there, too.
For such a low price, this set is already a steal. Based on its build, we can say that this can last for years. Just take note that only the blades and guards, not the trimmer, are washable.
PROS
✔️14 trimming settings
✔️Comes with ear and nose trimmers
✔️Can be used as a corded and cordless unit
✔️Works for the groin area (for both men and women)

CONS
.
❌The handle gets warm within 10 minutes
.
.

Frequently Asked Questions
Q: Are beard trimmers the same as hair trimmers?
A: Beard and hair trimmers have a lot of similarities. They only differ in cutting length and blade size. Hair trimmers usually come with larger blades to accommodate a larger area of the head.
Q: Does trimmer give clean shave?
A: Given that you have the right trimming guard, you can use the trimmer for a nice shave. A well-sharpened edge will deliver a smooth shave without bumps.
Q: How do you clean a beard trimmer?
A: After trimming your beard, place the blades and trimming guard in warm water a few minutes. Using a small brush, remove the hair and product (if you used any) from the blade. You can also use a blade cleaning solution or a mild soap. After that, dry the blade thoroughly to prevent corrosion and bacterial buildup.
Q: How do I lubricate my beard trimmer?
A: Just apply a few drops of blade oil and turn the trimmer on to spread it all over the blade. Before trimming, wipe the excess oil off using a clean cloth.
Q: Do trimmers cut skin?
A: If the trimming guard is on, it's unlikely that the blade will cut your skin. Still, you should be careful when handling the blades since these are very sharp.
Final words
If you're looking for the best beard trimmer for thick beards, the five picks we reviewed here are reliable choices. Make sure that you choose the right set with the right attachments to suit your needs. Also, make sure that you read our buying guide above.
What do you think of our personal picks? Have you tried any of it? Let us know below!