For those who aren't fans of waxing, epilators are heaven-sent. Sure, it hurts at first, but it's way better than the skin-ripping and unbearably painful wax. Still, beginners should know that using an epilator isn't a walk in the park. But with the best epilator for underarms and body, you can reduce the discomfort while getting all the hairs pulled out in a single pass.
Are you looking for your first epilator? Check my top 5 picks here:
EPILATOR
BRAND
EXPERT
RATING
CHECK PRICE

 My Top Pick! 


Braun Silk-épil 9
SkinSpa Epilator

Check Price

Braun Silk-épil 9 Flex
9-300 Epilator

Check Price

Panasonic ES-ED70-G
Epilator

Check Price

Braun Silk-épil 7
Cordless Epilator

Check Price

Philips Santinelle
Advanced Epilator

Check Price
---
Epilator vs. shaver
For newbies out there who are planning to switch to epilators, please note that this isn't a shaver. Shavers or razors trim the hair while keeping the portion in the hair follicle intact. Meanwhile, epilators pull the hair out, which is similar to waxing or tweezing. But unlike using manual tweezers, epilators pull large amounts of hair at a time. So yes, it's going to hurt and sting, especially on the first time you're going to use it.
While the two grooming tools look similar, it largely differs on the head. An epilator has rotating discs that resemble tweezers. As you glide the epilator through your skin, it pulls the hair out. Depending on the epilator you're going to buy, it can also pull tiny hair, which is why it's perfect even for underarms.
Meanwhile, shavers trim the hair. It can give a close shave, but it will still keep the hair inside the hair follicles. It will soon grow back, which you'll need to re-shave after a few days.
The choice between the two varies among women. If you want a permanent solution that will last for long, epilators are good choices. However, it may take time to get used, and you have to endure a slight sting.
Those with very sensitive skin may have problems with epilators. Still, you can find one designed to reduce the discomfort and irritation due to hair pulling.
---
Who should use an epilator?
To be honest, epilators are not for everyone, so use this at your own discretion. The first time I used an epilator, I almost send it back. But after a few runs, I saw the result, and I became comfortable with it later on. But if you're wondering if an epilator suits you, the following conditions might help you decide:
Those who are on a rush. If you don't have the time to apply shaving cream and manually shave your underarms and legs, an epilator is the answer. It will pull the hair in a single pass. The best part is that the hair will take longer to grow back than using a razor.
You're working on large areas. When it comes to your arms and legs, waxing can be pretty painful and time-consuming. You can use an epilator here to cover more skin for a shorter periods.
Those with sun sensitivity. One of the downsides of waxing is it tends to cause sun sensitivity on the affected skin. If you want to save yourself from the discomfort, it might be best to use an epilator.
Those with shorter hairs. Generally, epilators can pull hairs that are a quarter of an inch long at a maximum. This is usually more than enough for most ladies. However, if you're planning to pluck half an inch hairs, waxing might be more efficient, especially on large areas.
---
How to choose an epilator for underarms
There are a ton of epilators in the market and trust me when I say that not all of it works. I've tried cheap ones that pull hair like crazy as well as exorbitant options that are only as good as mid-priced units. So for you to find the best epilator for underarms, I recommend considering the following first:
✔️Wet or dry
Epilators can be used on wet, dry, or both skin. The beauty of wet epilators is you can take it in the shower and groom as you prepare for the day. Also, those who are new to epilators should get a wet plucking one so they can use it with warm water to ease the pain.
However, some ladies find it hard to grab all the hairs once it sticks to the wet skin. If you're also dealing with the same problem, you should get one made for dry skin. Nevertheless, most epilators in the market are rated for both, which is a big convenience.
✔️Number of tweezers
Each epilator has a specific number of tweezers on its head. Epilators with fewer tweezers will take more time to get all hair pulled, but the consolation is that the pain is less.
On the other hand, epilators with many tweezers will get the job done fast, but the catch is that it will be more painful. For those with sensitive underarms, epilators with fewer tweezers would be best.
✔️Areas you need to groom
Epilators are widely used on the legs and underarms. It's quite rare for women to use epilators for their bikini line because it hurts like hell. If you also need to groom these areas, look for an epilator bundled with razor or trimmer heads. This way, you only need to purchase one tool for a myriad of shaving or tweezing needs.
Meanwhile, if you're going to use the epilator on your face, look for one with a protective cap to minimize the pain.
✔️Speed settings
This one is very important, especially if you're new to epilators. Variable speeds allow you to groom different areas and to use the pulling power that you can tolerate.
✔️Battery power
Most epilators I've used in the past are cordless for portability. If you're going cordless, make sure that it will give you enough power to groom your underarms and other areas. I don't have a formula for this since epilators are more than just its battery life. But to give you an idea, 30 minutes per charge is already decent.
✔️Extras and attachments
While you're probably just looking for a decent epilator, aiming for extras wouldn't hurt. This will give you more value on your purchase. A great epilator kit would include a razor head, trimmer head, and even a brush head. Again, this depends on your preference since I don't really deem it necessary, especially if you have other tools in your kit already.
You can also find epilators equipped with a LED light so you can safely groom hard-to-reach areas.
✔️Design and shape
Epilators are very versatile tools, and it also comes in different shapes. You'd want one that's easy to hold and maneuver all over your skin. Others prefer a stout design while some ladies prefer a slim handle for big hands. Again, it depends on your preference. If you're epilating with wet skin, you should look for one with no-slip and ergonomic handle.
✔️Price
As someone who has been epilating for years, I highly recommend that you invest in an epilator made to last for years. The initial investment is higher, but you'll get to save more in the long run. In my experience, repeatedly buying replacement will cost more than splurging on a durable option.
---
Best Epilator For Underarms – My Top 5 Picks!
OUR #1 CHOICE
OUR TOP PICK: Braun Silk-épil 9 SkinSpa Epilator
Pain-free

Performance

Attachments

Battery Power

Value for Money
Summary
For those who are also planning to buy a razor, the good news is that the Silk-épil 9 SkinSpa Epilator also comes with a safety razor head. The package also includes brush protection caps, facial cap, trimmer cap, a smart plug, and pouch. It's a powerhouse grooming kit for a very reasonable price.
Based on my experience, this Braun epilator is less painful than other options I've tried before. I also like its Sensosmart pressure technology that guides the epilator for efficient hair removal.
Moreover, this has an extra-wide head so you can groom faster. It also sports the MicroGrip tweezer technology that grabs the shortest hairs that are as tiny as 0.5 mm.
Pros
Pivoting head
Works for both wet and dry use
50-minute runtime for every 1-hour charge
Cons
It takes a long time to get used to
RUNNERS-UP
Braun Silk-épil 9 Flex 9-300 Epilator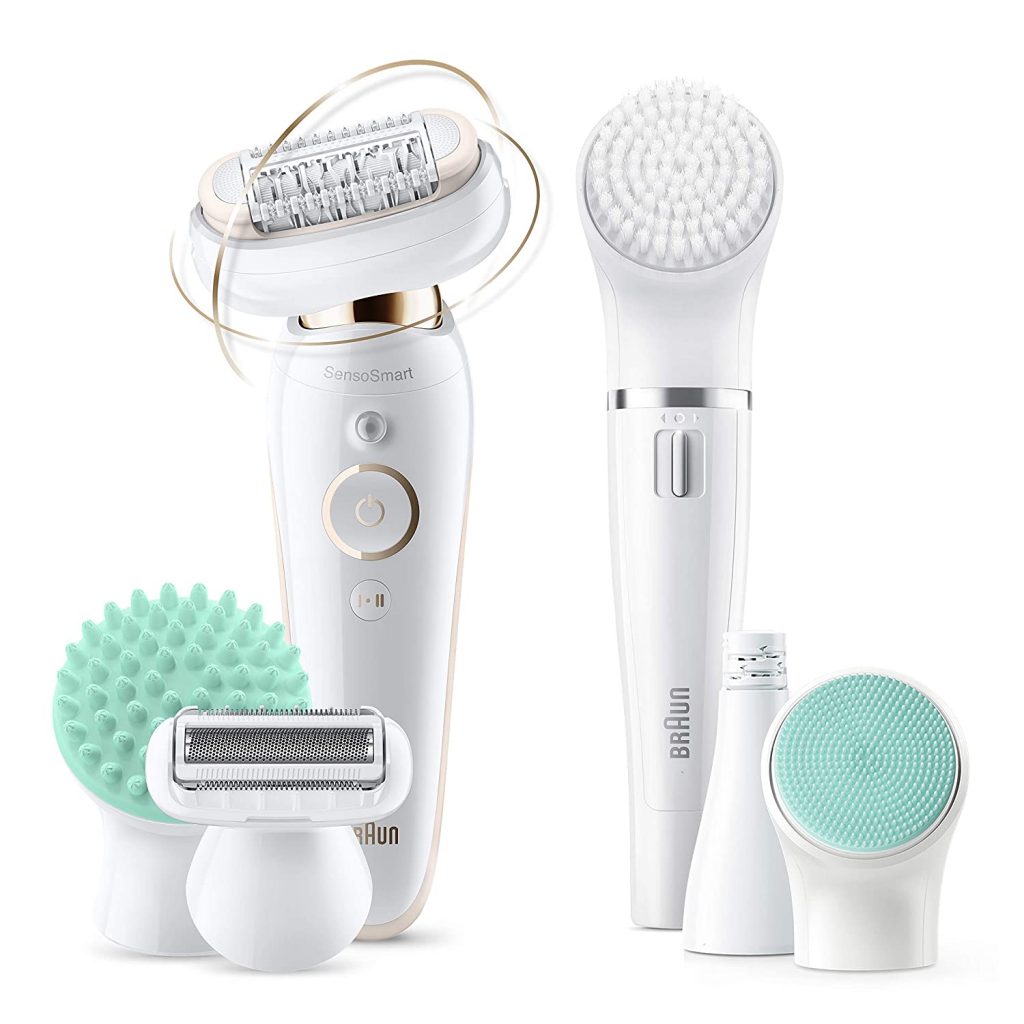 Another Braun epilator I swear by is the Silk-épil 9 Flex 9-300. This unit has a fully flexible head that conforms on the contours of your skin. It also has Braun's Microgrip tweezer technology that uses 40 tweezers to grab more hair in every glide. Through this, you will enjoy hairless results for weeks.
Aside from that, this has the same SensoSmart technology as the first Braun epilator I reviewed. This ensures that only the right amount of pressure is used on a specific spot on your skin. It's the reason why Silk-épil epilators are less painful than other options.
You will also get a facial epilator on a separate tool. The package also includes a shaver & trimmer head, body massage pad, trimmer comb, facial cap, skin contact cap, and facial massage pad. To complete the ensemble is a facial epilator cap and a facial brush. For a kit this large and functional, I won't mind splurging.
Back to the epilator, it's equipped with a Smart light that illuminates so you can see hard-to-reach areas. It also has a slim and tapering handle that's easy to hold.
Lastly, this epilator runs for 50 minutes for every charge. It also has two speeds so you can choose which works for you best.
---
Panasonic ES-ED70-G Epilator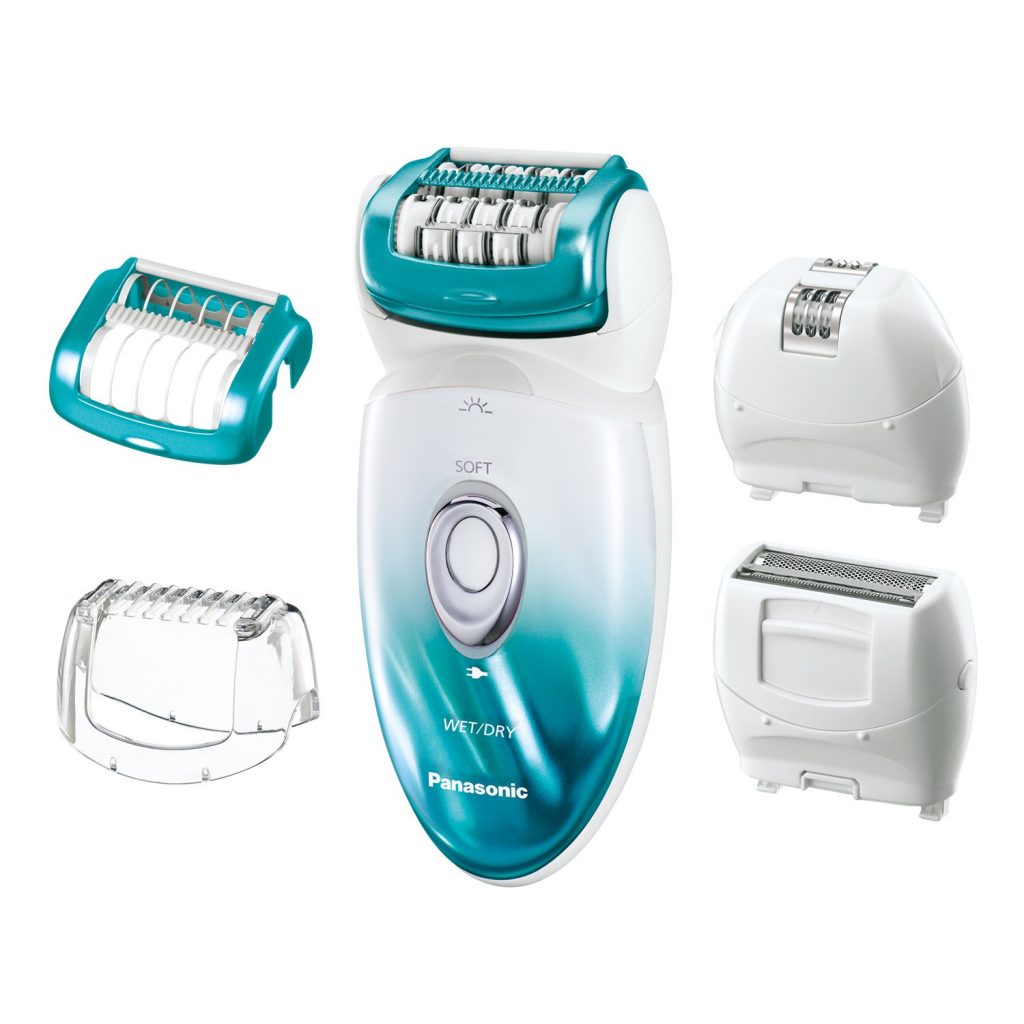 If you don't need a lot of extras, you should consider the Panasonic ES-ED70-G Epilator. This is a multi-functional epilator with a shaver head and snap-on hair remover aside from its main epilator head. I like that this is hypoallergenic, which suits those with sensitive underarm skin. You can also use the pop-up trimmer to shape your bikini line and remove stray hairs.
The epilator head has a dual-disc design that allows it to conform to skin contours. It works well on the arms and legs as well as the underarms. If you need to remove hair on gentle hairs, you should use the gentle epilator head instead. There's also a gentle epilator cap in the package that help grab short hairs without the irritation.
Moreover, this epilator is waterproof, so it suits both wet and dry applications. I also like that each charge lasts for 30 minutes of continuous epilating. If you're traveling, you'll be glad to know that this has a dual voltage motor that you can use anywhere. It also comes with a travel pouch so you can pack it right away.
---
Braun Silk-épil 7 Cordless Epilator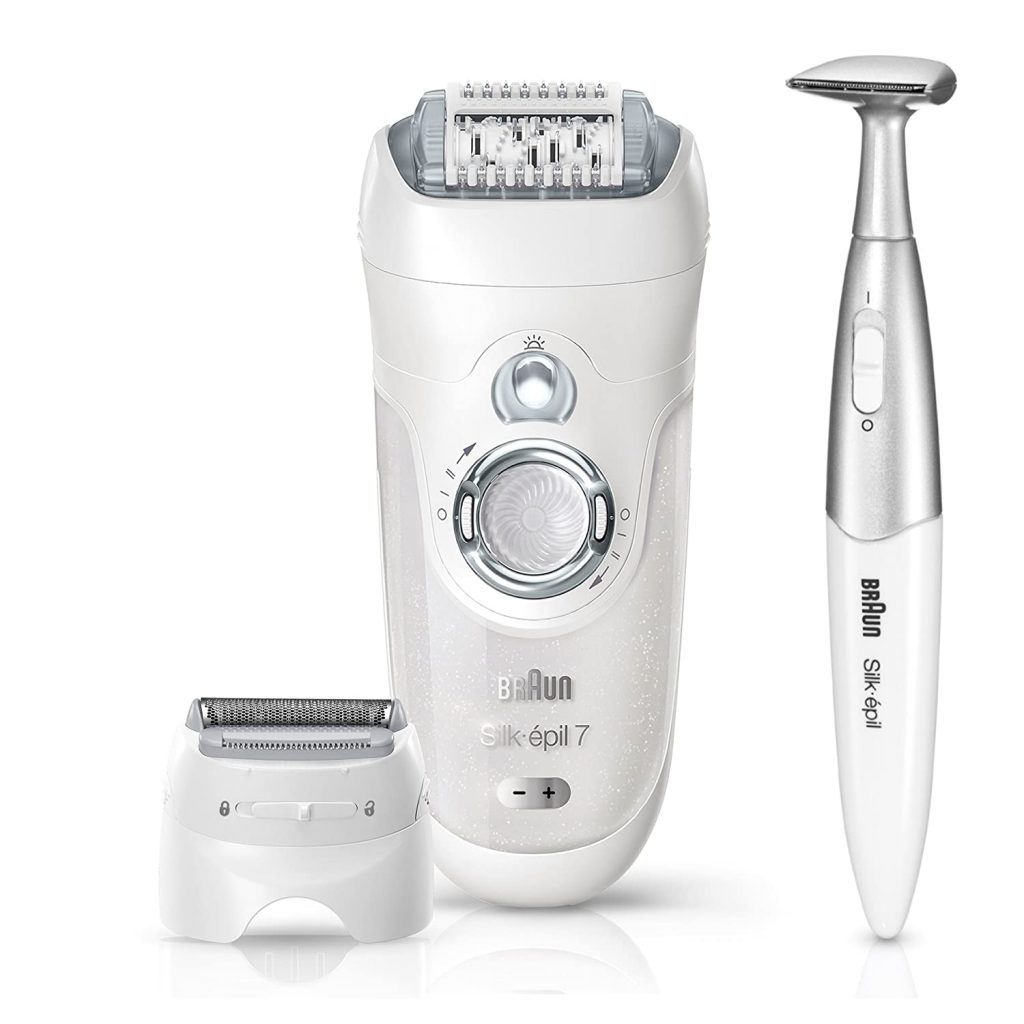 If you're looking for a cheaper Braun epilator, you'll never go wrong with the Braun Silk-épil 7. This removes hair that's four times shorter than what waxing can do. You will also get eight extra accessories that include a bikini trimmer.
This epilator is equipped with the CloseGrip technology with 40 tweezers on its head. It can remove hair as short as 0.5 mm for a smooth and clean finish. There's also a smartlight built on it so you can see armpit hairs much easier.
Aside from the epilator, you'll also get a precision trimmer that you can use on your bikini line. It's gentle and guaranteed to trim hair without pulling and snagging. You'll also receive a shaver head so you can groom your entire body without purchasing another tool.
For every hour of charging, you'll get up to 40 minutes of runtime. But unlike the Silk-épil 9, this model doesn't have the brush attachments. But for a lower price, I don't mind this minor difference. You can also use this for both wet and dry hair with limited pain.
---
Philips Santinelle Advanced Epilator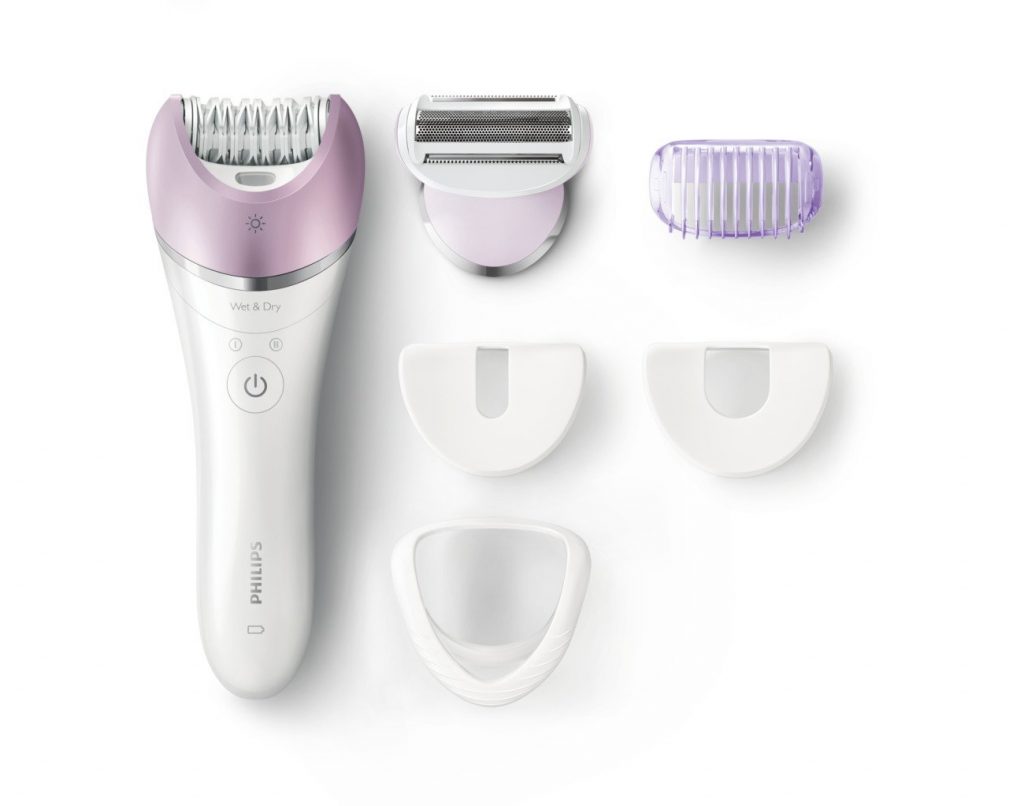 My last recommendation for the best epilator for underarms is the Philips Santinelle Advanced Epilator. This cordless tool works for your underarms, legs, face, and even the bikini line. This is possible through the addition of the foil shaver head that will help trim hair down there.
As for the epilator, you'll get a wide head with 32 ceramic tweezing discs. It rotates fast to capture a lot of hair on every pass. While it stings, the pain is tolerable once you acclimate on it.
There's also a LED light right under the blade. This will help you see underarm hair easier, as well as other hard-to-reach areas.
Aside from the two grooming heads, the package also includes five attachments to suit your grooming needs. You can also choose between two speed settings for the type of hair you're trying to remove.
For each charge, you'll get 40 minutes of runtime, which is more than enough to remove hairs from your underarms. For a low price, this epilator should be in every lady's grooming kit. It's not as fancy as Braun's, but it sure has its great features.
---
Final words
With the best epilator for underarms, you can now have a hairless finish that will last for weeks. There's no need for waxing or other expensive treatments. You can get your own epilator to remove underarm hair anytime you want.