I still remember the very first time I underwent Brazilian waxing. Boy, was it painful! I was teary-eyed, and I promised myself that I'd stick to an electric razor next time. A few years on, and I'm having an easier time using the best razor for Brazilian shave. It's LESS painful, and it provides a smooth finish – no more sore labia and painful regrets.
Here are my top 8 picks for Brazilian shave razors:
RAZOR
BRAND
EXPERT RATING
CHECK PRICE

 My Top Pick! 


Philips Bikini
Perfect Trimmer

Check Price

Panasonic Women's
Electric Shaver

Check Price

Philips Norelco
GoStyler Trimmer

Check Price

Remington Smooth &
Silky Trimmer

Check Price

Panasonic Bikini
Shaper and Trimmer

Check Price

CLEVER BRIGHT
Electric Shaver

Check Price

Schick Quattro
Trimstyle Razor

Check Price

Gillette Venus Platinum
Women's Razor

Check Price
Grooming down there is more complicated than what some women think. Sure, it only takes a few glides of a razor to remove most pubic hairs, but it's a different story once you have to deal with the hidden lady bits. This part is very sensitive, and plucking the hairs away is simply a page taken from a horror novel.
While many of us women prefer leaving that part alone, some occasions may beg for intensive grooming. You might be planning to wear that sexy bikini, or you're too conscious on your next visit to the OB-GYN.
Whatever your reason is for having a Brazilian shave, the eight razors I reviewed here will help a lot. I've used these in the past years, and I swear by its performance. See which one works for you best.
---
What is a Brazilian shave?
If you're new to Brazilian shave, you're probably wondering what it is. Well, it's basically the removal of the hair on your bikini line, including the vulva and the gentler and more hidden lady parts. It also includes those that are near your butthole.
But how come it's called 'Brazilian'? While the name has nothing to do with how Brazilians call pubic hair trimming, this shaving method is actually named after the skimpy, dental-floss-like, bikinis that tourists wear on many Brazilian beaches.
And to wear such a revealing bikini, you need to remove almost all the hairs on your lady bits.
Brazilian shaving isn't for everyone. If you don't find the need to do this shave, you can stick to typical shaving around the bikini line.
---
Brazilian vs. Hollywood shave
Another popular shaving method is the one called 'Hollywood'. A lot of women are confused about its difference with a Brazilian.
Basically, Hollywood waxing or shaving removes all the hair. On the other hand, Brazilian shaving leaves a strip of hair. With this, Hollywood shaving is best done with a groomer's help because it's prone to nicks and bumps, especially if you're new to grooming down there.
Both are ideal, but if you want a totally clean finish, the Hollywood shave is right for you. Again, it's called such because everything has to be perfect and impeccably good-looking in Hollywood.
---
Best Razor For Brazilian Shave – Top 8 Picks
OUR #1 CHOICE
OUR TOP PICK: Philips Bikini Perfect Trimmer
Trimming Edge

Ergonomics

Value for Money

Hypoallergenic
Summary
Moreover, the precision trimmer gives a flawless trim every single time. Also, the micro-shaver has a foil head that will give a smooth result without pulling or cutting the skin. And for personalized grooming, there's a precision comb that you can adjust in five different lengths. There's also a little brush on the package to remove any trimmed hair that might get in the way.
The best thing about this grooming tool is it's maintenance-free. You don't have to oil anything – charge it, turn it on, and you're good to go. And since it's cordless, you can shave your bikini area for up to 60 minutes for each charge.
I had one of these, and it's still serviceable even after all those years. It's a sturdy bikini razor that you can get for quite a nice deal. It lasts longer than what you'd expect from an affordable shaver. This razor also holds its power for quite long.
Pros
Comes with three different trimming heads
Durable and will last for years
No oiling and maintenance needed
---
RUNNERS-UP
Panasonic ES2216PC Women's Electric Shaver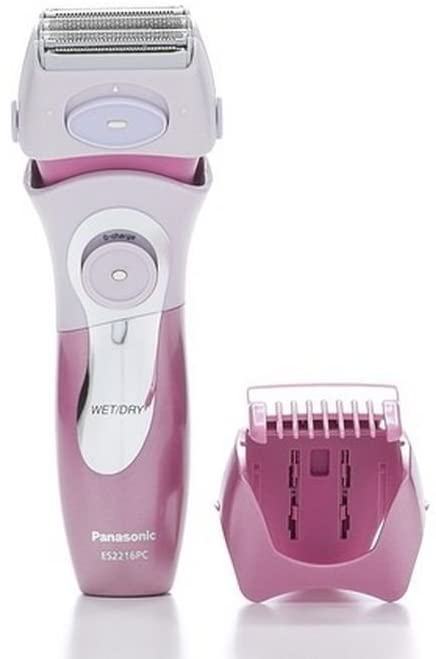 Another trimmer I swear by is the Panasonic ES2216PC. It's suitable for both wet and dry shaving, but I suggest lathering up for a smoother finish.
This has gentle precision blades on its foil head. It uses stainless steel and hypoallergenic material so you won't have any irritations. This design also ensures close and smooth shaves, so the result will last longer than what other razors can offer.
Aside from that, this razor comes with a bikini trimmer head so you can groom down there without the pain. The razor itself is very easy to hold and glides across the skin smoothly, which is a big plus if you're grooming down there.
I also like how easy it is to clean the razor. Just soak it in warm water then turn it on. Let it run until all the trimmed hair and shaving formula have been removed. This is fully submersible, so you won't have to worry about damaging the razor.
As for the run time, it is fully charged for 1 hour and 20 minutes. Based on my experience, this will keep running for up to 60 minutes of shaving. It also holds its charge pretty well, and there are times when I don't need to charge it for a month.
Overall, this works for the underarms, legs, and bikini area. In just one tool, you can groom your entire body.
---
Philips Norelco GoStyler Trimmer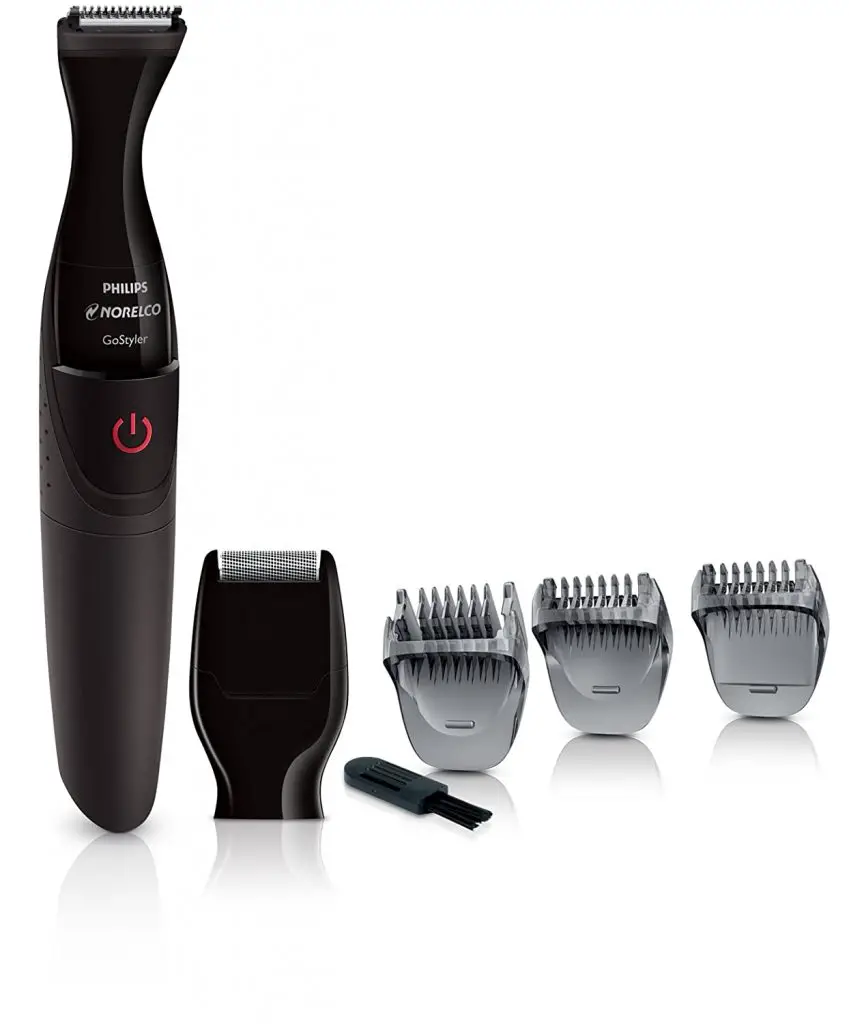 This next pick is marketed for men, but I personally used this, and it produces stellar results for Brazilian shaves. The Philips Norelco GoStyler Trimmer has the advanced dual cut technology that provides close and smooth shaves. It has double-sharpened cutting elements that will cut pubic hair like butter.
Aside from that, it has a precision trimmer head so you can work on your lady bits with a smaller tool. There are three precision combs as well, so you can choose the configuration that you want.
Like most bikini trimmers, this one is water-resistant and will not require oiling. It's also covered by a two-year warranty, which seals the deal for me.
As for ergonomics, the main razor has a rubber handle, which provides a comfortable grip. There's also a small brush so you can remove any hair that may clog the blades as you trim. It's very easy to use and suitable for bikini areas, even if it's marketed for the guys.
Unlike other Brazilian shave razors I've used before, this one runs on one AA battery. That means you'd have to replace or recharge the battery separately from the trimmer. This is just a minor niggle, which I don't mind dealing with.
When working on smaller and tighter areas, you'll never go wrong with this trimmer. Don't be fooled by the "for men" marketing label. This works for ladies, too!
---
Remington Smooth & Silky Trimmer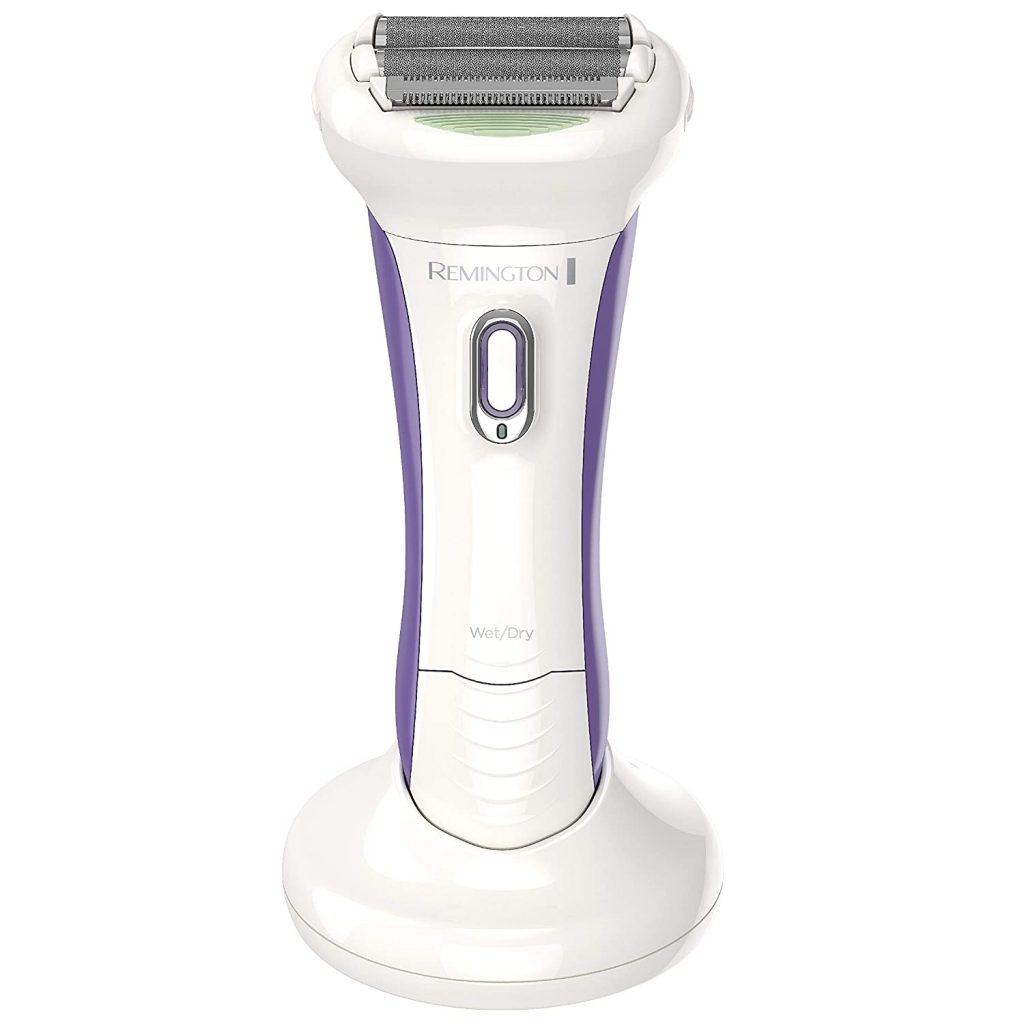 Are you tired of pulling and snagging? If so, the best razor for Brazilian shave would be the Remington Smooth & Silky Trimmer. It has an open-blade system on its foil shaver head, so both the hair and the shaving gel will pass through without clogging.
Aside from that, this has four blades for smooth and close shaves. I also like its moisturizing strip technology infused with almond oil to keep your skin irritation-free. So far, I haven't experienced nicking, tugging, or scratching with this trimmer. It's biblically good, so to speak.
The shaving head has an optimal angle, so the foils grab all the hair in every pass. It also sports the Flex Dual-sided technology that speeds up grooming while having a smooth result. With this, longer hairs will be cut seamlessly without being pulled.
Moreover, this has the Lift Logic technology for even shaving, no matter how long or short your pubes are. The razor is 100% waterproof, so you can safely use it in and out of the shower.
Aside from the razor, you will also get a charging stand, head guard, bikini guard, and a beauty bag where you can stash these tools.
The only thing I noticed is that it takes quite long to charge. You have to plug this in for 20 hours for a full charge. Nevertheless, the long wait is worth it because this is probably the longest-running trimmer I've ever used.
---
Panasonic Bikini Shaper and Trimmer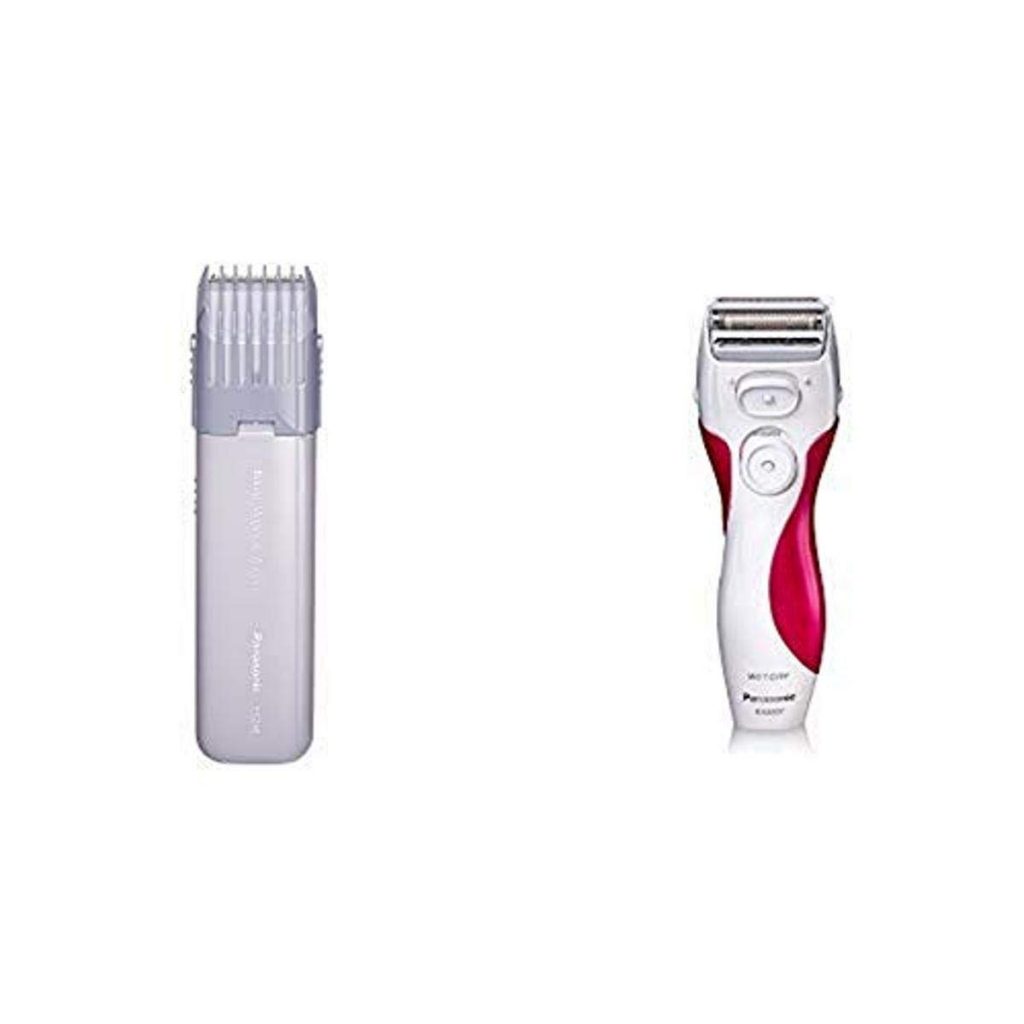 If you're not yet convinced with the razors I reviewed above, you can take it from thousands of users who trusted the Panasonic Bikini Shaper and Trimmer. This bears a gentle shaving blade that will trim your sensitive bikini areas without pulling or cutting the skin. It's hypoallergenic and designed for the most sensitive skin.
Aside from that, the Panasonic trimmer has five customized position settings. You can choose the setting that suits how close you want to shave down there. This will help prevent razor bumps or irritation.
What I like the most is its flexible pivoting head that conforms to the contours of your skin. You can glide this with ease, even in hard-to-reach areas.
Aside from that, this trimmer has a pop-up trimmer that you can use as a detailer on your underarms, legs, and bikini area.
You will also get a separate bikini shaper, which is bundled with the foil shaver. It's a total steal for a low price.
The only downer with this shaver is its long charging time. For 12 hours of full charging, you'll get 20 minutes of runtime. This sounds ridiculous, but if you're an experienced shaver, this runtime is more than enough for grooming down there. Anyway, I will still buy this razor because the regrowth isn't blunt, which is a big plus point.
---
CLEVER BRIGHT Electric Shaver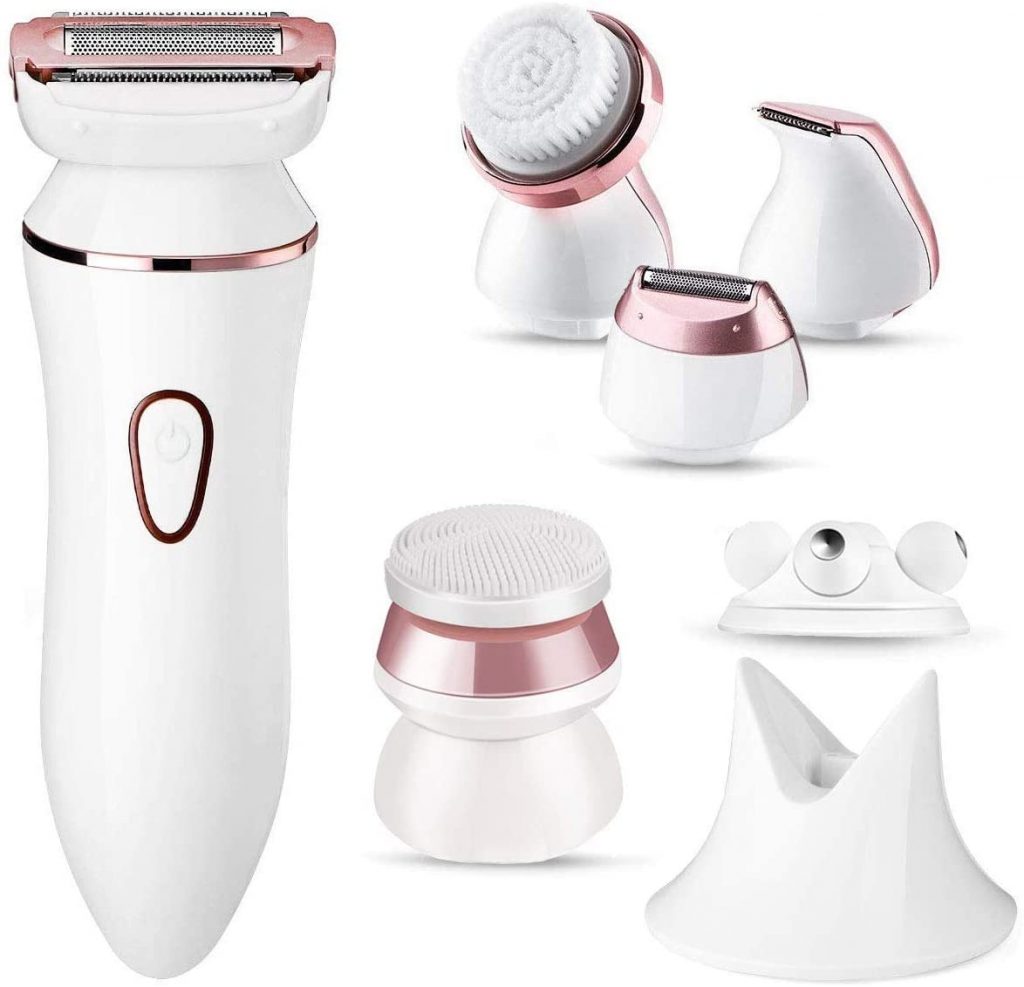 If you're looking for the complete bundle to perform a DIY Brazilian shave, you should get this kit from CLEVER BRIGHT. It comes with two removable trimming heads: foil shaver and bikini trimmer. Aside from that, it's bundled with a facial cleaning brush head, facial massager head, and silicone brush head.
Moreover, this has a one-button switch if you don't want the fuss of manipulating too many controls. This razor is also waterproof so you can perform a Brazilian shave in or out of the shower.
Aside from that, the CLEVER BRIGHT razor is cordless for utmost convenience. It has a one-hand operation so you can pull your skin taut while gliding it all over.
You can charge this razor in two modes: using the charging stand or the direct charging cable. It's also very easy to change the heads by simply pulling the head until it pops out of the trimmer.
Overall, this razor shaves without the bumps and nicks of other options. It works as advertised, and for its price, there's nothing else I could wish for. It's a 6-in-1 groomer that can do more than just a Brazilian shave.
Aside from that, I really love the face cleaning and massaging heads that come in the package. It's truly worth the money, especially if you're fond of getting extras.
---
Schick Quattro Trimstyle Razor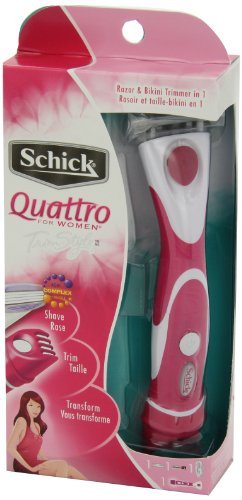 If you're more comfortable with traditional razors, I recommend the Schick Quattro Trimstyle Razor. It uses four ultra-thin blades that will glide along your skin smoothly. This will also provide a close shave without the nicks, cuts, and bumps. It's tried and tested by thousands of ladies, including me.
Aside from the shaver, it also comes with a waterproof bikini trimmer so you can work safely work on hard-to-reach areas. Please note that this trimmer is battery-powered by one AAA battery that's already included in the package.
Moreover, I really like its conditioning strips infused with jojoba and acai berry. It will keep the skin smooth and nourished, which is a must for the bikini area.
As a Brazilian shave razor, this has a compact cartridge with a head that pivots. This follows the skin's natural curves, not to mention that it has a comfortable rubber grip.
Based on my experience, each shave with the Schick Quattro lasts pretty long. There are extra cartridges, too, in case the first one gets dull. It also comes with a wall caddy since the lower part is larger.
Moreover, there's a protective plastic slide if you're using the other trimmer. This prevents accidental cuts and nicks. If there's one downside to this trimmer, it would be the loud sound of the battery-powered head. Other than that, ladies must get this razor!
---
Gillette Venus Platinum Women's Razor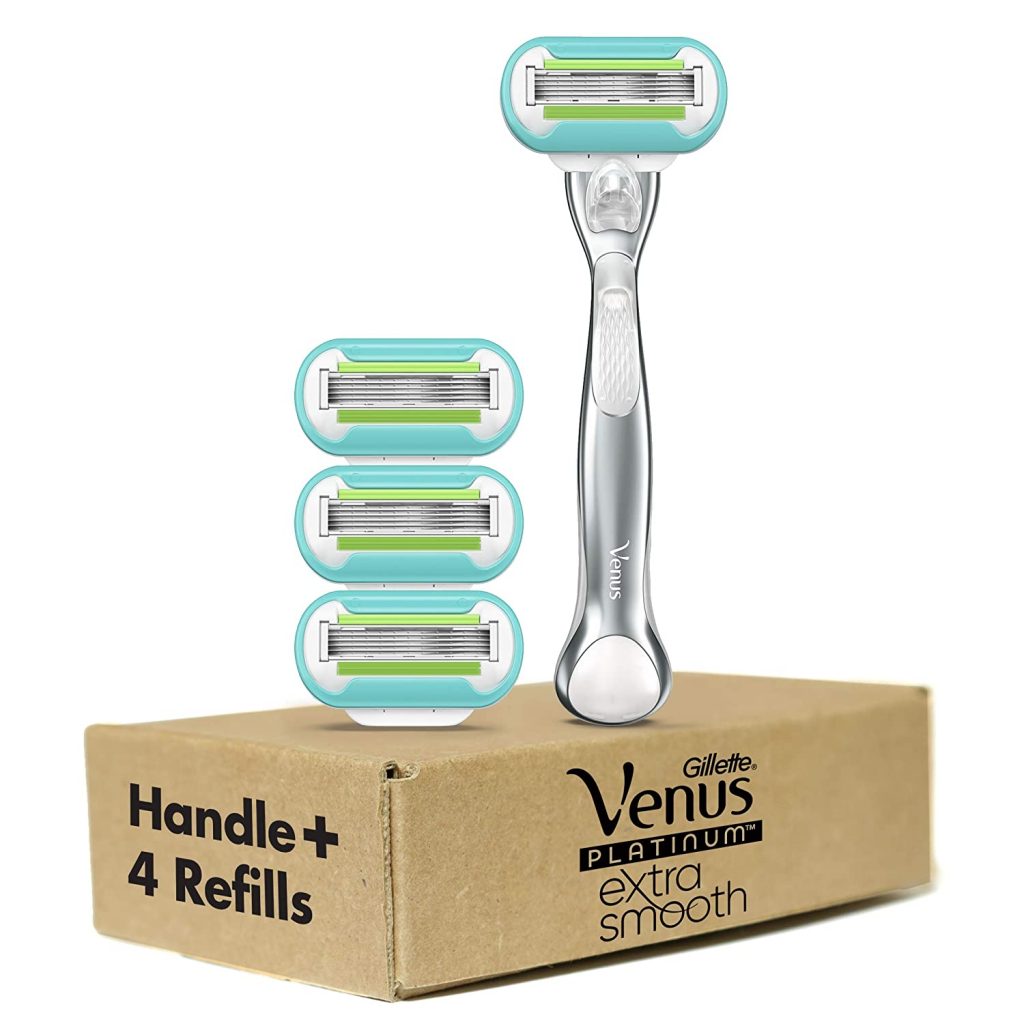 Another razor perfect for a Brazilian shave is the Gillette Venus Platinum Women's Razor. It's equipped with five thin blades that will groom down there smoothly. To ensure a smooth glide on your Brazilian shave, this comes with LubraStrips for added moisture.
What I like the most here is the ergonomic handle. It's made of contoured metal that provides the best grip when working on your bikini area.
Aside from the razor, you'll also get four refills for seamless and hassle-free shaving. The shaving head is also pivoting and rounded so you can make a Brazilian shave without the nicks, cuts, and bumps.
The good thing about this Gillette razor is that the cartridge fits all Venus handles. If you have an old Venus razor, you can spruce it up with one of the refills included in the package.
Aside from being a gentle bikini trimmer, this is also made for the entire body. As a dedicated women's razor, it's made to produce extra smooth results, no matter your hair type.
Just a tip, though: dry this well before storing so it won't rust easily. I used to have a habit of leaving wet razors in the shower, and it ruined the blades of this specific Gillette Venus unit.
---
How to choose a razor for a Brazilian shave
When it comes to the best razors for Brazilian shave, you have to be meticulous with the ergonomics and blade quality. The following are some of the things you should consider:
✔️Sharpness is the name of the game
When it comes to a Brazilian shave, you can't afford to use a dull blade. It will pull the hair and cut the skin! Your grooming session will turn into a bloodbath when you use a rusty blade.
Make sure that the bet razor for Brazilian shave you're buying has a sharp edge. This way, you can cut the hairs with less effort and pain.
Stainless steel blades are a champ, but you can also use disposables if you're on a budget. No matter what your choice is, make sure that the blades will cut like butter.
✔️Invest in ergonomics
Shaving down there is different than working on your legs. You'd have to twist your body just to see all the parts and prevent cutting your skin. This is why you should get a razor with a good grip and long handle.
Pivoting heads are a must, too. With this design, the shaving head follows the natural contours of the skin. This will let you shave more hair on every glide. It also reduces the risk of cutting your skin.
If you have small hands, avoid chunky razors because it will be difficult to maneuver. Also, if you're pregnant, it's almost impossible to see down there. While you're looking at the mirror, the razor should remain easy to glide through the skin.
✔️Look for waterproof options
I always recommend getting a waterproof bikini trimmer for a lot of reasons. First of all, it's easier to clean after each use. Also, you won't worry about damaging the unit, especially if you prefer shaving in the shower. And since you'll be using shaving gels or creams, the trimmer will get soaked pretty well.
Based on my experience, waterproof razors last longer than non-waterproof options. Nevertheless, I acknowledge the fact that it also depends on how you maintain the grooming tool.
✔️Battery life matters
Who wants to run out of power in the middle of a Brazilian shave? To make sure that you will have a seamless grooming experience, look for a razor with a runtime of at least 30 minutes. This is more than enough to finish up a shave without the need to charge the razor.
However, most razors will have varying charging time. Some units take longer, while others will be full in under an hour. While this isn't a big deal for me, you should still consider if long charging periods work for you.
✔️Consider the maintenance
As much as possible, look for a razor that requires minimal maintenance. Try to look for one that doesn't need oiling or intense cleaning. This is the same reason why you should invest in a waterproof option so you can rinse it on the sink after each use.
✔️Check the price
Lastly, consider how much you're willing to spend for a bikini razor. Not all of us have the budget to splurge, so it's quite understandable if you will gravitate toward cheaper options.
But before you get the cheapest model, ask yourself this question: will this last for at least a year? If not, it may cost you more money in replacements. If possible, invest in a durable razor. Even though it will cost more, the savings will be bigger in the long run.
---
Tips for a smooth Brazilian shave
Aside from the best razor for Brazilian shave, you should also have the right technique when grooming your bikini area. The following are some tips I recommend for a smooth and pain-free shaving down there:
?‍♀️Hydrate first. Before you bring the razor to your bikini area, make sure that you hydrate first. Soak on a warm bath for five minutes to soften up the hair and condition the skin. By doing this, the hairs will be easier to shave.
?‍♀️Use a shaving gel. You should never do a Brazilian shave with just water. Always use a shaving gel so the razor will glide smoothly. This will prevent razor burns and reduce the risk of cutting your lady bits. You should do this even if the razor has hydrating strips.
?‍♀️Exfoliate. I recommend exfoliating the skin around your bikini line, including your vulva. This will remove dead skin cells so you will have a closer and smoother shave. But before you reach for a very gritty scrub, hold up! Choose an unscented and gentle exfoliator to prevent irritating your vagina.
?‍♀️Pull your skin. As much as you might be in a rush, you should go slow when gliding the razor down there. You should also pull your skin and the lips of your lady bits taut to get most of the hair. Shaving loose skin will result in bloody cuts – something you wouldn't like to experience.
?‍♀️Moisturize. After finishing your Brazilian shave, apply a moisturizer to rehydrate the skin. Most of the time, your bikini line will be dry after shaving. This is prone to itchiness, so moisturizing is something you shouldn't skip.
?‍♀️Follow the grain. I can't stress this enough, but for beginners, you should never shave against the direction where your hair grows. This is painful and will result in bloody nicks. It will also pull the skin, which is a no-no when dealing with public hairs on your lady bits.
---
How to maintain your razors
Many razors come at a higher price, so you have to maintain it properly. As much as the best razor for Brazilian shave you'll get is made to last, maintenance has a lot to do with its longevity.
The following are some of the simple maintenance tips I perform to keep my razors sharp and rust-free:
?‍♀️Rinse, rinse, rinse. One of the mortal sins of shaving is leaving a hairy and used razor behind. Always make it a habit to rinse it under the sink (as long as it's waterproof) before storage. If you leave it dirty, the shaving gel, hair, and dead skin cells will damage the blades.
?‍♀️Keep it dry. After washing the razor, wipe it gently and let it air-dry. You must store it in a dry place to prevent rust, especially if you're using disposable shaving heads.
?‍♀️No to sharing! Sharing is caring, but not with your bikini trimmer. Since you're using it on your sensitive lady parts, you should keep it personal and exclusive. Sharing razors can be the root cause of infections and horrible health problems.
?‍♀️Replace the blades. Remember that razor blades aren't meant to last forever. It will rust, get dull, and become worn out. If the blade is starting to pull and cut less hair, it's time to get a replacement.
---
Frequently Asked Questions
Q: Can I apply Vaseline on my vag after a Brazilian shave?
A: Yes, it's usually safe to apply a small amount of Vaseline on your vulva to prevent irritation. This is helpful, especially if you're dealing with chafing. You can also use virgin olive oil, Vitamin E, and other moisturizing products that are safe to use down there.
Q: Does shaving down there make it darker?
A: No, shaving doesn't make your skin down there darker. However, razor bumps, nicks, and ingrown hairs can cause hyperpigmentation on your bikini area if you don't shave properly. As much as possible, use a shaving gel or cream so the razor will glide smoothly and prevent any skin damage.
Q: Why is my private area dark?
A: The vaginal skin is highly prone to rashes, chafing, and irritation. A lot of us, including me, have dealt with dark skin around the intimate area, but this can be fixed. Quit smoking and revamp your eating habits. Also, mind the shaving creams and moisturizers that you use as some can cause hyperpigmentation.
Q: How often should you shave down there?
A: Shaving two to three days is ideal. However, most ladies won't bother grooming their lady bits unless there's a special occasion like if they have to wear a bikini. Others don't groom at all. It depends on your preference and what you find more comfortable.
Q: Can you shave down there with just water?
A: Technically, you can, but you're likely to get nicks and bumps. If you're doing a Brazilian shave, I recommend using a foam or gel, whichever works for you well. Lady bits are very sensitive, so the added lubrication will help for a smooth finish. I've tried shaving with only water, and it didn't go well. I had to heal a cut for days.
---
Final words
The best razor for Brazilian shave will give you pain-free and smooth results. You don't have to endure the pain of waxing once you have a trusty tool and the right technique. Aside from getting the right razor, you should spend some time practicing to prevent nicks and cuts on your lady bits.
What do you think of the bikini trimmers I've reviewed here? Do you have a personal favorite? Let me know below!