We, humans, are self-conscious, especially when it comes to our bikini area. To tidy things up and make sure that you look impeccable on your bikini, we've come up with this bikini line trimming guide without the pesky bumps. Aside from how to use an electric bikini trimmer, we also reviewed three of the best trimmers that you should try.
BIKINI
TRIMMER
TRIMMER
BRAND
EXPERT
RATING
CHECK PRICE
Panasonic Electric
Shaver/Trimmer for
Women

Check Price

Panasonic Electric
Shaver/Trimmer for
Women

Check Price

Conair Satiny Smooth
Ladies' Precision
Trimmer

Check Price
Trimming the bikini area isn't for everyone. Some believe that pubic hair should let it do what it does naturally. But if you're a trimming kind of gal, our step-by-step guide here will help.
Why trim down there?
A lot of women prefer to groom their pubic hair for hygiene reasons. Another reason is their sexual preference. Although more and more women are deciding to groom down there, it's more prevalent to ladies below the age of 45.
If done right, trimming your bikini area and bikini line is totally fine. Dr. Francesca Fusco, a dermatologist in New York City, said that trimming daily isn't "unhealthy". It just has to be done right to prevent bumps and injuries.
Below, we wrote about our personal routines, tips, and tricks that will give you a smooth trim:
How to use an electric bikini trimmer
To ensure that your trimming will have zero bumps and accidents, here's our tried and tested routine. Feel free to add your own touch:
Step 1. Set up your trimmer
Before we go down to business, make sure that your electric trimmer has enough charge. If not, you still have time for a 15-minute power-up.
Aside from that, make sure that you clean the blades. Some electric trimmers need to be oiled before every use. Next, attach the trimming guard with the length of your choice. Many women opt for a close shave most of the time.
We recommend a cordless trimmer for the job. It's easier to maneuver and some models can be washed entirely.         
Step 2. Perform a trimming headstart
If your bikini area hair is too long, you can use a pair of scissors to trim it a bit short. This will make the trimming process faster later. Also, it will reduce the mess. Make sure that the pair of scissors you use is solely for hygienic use. Wash it thoroughly before and after the manual trimming.
Step 3. Take a warm bath
Now, it's time to slip on the tub filled with warm water. This will soften the hair for easier trimming. It will also open up your hair follicles, which is essential when close shaving.
Soak in the tub for 5 to 10 minutes. After that, apply a pubic hair conditioner (optional) before patting the area dry.
Step 4. Exfoliate
After this, we recommend that you exfoliate. This will remove dead skin which will prevent ingrown hairs and it will also give a closer trim.
However, if this is your first time trimming, you should skip the exfoliating part for the meantime. After a few trimming sessions, you can exfoliate since your skin is already used to the process. At this point, you're less likely to develop a rash.
Step 5. Apply shaving cream (if shaving wet)
If you're using a wet trimmer, you can apply a shaving cream made specifically for the bikini area. For dry trimmers, pat the bikini area dry. Take note that the type of trimmer will also affect the efficiency of the grooming process.
Step 6. Trim, trim, trim
Now that your skin is ready, turn the trimmer on and start gliding it through your bikini area. Always trim or shave in the same direction where your hair grows. Trying to go 'against the grain' will hurt really bad. It's also a recipe for a stubble disaster.
For better trimming, pull your skin taut lightly. This will let the trimmer glide better on the skin. Also, don't push the blade to the skin. The cutting angles of the trimmer will do the job of contouring to the curves of your skin.
Step 7. Soak back on the warm tub
After you're done trimming your bikini area, soak back to the warm tub water. This is important so the freshly trimmed hair tips won't curl inward and result in ingrown hairs.
After 5 minutes, pat your skin dry. Make sure that you also clean the trimmer blade and accessories with warm water.
Step 8. Apply lotion or Aloe vera gel
Once your skin is dry, apply baby oil on the trimmed area to prevent the rash buildup. If you have sensitive skin, you can use your body lotion or Aloe vera gel.
We recommend that you trim daily to prevent rashes. Also, it will help you get used to the drill, which will make it faster to perform on busy days.
Also, always check the sharpness of your trimmer. If you use it every day, there's a chance that it will start to lose its edge after a year or two.
Added tips
Aside from our detailed steps above, you can also make use of the following tips for a smooth trimming experience.
✂️Don't use men's aftershave
Men's aftershave will sting if you apply it on your bikini area after trimming. Also, these products aren't made for down there. It's better to stick to baby oil or a gentle lotion or gel.
✂️Choose the right trimmer
No matter how you master a trimming routine, it will not go well if you have a faulty trimmer. Always buy one that suits your needs.
Choose between dry and wet trimmers carefully. If you can't decide yet, look for a unit that can be used for both.
Aside from that, you'd want a trimmer that can run long in between charges. If possible, opt for a trimmer that can be washed entirely. Since you're going to use it in the bathroom, the water resistance will prevent damage to the electronic parts.
✂️Do it slow
Remember, you're not pulling feathers from a chicken. Trimming hastily is likely to result in bumps, blisters, and rashes. Take your time and avoid pressing the blade into our skin.
Trimming your bikini area may take a while to get used to. But just like anything else, practice makes perfect.
✂️Careful with sensitive skin
For those who have sensitive skin, rashes are imminent after trimming. It's important to moisturize and to warm-up your skin before putting it under the electric trimmer.
✂️Don't improvise with a blade
It's never a good idea to improvise with a blade. It's a bare, sharp metal that can lacerate your bikini area in one wrong move. Also, blades alone will cause stubs and ingrown hairs.
It's best to put off your trimming until you purchased a decent trimmer.
✂️ Always condition your skin first
Before you start gliding the shaving tool on your bikini area, make sure that you condition your skin first. Let your pores open on the warm tub water. Also, pulling the skin taut a little will make the trimming easier. This will also prevent snags and painful ingrown hairs.
If you have sensitive skin, moisturizing your bikini area beforehand will also help. This will ensure smooth trimming. Anyway, it's a bit normal to experience redness and itchiness on your first trimming. After a few sessions, your bikini area should get used to it. Nevertheless, if the itchiness persists, you should consult a dermatologist.
✂️ Remember: trim dry, shave wet
If you're just trimming, it's best to do it when your bikini area is dry. However, for those who want a close shave, you should lubricate the area with water or moisturizer.
Just a reminder, though. Never use shaving creams made for the face unless you got a greenlight from a dermatologist or a gynecologist.
✂️ Use a mirror to check the area
While trimming, you should use a mirror to check your bikini area. Since it's a bit difficult to see, the mirror will serve as your eye down there.
3 BEST ELECTRIC TRIMMERS FOR THE BIKINI AREA
OUR TOP PICK: Panasonic Electric Shaver/Trimmer for Women
Edge

Reliability

Value for money
Summary
Aside from that, it's compatible with 110 to 120 V. Our only gripe here is the long charging time for 20 minutes of operation.
Nevertheless, this is ideal for both wet and dry trimming. If you have those long hairs down there, this trimmer will work like a charm.
Overall, this trims with no nick and bumps. It's also easy to clean since you can pop the head off and rinse it with warm water.
Pros
✔️An ultra-thin foil that contours along your skin
✔️100% washable and cordless
✔️Comes with a pop-up trimmer
Cons
❌If you happen to nick or warp the foil (by dropping etc.), it will graze your skin like a sharp nail
RUNNERS-UP
Schick Hydro Silk TrimStyle Razor with Bikini Trimmer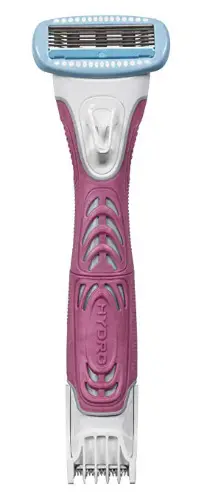 One of our favorites is the Schick Hydro Silk TrimStyle Razor with Bikini Trimmer. It's a hydrating razor that comes with a trimmer for a whole body grooming tool.
This trimmer has five curve sensing blades that will glide smoothly on your bikini area. This reduces the risk of irritation, bumps, and rashes.
What we really like the most about this Schick trimmer is its waterproof feature. You use it while you're soaked in the tub or while you're on the shower.
This comes with an adjustable comb that you can tweak in four different settings. We also love the end to end design that gives you two types of trimmers in just one tool.
Another unique feature of this trimmer is the water-activated hydra-boost serum ejector. You can refill it with Schick's Hydro Silk serum packed with Shea butter. This will keep the trimmed area moisturized in every glide.
Overall, we like how precise this trimmer is. The serum is also a big plus, especially for those with sensitive skin.
PROS
✔️Two trimmer tools in one
✔️Comes with a serum ejector feature
✔️Five curve sensing blades
CONS
❌Will die down after a year or two (for a meager price, this is more than we expected)

Conair Satiny Smooth Ladies' Precision Trimmer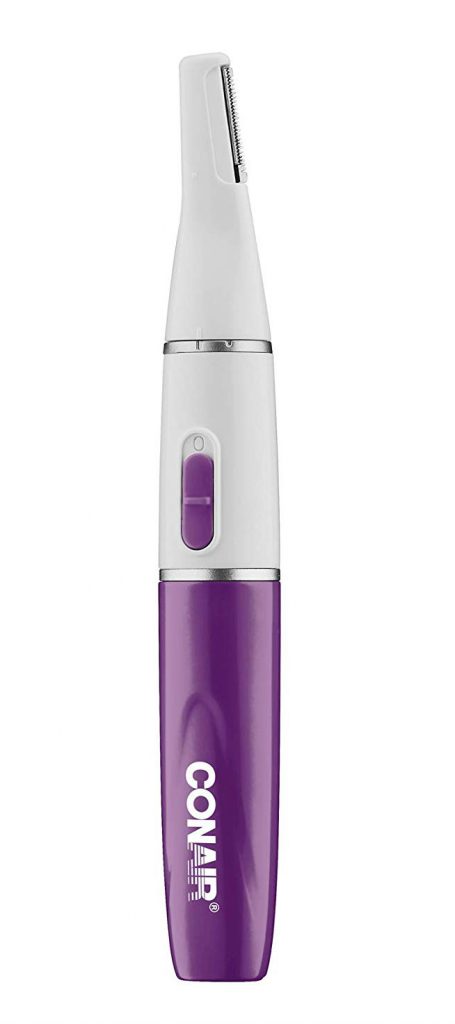 Our third recommendation is the Conair Satiny Smooth Ladies' Precision Trimmer. Unlike other trimmers with large blade heads, this one has narrower and vertically installed blades. This construction allows for full body use, especially on your bikini area.
This Conair trimmer also comes with two eyebrow combs that you can use for detailing and shaping. It also has an ear/nose attachment.
If you're always traveling, this cordless trimmer is a must-have for your bathroom kit. Take note, though, that this isn't a waterproof unit. You should only rinse the head. Anyway, the top part is removable so cleaning it shouldn't be a bummer.  
Overall, this lasts long in between charges. For such a low price, we're actually surprised that this works like a top-dollar unit. It's also less noisy than full-sized trimmers.
PROS
✔️Narrower construction that's easier to use
✔️Works like a top-dollar unit
✔️Lasts long in between charges
CONS
.
❌Not the most comfortable trimmer but it does the job

Frequently Asked Questions
Q: How do you trim pubic hair without it itching?
A: Always use a trimmer made for the bikini area. Also, you should soak in warm water first and apply a moisturizer before putting your skin under the trimmer. Aside from that, never press the blade into your skin or improvise with other edged objects.
Q: Why does my pubic hair itch when I trim it?
A: When you trim too close to the skin, your skin will be irritated, which cause the itching. Also, when you trim against the direction of your hair growth, it will result in stubs and ingrown hair, which will sting and itch.
Q: Is it bad to shave your vag?
A: As long as it's done correctly, shaving or trimming your vaginal area isn't bad. Always use the right products to prevent any irritation or injuries.
Q: Can beard trimmer be used for pubic hair?
A: If the manufacturer indicates that it's safe to be used down there, then it's likely safe. If it's not graded for pubic hair and sensitive skin, it's best to purchase a separate bikini area trimmer. Besides, you wouldn't want to use a trimmer on your face to someone else's private area.
Final words
Knowing how to use an electric bikini trimmer is important to achieve a smooth trim. Aside from that, you should also get the right tool for the job. The three models we've reviewed here are reliable and gentle on the bikini area. Feel free to choose which one suit you best. Do you have something to add in our review? Let us know below!