Hair clippers and hair trimmers have truly become a lifesaver for men (and women, too!) who just need to get a quick shave done. In this day and age, time is money – it's honestly quite important to take whatever time you can in order to adjust and have more time for other things in your life – like work, family, and quite importantly, sleep. With how busy life is these days, who really has time to spare to get in a car and drive to a barbershop, then stay there for half an hour (or more if there is a queue!) to get a hair cut or a beard trim? No wonder you're here to learn how to use hair trimmer on beard.
Products in this review:
| | | | |
| --- | --- | --- | --- |
| Product | Brand | Expert Rating | Price |
| | PANASONIC ER-GB60-K | | Check Price |
| | PANASONIC ER-GB370K | | Check Price |
| | PHILIPS NORELCO 7200 | | Check Price |
| | PHILIPS NORELCO 9100 | | Check Price |
Today, hair clippers and trimmers pretty much do the work of a barber for the extremely busy. These useful devices can be used to groom facial hair, but they can also be used to give the hair on your head a haircut if you need. But how exactly do you use a trimmer (or a clipper)?
If you're new to having such a device, we're here to help you with a detailed walkthrough on how to use hair trimmer on beard or even on your actual hair. We'll also be helping you with quick tips on maintenance for your devices. If you haven't purchased clippers or trimmers yet but are looking to, don't worry, cause these things will probably help you too.
Let's get started talking about clippers and trimmers and everything you need to know about them, shall we?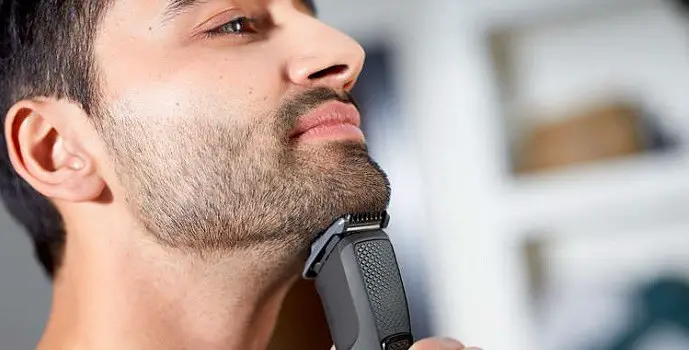 Trimmers
Hair trimmers are now pretty common mainstays in bathrooms worldwide. This is because they offer such a quick, convenient shave that you can completely get rid of your disposable razors. With these devices you can shave your beard or head down completely, with barely and trace of a five o'clock shadow left behind.
Let's get a little more in detail.
Parts and Accessories
Before you can get started with using your hair trimmers right away, you first need to take a quick look at its parts to have a better understanding of how it works. Hair trimmers will usually have similar parts and designs, with only a few variations depending on the manufacturer, the brand, and the design of the product itself (higher-priced products more often than not offer better designs). Let's talk about the most basic parts that are always included in every clipper.
Housing
The housing of a clipper essentially acts as the "case" or "body" of the product itself as it basically holds all of the clipper's parts. This can be made with aluminum or with plastic, usually depending on the product's price point.
Motor
The motor is basically the "engine" of your trimmer. Without it, your trimmer won't function as you expect it to. There are three different kinds of motors that you will find in these devices – pivot motor, rotary motor, and magnetic motor. Of these three, rotary motors are said to work the best.
Switches and Dials
Depending on the product you will see at least an on/off switch, but if the clipper has adjustable speeds you may also see a dial or buttons for controlling it.

Levers may also exist on some products that have the guide comb pretty much built-in, or for products that have similar mechanisms already built into the body or housing of the clipper itself.
Head
The head or the shaver head is essentially the part of the clipper that holds the blades. This part needs to be regularly cleaned in order to avoid clogging and issues related to this.

Blades of trimmers are often made of stainless steel of some sort in order to avoid any rusting. After all, you don't want any problems of that sort when you are regularly putting the blades in contact with your skin. Blades, however, can also be made of ceramic, which work great for those who have sensitive skin.
Cord or Battery and Dock/Charger
If you have a corded device, then your main source of power will basically be the power cord attached to it. Don't forget to exercise proper care not to get this cord nicked so that you can preserve its integrity and safety.

On the other hand, if you use a wireless clipper, then you will have the battery inside your device as the main power source. You will also have a charging cable or a power brick, or you may otherwise have a dock that acts as your charger and holder when your clipper is not in use.

Remember to exercise proper battery care by not leaving your clipper plugged in after the battery has already indicated full. It's also a good idea to charge your device regularly (for example, at least once or twice a month) if you are not using it at all, just to preserve the battery's integrity.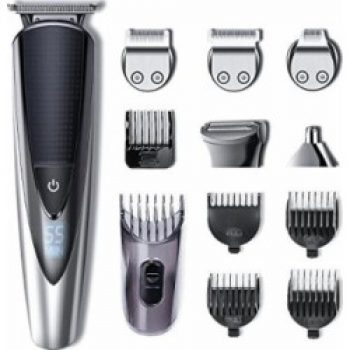 Guide Combs
Pretty much all trimmers come with guide combs. These guide combs are little attachments that you clip onto your device in order to allow you to adjust the length of hair that you will leave behind after cutting. These guide combs usually go from 1/16th of an inch thick to about 1 inch thick, but sometimes some products will come with guide combs that can go as long as 2 inches.
Now that we have talked about the standard parts of trimmers, we can then talk about the parts that usually come additional to them. Manufacturers and product designers can also include:
Extra Heads
Some clippers and trimmers do have extra head attachments to help with different purposes. For example, there are beard trimmers that you can attach in order to evenly trim – not shave off – your beard. There are also nose and ear hair trimmer attachments and precision attachments that allow you to work on smaller, finer details.
Extra accessories may also come with the device that are not integral to its operation. Lubricants or blade oils usually come in the package for the proper care of the blades. Cleaning brushes also come included because hair, dust, debris and other residues may remain on the clipper head and clog it without cleaning. Blade guards also come standard, as they do act as main protection for the blades when they are not in use. You don't want dust and debris to end up in there after all. Other accessories may be carrying cases, scissors, styling combs, and capes. It all depends on whatever the manufacturer or seller has decided to bundle up with your purchase.
Maintenance
Maintaining your trimmers is quite simple. Just make sure that after every use, or at least on a regular basis, you are brushing off any hair and residue left on the blade head and teeth. Other than that, do make sure that you oil the blades to lubricate them regularly (once a week or twice a month). Clean your blades first before you do this, then allow the clipper to run so the blades will distribute the oil. Don't forget to make any adjustments to the blades where necessary – you just need to be careful in unscrewing and moving the blade before you tighten all the screws back up.
How to Use
And now for the moment we have all been waiting for… it is time to talk about how to use hair trimmer on beard or other facial hair. It's okay if you're a beginner and you're totally new to using trimmers. We're here with a full guide, after all. So here's what you need to get started:
Hair trimmer

Scissors (Make sure that you get good quality shears or hair scissors – treat this as an investment because they can make a big difference in the outcome of your trim. You can use the scissors that came with your trimmer kit.)

Cape to avoid hair getting everywhere
Let' get started on the steps, shall we?
how to use hair trimmer on beard
✂️ Step 1
Make sure that you clean and wash the hair you plan to trim. If the hair is clean, it becomes much easier to cut, and passes much more smoothly through the blade. It's better to get any natural oils and styling products out of your beard as well, so as to avoid gunking up the blade head.
✂️ Step 2
Get comfortable and prepare. If you're cutting your own hair, a towel or cape around your shoulders will save you from annoyance. A sheet or towel on the floor will also help with cleanup, but make sure that if you use plastic that you reuse it to prevent waste. With your scissors, trim your beard hair if it is longer than 1 inch all over. This makes it easier for your hair trimmer to get through your beard and cut it all without issue.
✂️ Step 3
Decide what length you want to cut your hair down to and ensure you have the proper guide comb attachment for it. Once you have done this, you can get started with actually shaving. Turn on your device, then start from the bottom going up. So, if you want to shave your beard, begin from the neck area where the hair begins going up. Tilt your head back slightly to make it easier to do this step. Don't forget to apply a gentle but firm pressure as you start moving the clippers from the bottom going to the top. Repeat until you have evenly cut or trimmed your beard. You can then use your comb to brush off any leftover hair so you can examine the results to see if they are even.
✂️ Step 4
Step 4 is basically to just get the details perfected. Sideburns, the shape of the beard and so on can be worked on here. You can use a precision head attachment for your trimmer if it comes with one. This makes it easier to do. Otherwise, you can use a manual razor – just be careful!
Bonus Tip
Hair clippers and hair trimmers may seem quite similar – or even the same – but the truth is there are differences between the two. Put simply, hair clippers are used whenever you need to cut hair that is longer, or if you don't want to have too close of a shave. More often than not, hair clippers are used to cut the hair on your head, or perhaps to trim the beard before you shave it down completely with a manual razor. Otherwise, everything about clippers is pretty much the same as trimmers, and you can use and operate them the same way!
Do note however that some manufacturers have already created 2-in-1 trimmer/clipper devices that you can purchase if you really just want to get rid of the extra steps of needing scissors and/or manual razors.
Suggested Trimmers
Now that we've discussed hair trimmers in detail, we do want to offer up a few suggestions on a few good beard trimmers that are out in 2019. If you do not yet own a trimmer, or if you're looking to upgrade yours, these are some really good options that can help you out and make your task of shopping for one much easier. We've selected a bunch of different ones with different features (that make them stand out!) that will hopefully help you find something that will spark your fancy.
Best Trimmer That is Adjustable – Panasonic ER-GB60-K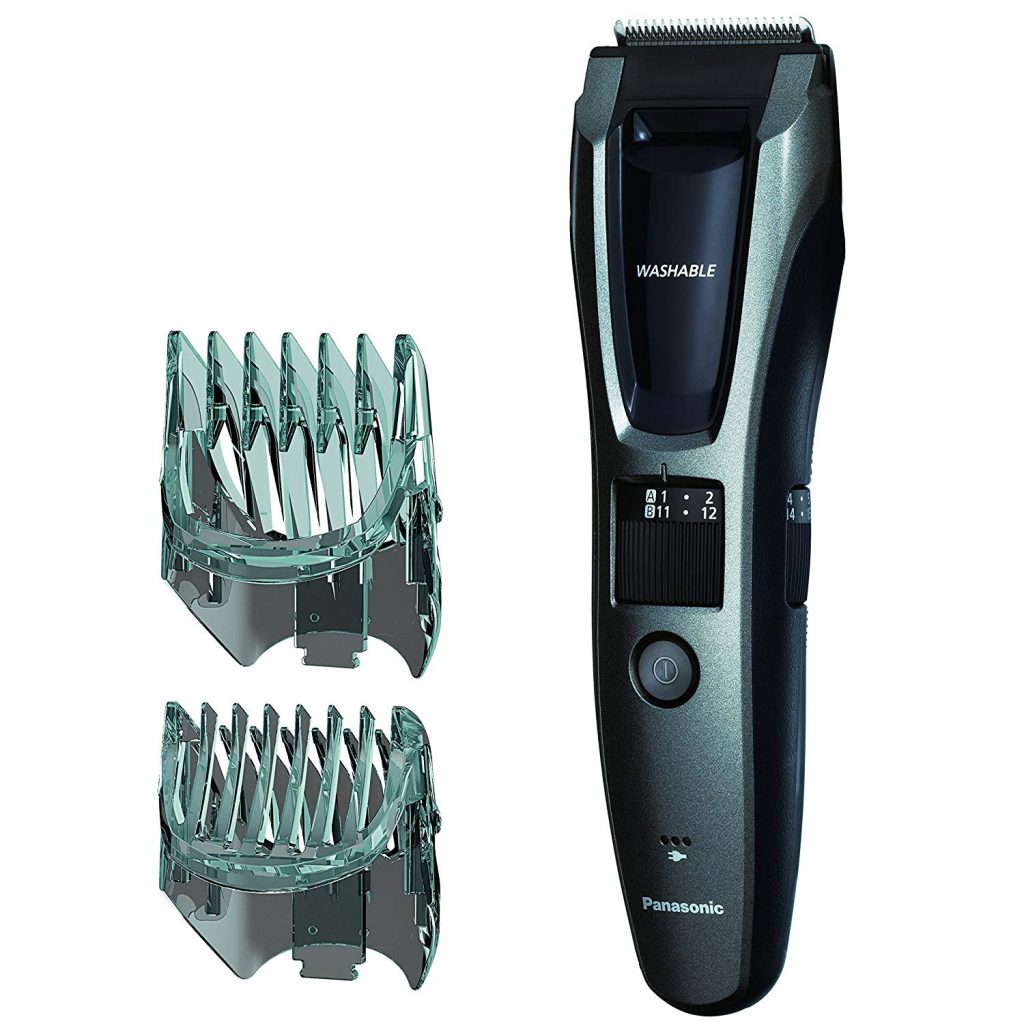 For people who are seeking versatility and the ability to adjust their trimmer on the fly, the Panasonic ER-GB60-K might just be the choice. The main and most attractive feature on this device is the fact that it includes thirty nine – yes, thirty nine! – length settings. This, by far and wide, is the highest number of length adjustments that we've seen offered by a trimmer. So if you really want to get precise, the ER-GB60-K is here to help. Cut hair as long or as short as you need with this device – as a matter of fact, you can shave your hair completely down to your skin if you need to, or leave over an inch behind if you prefer.
This product comes with two combs that help provide you with the precision you need. You can use these two combs to hold the hair you want to cut in place while you use the trimmer to, well, trim it. If you're looking for a device that won't simply slip out of your hand, this is a good one for it, because it has a rubberized grip that makes it possible to hold even if your hands get wet. All of the components and attachments of this device are washable, making it great for if you would need to share it with someone.
PROS
✔️Blade and product is non-irritating
✔️Very attractive and sleek design
✔️Wireless so it is more mobile and portable
✔️Great grip, even when wet
✔️39 length settings to help you get a precise cut

CONS
❌Glossy body attracts fingerprints
❌No LED indicators whatsoever for battery remaining

Best Trimmer + Clipper Combo – Panasonic ER-GB370K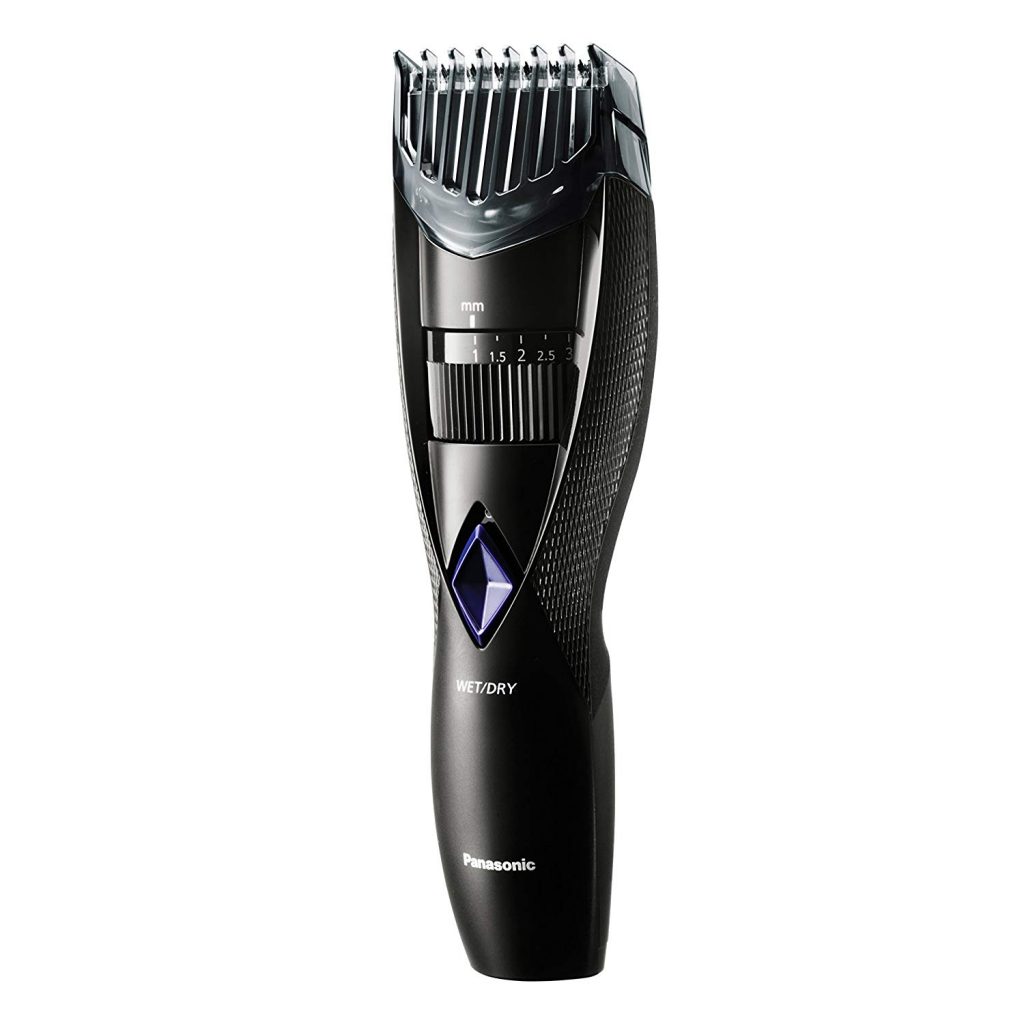 Panasonic in and of its own is a great brand that offers many great products for all sorts of different purposes. Of course we can't quite have a list of recommended beard trimmers without having one that works double time not just as a trimmer, but also as a hair clipper. As we had mentioned before, there are certain products that are basically 2-in-1 devices, and this is one of them. Trimmer-clipper devices are excellent at cutting your hair down to a certain length (so for haircuts), but are also really good at shaving everything down completely.
Panasonic ER-GB370K is a great product that is not just a 2-in-1, it also works wet and dry. It's great for taking in the shower so you can shave in there while you're in a rush. The brand made sure to put a great focus on ergonomics to make sure that you can hold it firmly (after all, who wants to have a trimmer slip while they're using it in the shower? That sounds like a recipe for disaster!).
GB370K is a versatile device
The GB370K offers you nineteen different length settings that will allow you to control the length of the hair you cut. Each setting is within a .5 millimeter increment apart, so you can really be more precise as you use this product. Changing these settings is very easy – you just have to turn the dial that is already built into this device. This product is also equipped with sharp blades that help make cutting hair a breeze.
Let's wrap up this review with a quick look at the pros and cons of this particular trimmer!
PROS
✔️Very portable, sleek design
✔️Firm, rubberized hand grip for your safety and convenience
✔️Great product that works as intended
✔️Very durable
✔️Very quiet during use so you don't bother anyone as you use this product

CONS
❌The dial could be placed better, its current placement is not ideal and can be inconvenient sometimes

 Best Trimmer That Vacuums – Philips Norelco 7200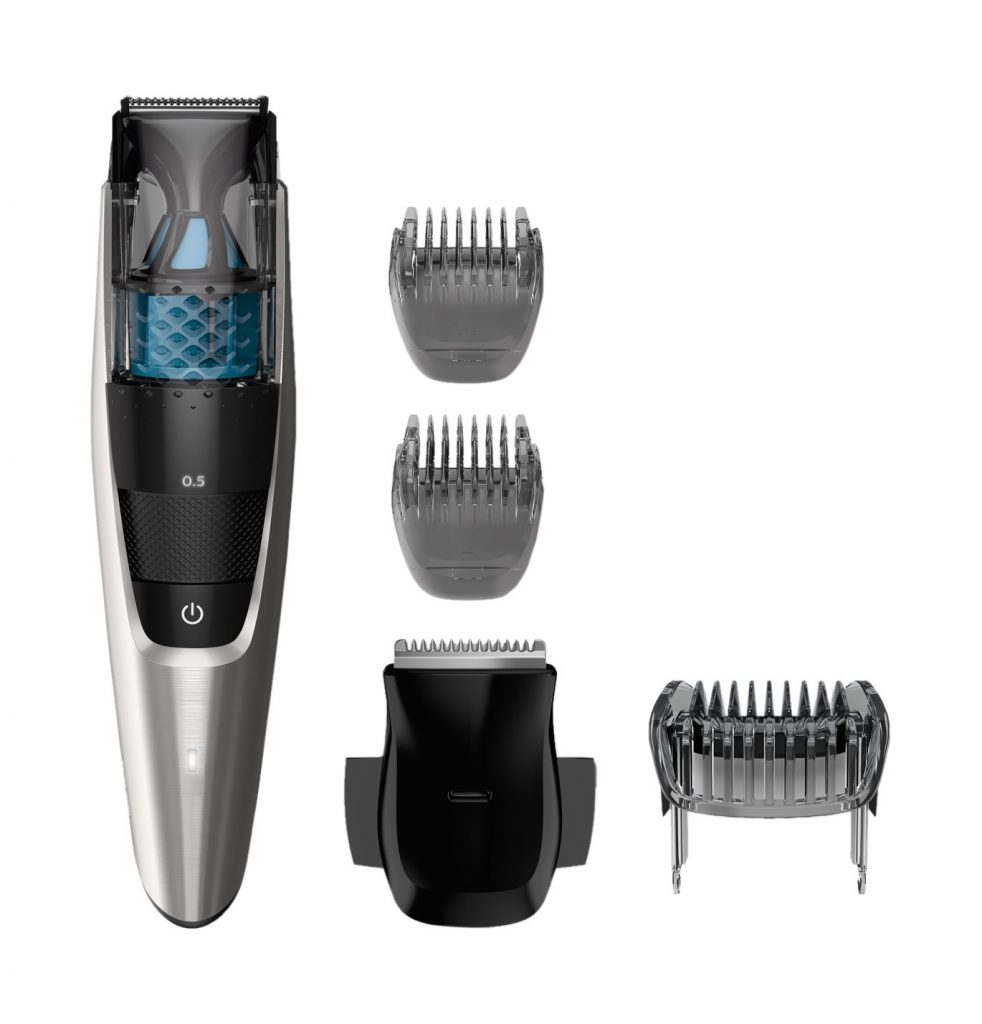 Yes, you read that right. This trimmer also doubles as a vacuum. Now, before you start using it to vacuum the rug or under the bed, do know that its suction power is limited to helping you with hair cleanup as you trim your beard (or, you know, the hair on your head…or anywhere else).
Philips has always been a brand well known for innovation. The 7200 Philips Norelco is an exact example of this. Philips has added a built-in vacuum that makes it possible for you to worry less about hair falling all over the place while you trim. Philips claims that this device can vacuum about 90% of the trimmed and fallen hair, but this claim is quite difficult to authenticate. However, most users have agreed that there is barely anymore hair left on or around their sink when using this device. So if you want to have less cleanup to do, and if you want to be able to shave, go, and worry about sweeping up later… well, this is the device you need.
Philips Norelco 7200 is the only vacuum device
To be quite honest, in our research, we have found that this is the only trimmer out on the market today that offers this feature – a pioneer in its field. Most likely, other brands will follow suit soon. With that being the case, it may also be prudent to wait and see what the market brings.
PROS
✔️This trimmer has a great design that stands out and looks truly appealing
✔️First of its kind – only vacuum trimmer available as of writing
✔️Grip is comfortable, allowing for firm grips that don't slip
✔️Easy to clean
✔️Less cleanup after shaving!

CONS
❌Because of the vacuum feature, the battery does not last too long
❌May be slightly noisier than other trimmers due to vacuum feature
❌More moving parts means more possibilities of something breaking

Best Trimmer for Beginner Users – Philips Norelco 9100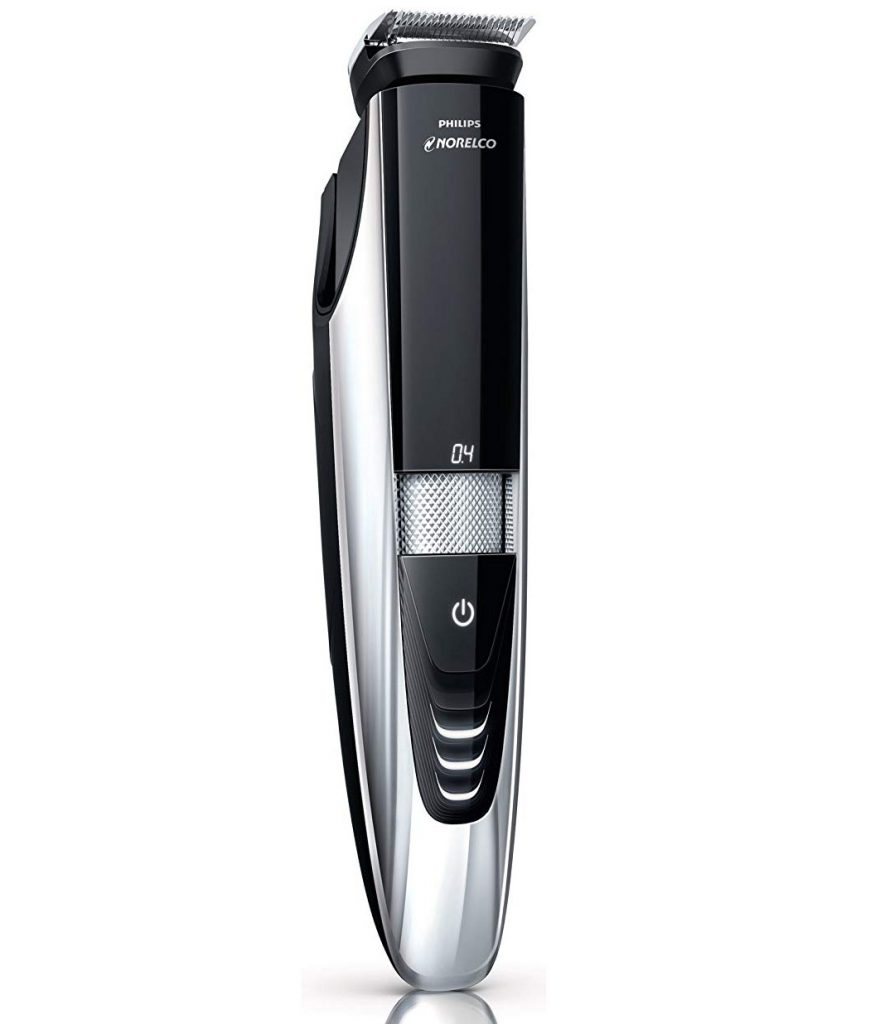 If you are a total newbie to shaving and using trimmers, then you don't need to worry, because Philips has got your back. The Norelco 9100 is made for beginners – after all, its features and design makes it truly easy to use without you ever becoming confused.
This device has a feature that makes it stand out among the rest – a laser guidance system. It helps you to set the boundaries of where and what exactly you want to trim – without you ever having to physically make any marks on your skin. It's a great idea that actually works in practice, and helps you to really learn how to get better results in the end.
Philips Norelco 9100 is great for beginners
The 9100 has two different sides. One side is wider, making it ideal for trimming your neck and your sideburns, because it can make the wide straight lines you want. On the other hand, the other side (basically the more narrow end) works great for reaching difficult areas of your face, such as the corners of your mouth and by the sides of your nose.
This device has an LED display to make it easier for you to tell what settings you are on, so you don't have to be making any guesses. Another nice feature that Philips has kindly included is the self-sharpening blades. This feature makes the trimmer quite cost effective since it needs less maintenance and will likely last for longer. The blades are also rounded at the tip so that sensitive skin does not get irritated.
PROS
✔️Has 17 settings for length allowing you the versatility you need
✔️Has a 2 year warranty
✔️Durable
✔️ Laser guide is new and innovative

CONS
❌This product is quite pricey
❌The guard clips get filled up pretty fast, requiring you to clean more often

Conclusion
With this guide, we hope that you are able to figure out everything you need to know about trimmers and using them for your beard! Also, the products we have suggested are also simply recommended – we believe that you should also do your own research to find the products that would fit you and your lifestyle. Good luck in your search!