It's never too late to start taking an interest in personal grooming. After all, one of the best ways to increase your confidence is to begin to take better care of yourself – your mind, your health and body, your hygiene, your appearance, and so on. We can talk more about how to take better care of your mind and body another time – for now, we are here to talk about grooming and personal hygiene. To be clear, we want to talk about the difference between hair clipper and beard trimmer.
Product
Brand
Expert Rating
Price
WAHL ELITE
PRO CLIPPER
MODEL 79602

Check Price

BRIO
BEARDSCAPE
BEARD/HAIR
TRIMMER

Check Price
Why is Personal Hygiene and Grooming for Men Important?
Personal hygiene is quite important for many different reasons. First and foremost is the reason of health – without good hygiene, you become more prone to infections, parasites, and fungi. All of these things can be quite uncomfortable, but what's worse is that in some cases, these things can lead to serious health issues later on down the line.
Bad personal hygiene also has negative social implications, considering most people will possibly react negatively if they come across someone with bad odor and a dirty appearance. And then, of course, there's body image – proper personal hygiene and grooming can help to influence a person's self-image, self-esteem, and confidence. On top of that, good hygiene helps to project an image of confidence, something that is quite helpful for people who lack it at the moment but are working on it.
Since you're here, chances are you're interested in learning more about personal hygiene and grooming. There's no need to worry, because we're here to talk about personal grooming for men – specifically, about clippers and trimmers for your hair and, well, your facial hair. Let's talk about the difference between hair clipper and beard trimmer.
What's the difference between hair clipper and beard trimmer?
If you are completely new to the world of clippers and trimmers, then you may find this quite confusing. After all, what is the difference between clipper and trimmer? How can you tell? Do both of them do the same thing? Which one of them do you need to buy?
There's no need for confusion, we are here to help you out. The answer to your question is yes, there is indeed a subtle difference between hair clipper and beard trimmer. Companies do make products that are either dedicated trimmers or clippers, but some manufacturers have caught on and have started making 2-in-1 trimmers and clippers.
Trimmers and clippers are quite closely related so it's understandable that it might be confusing, but thankfully we are here to discuss them both in detail. Hopefully by doing so we can help you decide which of the two you want – or if you want a 2-in-1 device.
So without further ado… let's get right to it!
Difference Between Hair Clipper and Beard Trimmer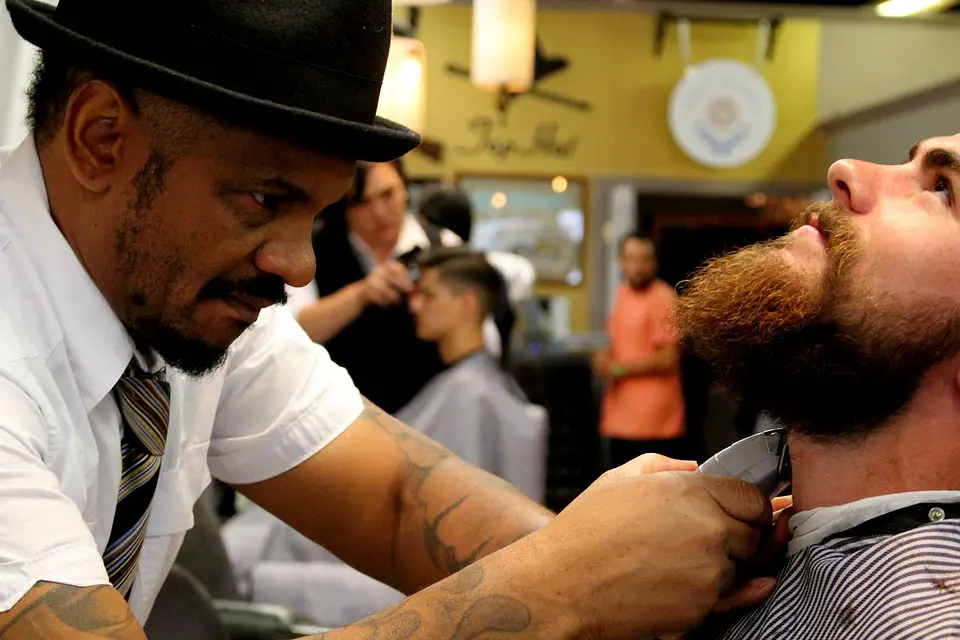 A hair clipper is, in general, designed for the use of cutting longer hair. It usually comes with several attachments of different types to help you make small adjustments to the length of hair you want the clipper to take off. Thus, each attachment basically allows you to decide how long you want to cut off. Typically, clippers on their own (without attachments) do not cut super close to the skin, so there will be a typical length of hair left behind. Thus, hair clippers will leave you with a five o'clock shadow if you try to use it to shave down your beard. This is pretty much why a hair clipper is normally used to prepare the hair or beard by pre-trimming it before the final shave down.
A trimmer, on the other hand, is a device that essentially does the same thing – cut or trim hair. However, trimmers have thinner blades designed to accommodate shorter and finer hair. Therefore, if you want to shave your beard or your head off completely and leave not a trace of five o'clock shadow behind, a trimmer is your best bet. Otherwise, you can use a clipper to pre-trim your hair down, then you can use a regular or manual razor to shave it off the rest of the way. Trimmers are also usually used to work on finer details of grooming.
So now that we've walked through the difference between hair clipper and beard trimmer let's talk about the benefits of each!
Benefits of a Hair Clipper
Hair clippers do have their moment. Talking about difference between hair clipper and beard trimmer – if your hair or your beard has already grown too long, then hair clippers are definitely the choice. Clippers are also great if you are only looking to trim down your hair to a more manageable length.
Clippers do come with attachments, including guards or guard combs, that will allow you to achieve different results by changing the length of the hair that you cut. Mostly, the benefits of using a hair clipper is the greater amount of control you have when using them, rather than when trying to cut your own hair with a pair of scissors. It's certainly much easier for those who don't know how the nuances of cutting hair to use a hair clipper when trying to cut the hair on their own head.
If you don't care to get a particular haircut or style and you just want to make sure that your hair is presentable, a hair clipper is a great investment. By purchasing a hair clipper, you can save yourself tons of trips to the barber, allowing you to save not just money, but also time in the long run. Imagine how much you would save in terms of time and money by no longer having to drive to the barber and get a haircut regularly!
To give you an example of a hair clipper, here is one that often comes recommended.
Wahl Elite Pro Clipper – Model 79602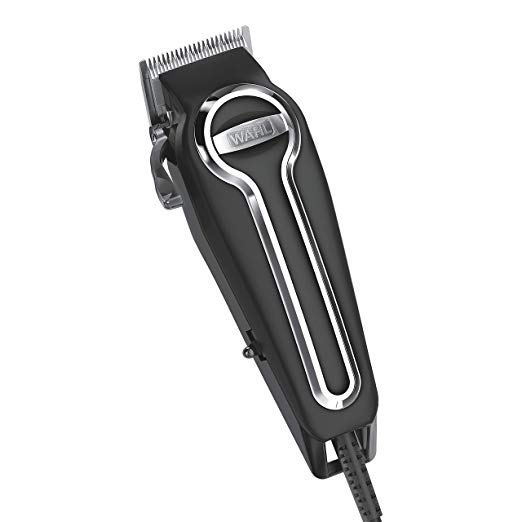 The Model 79602 Hair Clipper from the Wahl Elite Pro line is a hair clipper that many hail as the easyto use – on top of that, it is usually known for being incredibly durable. This clipper comes with Wahl's most durable and most powerful motor, so it's a great choice for people who may be somewhat clumsy, or need to use this clipper a lot.
The Wahl Elite Pro clipper comes with many different features that make it truly a worth-it purchase. As a matter of fact, this particular model of hair clipper is widely lauded for being one of the best in terms of value for money.
The 79602 comes in a premium storage case so you can safely put it away when not in use. On top of that, it comes with an 8-foot heavy duty industrial cord to ensure that your clipper is always powered safely and correctly. The blades on this device are Wahl's best – self-sharpening, precision blades that cut as smooth as butter while still staying sharp. With these blades, the 79602 reportedly cuts hair about 40% faster than a clipper normally would.
This device has various other inclusions such as: a complete set of 10 guards with clips made of stainless steel, and premium accessories (scissors/shears, styling comb, blade oil, bib or cape, cleaning brush, cord wrap, blade guard, and a drawstring pouch for the guards).
Summary of Features
Durable and quiet motor
8ft Industrial heavy duty cord with cord wrap
10 guide combs with stainless steel type clips
Wahl's best blades yet that cut smooth, stay sharp, and cut 40% faster
Premium carry or storage case
Various accessories (blade oil, blade guard, drawstring pouch for the guard clips, bib/cape, scissors, styling comb)
Made in the USA using domestic and imported parts
Overall, the Wahl Elite Pro Clipper Model 79602 is a great investment for those who are looking to cut their own hair at home. It's durable and also comes with a (limited) lifetime warranty, but the warranty is for home use in the United States only. If you're looking for a product that offers great value for money, this is the choice – if you're willing to give up a bit of portability and mobility. Unfortunately, this clipper does not come wireless, but in our opinion that isn't quite a bad thing. After all, by making it a wired device, you lessen the chance of something like the battery or charger breaking, making the product itself last longer.
Benefits of a Trimmer
Trimmers have their own uses, too. Because of the thinner blades on trimmers, as well as the closer and more precise cuts that they give, you can completely give up your razors. No more need to buy disposable razors means instant financial savings – but it also means less waste. So not only is owning a trimmer economically friendly, it's also…wait for it – eco-friendly!
A trimmer is great for styling your facial hair, so it makes it that much easier if you are looking to have your beard a certain way. We also think it's worth a mention that trimmers usually have hypoallergenic blades, which means that a trimmer is probably a better choice for you if you have sensitive skin. This is one of the main difference between hair clipper and beard trimmer.
To give you an example of a good trimmer, here is one that is often regarded as the best trimmer around.
Brio BeardScape Beard/Hair Trimmer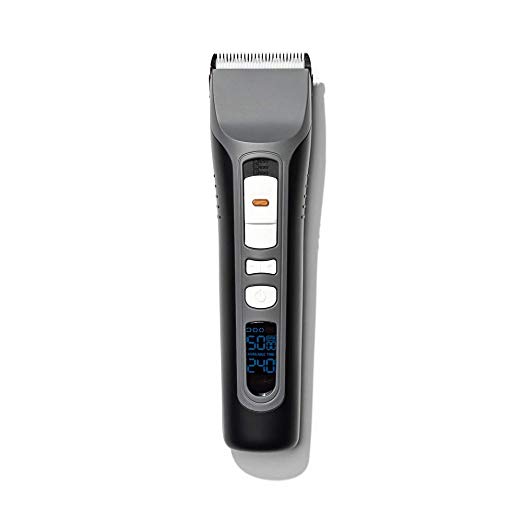 Men with long beards and facial hair rejoice – the Brio BeardScape is the answer to all of your facial hair problems. This trimmer has the power to handle trimming facial hair that is longer than average, meaning you don't need to go out and buy a separate clipper or cut your facial hair with scissors before you use this. The Brio BeardScape is regarded as many to be the best due to its many features that make it a truly desirable buy.
This device is wireless, making it much more portable and mobile to use. Thankfully, the battery that comes in this trimmer is also long-lasting, allowing you to stay wireless for longer, so that you can take your sweet time getting your facial hair perfected. Its motor is also quiet, ensuring that if you live with other people, you won't be bothering anyone if you have to use this device early in the morning. With multiple speed settings, go at your own pace so that you don't have to make any mistakes. When you run out of battery, this device does have a quick-charge feature so that you can pop it on the charger and then use it again in 5 minutes if you really just need to finish your grooming before you are out the door.
The blades of the BeardScape are made out of ceramic, which Brio claims is 4 times harder than blades made of stainless steel. Ceramic blades also do not cause as much friction when you use them, making it much more gentle when it comes into contact with your sensitive facial skin.
The BeardScape also has other differentiating factors that make it a great choice above the other trimmers. For example, this trimmer has an LCD display that shows the status of the trimmer's head (it lets you know when it needs oil, or if it's clogged and needs cleaning). Of course, this device comes with several sizes/heights of guards to allow you better control.
Summary of Features
Wireless with long lasting (up to 4 hours per charge) battery
Quick charging feature
Ceramic blades that are gentler on skin
Multi-speed
Comes with accessories
LCD display
Quiet motor
The BeardScape is a great device that works great if you want a closer shave. Its many features make it a cut (see what we did there?) above the rest and a great investment for those who want a device that will stay with them for the long term. The only thing that might be an issue here is the fact that this device may struggle to get the same type of consistency and precision when trimming shorter beards as compared to longer ones.
Choosing Your Grooming Weapon
Now that we've discussed the difference between hair clipper and beard trimmer, we do hope that it has helped you to distinguish between the two so that you can better decide the type that you prefer. Don't forget that you could also, in essence, purchase a 2-in-1 device that does the work of both!
Want more? Here's some trimmers and clippers that we've reviewed in-depth!