Having curly hair is both a gift and a curse. It looks great, but it can also be one hell of a grooming burden. The tangles, split ends, and kinks make it more difficult to shampoo, comb, style, and trim. Trimming curly hair yourself makes it an even enormous challenge. Still, with the help of our tips, you can trim your curly locks the easy way.
What you need before trimming
Before you go full force on the snipping, you have to understand these three points first:
✂️Knowing when the right time is
If your curly locks are frizzy and can't hold a style for long, it's a sign that you need a trim. Also, you should pay attention to how the ends of your curls look after styling. If it's thin and faded, split ends already damage the tips. Snipping a few centimeters should do the trick here.
Usually, curly guys and girls will benefit from trimming every 8 weeks. This will vary depending on how fast your hair grows. You can always ask a stylist if you're not sure if trimming is the solution for your curly problem.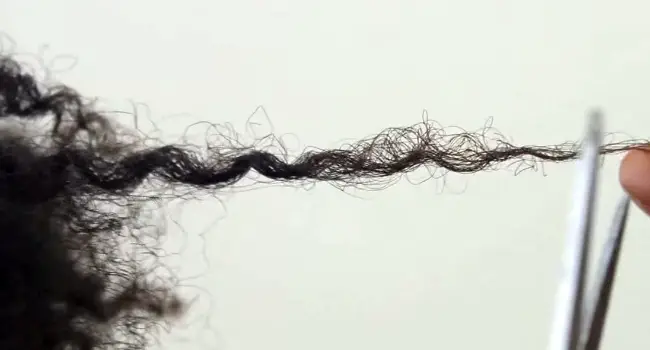 ✂️Getting the right tools for the job
Never trim without the right tools. If you really want a good cut, stay away from the household scissors at all cost. This scissor is used for a variety of things except for your hair. Invest in a sharp pair of shears so you can achieve a salon-quality trim.
Aside from being sharper than household scissors, shears also give a precise cut in different angles.
Also, purchase a few hair clips for sectioning purposes.
✂️Setting your target length
If you're doing a significant trim on your curls, make sure that you have an idea of how long you want it to be. Snipping without a set length may end up disastrous. You may not notice that you're snipping too short.
Methods to trim curly hair
There are a few methods that you can use when trimming your curls. There's no single way that works for everyone, so it's a matter of trial and error. Below, I've discussed some of the methods I use when grooming my curly hair.
✂️Search and destroy
If you're thinking of regular maintenance, the search and destroy method will suit you well. Basically, it's pruning your hair instead of chopping large swaths. After taking a bath and drying your hair, some strands may spring out of place. You can snip this and other pesky curls.
Also, you can use this method to remove damaged parts, especially the tips. Always snip in short lengths. Also, check on the mirror how it looks every two or three snips. You wouldn't want an awkward length that will take weeks to grow back.
It's best to do this after taking a bath. By then, all the products and dirt have been removed from your hair. Its natural look will reveal the curls that are out of place or has to be trimmed.
✂️Trim it when wet
Those with less curly hair opt to trim their locks when still wet or damp. The moisture allows the strands to clump together. Combing it will keep the hair in place for an accurate trim.
Once your hair is wet (not dripping wet), section it and grab a small portion. Pull this lightly and start snipping. Take note that your curly or wavy hair will look longer when wet due to the weight of the water.
Leave a small length allowance when trimming your hair wet. Once it dries, the curls puff and your crowning glory will look shorter than how it is when damp.
However, if you have a very curly hair, trimming wet isn't ideal. It would be disastrous, especially if you barely know anything about hair trimming.
✂️Or trim it dry
For those with densely curled hair, dry trimming is the best option. Some curly layers won't align as good as when your hair is wet. With this, you don't get a good look of your locks' natural flow.
You must know your curl pattern. Through this, you'll know if the hair should be snipped or it just needs to bond with other separate curls.
Also, if you want to save yourself from the disaster of cutting your hair too short, dry trimming is the way to go.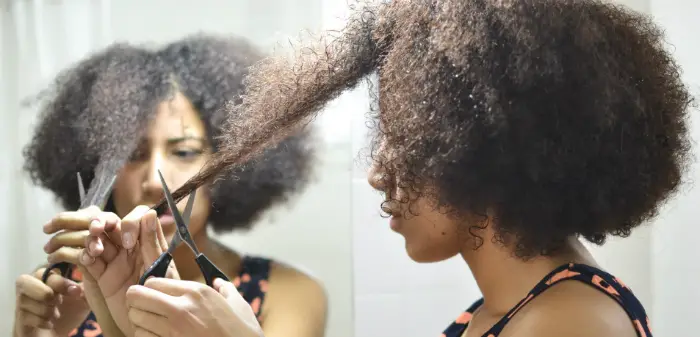 ✂️Straighten it first
Some people with curly hair prefer to straighten or blow-dry their hair before trimming. It's like converting your curly hair to straight hair for an accurate trim.
This is a popular method for curlies since it takes the guesswork out of their thick locks.
After straightening your hair, section it from easier trimming. Grab section and run your fingers through it until you reach half an inch from the tip. Cut the half-inch length and do the same for all sections.
If you want to trim it shorter, snip another half inch. Always cut your hair in half-inch lengths so you won't experience the disaster of cutting it too short. Again, your hair will puff once it goes back to its natural curly state.
Straightening your hair before trimming is ideal, especially if you're trimming to reduce the length and not to remove damages. However, if you trim too frequently, straightening may cause damages to your curls.
✂️Twist and braid
The twist and braid method is used when you have hair that's too curly, thick, and puffy. You simply section your hair, braid it, and then snip.
Take note that you should trim your hair per ¼ or ½ inch. This prevents over-trimming. Always stop and check the braid in the mirror to see if it's of the same length as the other braids.
The twist and braid method is perfect for those who have short curly hair. It's a foolproof way to reduce the length and remove split ends without missing a portion of your locks.
PRO TIP: the smaller (or thinner) your braids are, the more accurate your trimming will be.
After trimming, unravel the braids and see the results of your DIY styling.
✂️Trim per curl
Some curly people I know trim their hair per curl, and not per section. This way, you trim your hair without disturbing its natural cascade. It also prevents the so-called hair-triangle which happens when curly hair is trimmed bluntly and in a straight manner.
By doing this, you trim the individual curls and see how the reduction shapes your locks. Make sure that you check the collective look of the locks after trimming.
Dos and don'ts
DO…
✂️Get regular trims
Curls are notorious for split ends, which is why you should get regular trims. If you can't do it on your own, you can tap the help of a professional stylist.
Trimming your hair after a few months is healthy, especially if you use products on your hair. This allows you to get to rid of product-exposed ends that will soon become frayed and scraggly.
✂️Section your hair before trimming
Unless you're using the search and destroy method, it's important to section your hair. This makes your trimming organized. Also, it will prevent re-trimming a portion.
Just like styling, you'd want your haircut to look even. Use multiple hair clips and bands if need be. I personally don't like Velcro patches since it ruins the natural curls of my hair. Also, it's a pain to remove when it got stuck between tangles.
✂️Mind the hair products that you use
Always think twice before applying a certain product. If you're trimming a little and styling at the same time, apply the products with your hair upside down. This will give your locks a nice volume and there would be no sticky parts on the top.
If you want to sculpt your curls, creams are excellent choices since it adds weight while locking in moisturizing ingredients.
✂️Let natural hair flow on its natural position
In my experience, trimming with my hair flowing naturally is more effective. It lets me see the actual result of the snipping. Still, if straightening and dampening your hair works best for you, you can stick to it. When it comes to curly hair, each person will have a preferred grooming style.
✂️Use wide-tooth combs
Ditch the fine-toothed combs and brushes. If you want to keep the natural flow of your hair, wide-tooth combs are your best friends. Fine-tooth combs make more snags which will ruin your curls and make styling a nightmare.
I personally use wide-tooth bamboo combs since it doesn't form static. It also makes the application of products a breeze.
DON'T…
✂️Use dry shampoos
Dry shampoos and other dust products will dry on your curls and cause matting. These products are best for silky hair since the product can easily slide through the strands.
If possible, switch to moisturizer or oil-based products.
✂️Yank the kinks out
Never yank a tangle when you encounter one. It will hurt your scalp and cause hair fall. Based on my experience, yanking it out will make you even more frustrated.
The secret here is to get some moisturizing hair oil, apply it on the tangled hair, and slowly unravel it. This works like a charm to me.
✂️Use hair products with silicone
Silicone gives a shiny effect on the hair. However, this isn't healthy and when it comes to curly hair, shiny hair is a bit far-fetched due to its coarse texture.
✂️Go crazy with towel drying
Brisk towel drying will abrasive and it will damage your curls. Also, it will produce excessive tangles which are pesky to deal with if you're in a hurry.
The best thing to do after taking a bat is pat drying your hair. After that, let it drip dry or use a blow dryer with low settings. If you're trimming it wet, let the excess moisture drip first.
✂️Brush and comb when the hair is dry
This may sound counterintuitive, but if you have curly hair, this actually saves you from snags. Brushing and combing when your hair is bone dry will only result in tangles. If you want to fix your locks, just run your fingers through your curls and you're good to go.
In this video, beauty vlogger Jade Kendle tells us more dos and don'ts when it comes to curly hair:
Frequently Asked Questions
Q: How often should I trim my curly hair?
A: Every 6 to 8 weeks is a rule of thumb, but this will vary from person to person. If your hair tips look dull, scraggly, and dry, it's time for a little trim. This will remove the damaged parts and give your hair a fresher look.
Q: Should you cut curly hair straight?
A: Some prefer this method, especially if they are just concerned to lose length. However, some curlies opt to trim their hair on its natural state so they can see the result right away. It actually depends on what you prefer and what works for you.
Q: How do you dry naturally curly hair?
A: We recommend patting it dry using a clean towel (not cotton!) and then letting it drip dry. It's also fine to use a blow-drier with a low heat setting to prevent damages. But if you have the time to spare, it's best to let it dry in the air.
Q: Does trimming promote hair growth?
A: It may surprise you, but yes, hair trimming will encourage growth. Aside from that, it removes the damages on your hair, which gives room for healthier lengths.
Q: Is it better to cut curly hair wet or dry?
A: This is a matter of preference. If you want to see the results, you're better off trimming your hair dry. Dry trimming also lets you see how the reduction affects your look. Meanwhile, wet trimming is ideal if you want to keep the strands together.
Final words
Trimming curly hair yourself is possible with the right methods. What we discussed above are just some of the ways that you can use. Depending on your curly hair type, you're free to tweak any of the tips.
Do you have something to add on our guide? Let us know below!