Don't you just hate it when trimmed hair goes all over your sink? It's difficult to clean, and it sticks to the skin. If you're tired of cleaning up the mess after trimming your beard, you should switch to a new tool: a beard trimmer that collects hair. While you trim, there's a vacuum mechanism that sucks in the hair into a chamber. It's a time-saver tool and a great way to keep your bathroom clean.
If you're looking for a vacuum beard trimmer, I've reviewed the five best options here.
TRIMMER
BRAND
EXPERT
RATING
CHECK PRICE

 My Top Pick! 


Philips Norelco 7100
Beard Trimmer

Check Price

Philips Norelco 7200
Beard Trimmer

Check Price

Remington HKVAC2000A
Beard Trimmer

Check Price

Remington MB6850
Beard Trimmer

Check Price

Remington VPG6530
Beard Trimmer Kit

Check Price
---
Benefits of a vacuum beard trimmer
I've seen and tried a lot of beard trimmers in the market, and it really amazed me when I first got one with a built-in vacuum. It's a nifty tool that saves my time from cleaning the sink. The idea of having a mini vacuum in a trimmer is also awesome. The following are some of the benefits of getting one:
Fast cleaning. Again, I can't stress this enough. Beard trimmers fitted with a vacuum technology are heaven-sent on mornings when you're late for work and still needs to shave. Since the hair is contained inside the trimmer, you can clean it in a breeze.
Easy to pack. Many vacuum beard trimmers I've had can be disassembled, making it easy to pack for travel. Don't let the tubby body fool you.
Easy to maintain. Although it has an extra system inside, vacuum beard trimmers are quite easy to maintain.
Can be used on the move. Are you on a rush for a meeting or appointment? A vacuum beard trimmer can be used on the go, at least while you're preparing your things. Out of respect to others, please don't shave in public.
---
How to clean a vacuum beard trimmer
The life of your beard trimmer is dependent on many factors, one of which is how you maintain it. If you're using a vacuum beard trimmer, you should do the following:
A beard trimmer that collects hair will usually have a removal chamber that you can empty easily
Pull the chamber and empty it in the trash bin
After that, rinse it in the sink together with the trimmer blade
This will vary, depending on the construction of the trimmer.
After cleaning, dry the blades and oil it before storage.
At some point, you may need to change the blade of your trimmer. This is to ensure a smooth trim and to prevent rust from causing infections.
---
How to choose a beard trimmer that collects hair
When shopping for a beard trimmer that collects hair, you must check the features and compare it to your needs. Make sure that you factor in the length of your beard on choosing the right unit. Aside from that, you should also keep the following things in mind:
✔️Blade quality
The blade of your beard trimmer is the most important component of such a tool. It should be sharp, hypoallergenic, and durable enough for regular use. Most of all, it should be rust-proof. Chromium and stainless steel blades are some of the best and affordable options that last for a decent amount of time.
Also, make sure that the blade of the trimmer is easy to replace and that replacements are easy to come by. Most manufacturers sell replacement blades for their trimmers, with some being specific to a certain model.
✔️Vacuum efficiency
You're here because of the vacuum function of the beard trimmer so it should work properly. While it's far from the vacuum power of a Roomba, it should still suck in most of the trimmed hair. I've tried many vacuum beard trimmers before, and only a few do an excellent job in keeping the trimmed hair from spilling over. 
✔️Motor power
The motor power of the beard trimmer will dictate how efficient it can trim on every pass. Most vacuum beard trimmers are cordless so don't expect mind-blowing power. Still, you can find some that are fitted with lithium-ion batteries that can provide reasonable trimming power and run time.
The good thing about low to mid-powered trimmers is it's quieter than their corded counterparts. For me, that's an acceptable trade-off.
✔️Battery power
Speaking of power, you should look for a vacuum beard trimmer that will give you a decent run time. Say no to trimmers that shut down within 15 minutes of use. As much as possible, the beard trimmer should work for at least 30 minutes in every charge. This will save you from the hassle of waiting for the trimmer to charge before you can finish trimming your beard.
✔️Waterproof feature
Next, try to look for a beard trimmer with a waterproof build. This will make it easy for you to clean the tool after each use. A fully waterproof body isn't necessary; just look for one with a washable blade and hair container.
✔️Ergonomics
I always put a lot of attention on the 'feel' of the beard trimmer while in use. When buying a vacuum beard trimmer, always check if it's comfortable to hold and maneuver all over your face. Avoid slippery ones, especially if you're planning to use it for wet trimming.
✔️Attachments and extras        
A beard trimmer becomes versatile when it's bundled with combs and other extras. Additional comb guards allow you to trim your beard in different lengths. It also allows you to use the trimmer for your head hair.
Aside from comb guards, some vacuum beard trimmers also come with a cleaning brush, oil, and storage bag. All these extras add value to your purchase.
✔️Maintenance level
You should also consider the maintenance level of the beard trimmer you're going to get. Try to look for one with an accessible vacuum canister and a washable trimmer head. This will save you from the hassle of removing tiny hairs all over the trimmer manually.
✔️Cost
Last but not the least, factor in how much the vacuum beard trimmer will cost. Most high-quality beard trimmers with a vacuum technology will cost more than typical clippers. Still, this additional investment is worth it since you'll enjoy added convenience while grooming. Also, spending a little more will allow you to get a trimmer that will last long.
---
Beard Trimmer That Collects Hair – My Top 5 Picks!
MY #1 CHOICE
MY TOP PICK: Philips Norelco 7100 Beard Trimmer
Vacuum Power

Cutting Precision

Battery Power

Value for Money
Summary
This trims evenly on every glide. Even though it costs a lot more than other beard trimmers in the market, I don't mind splurging for this kind of quality. Pair that with an aesthetic look as well as ergonomic design and I'm totally sold.
Aside from that, the Philips Norelco 7100 is backed by a two-year warranty for any quality issues. The package also includes a charging adaptor and cleaning brush.
The only thing I noticed is that this specific model takes 8 hours to charge for a one-hour operation. This is due to the power the vacuum needs. Anyway, there's a high and low battery indicator, too.
Pros
18 length settings
Efficient vacuum technology
Two-year warranty
---
RUNNERS-UP
Philips Norelco 7200 Beard Trimmer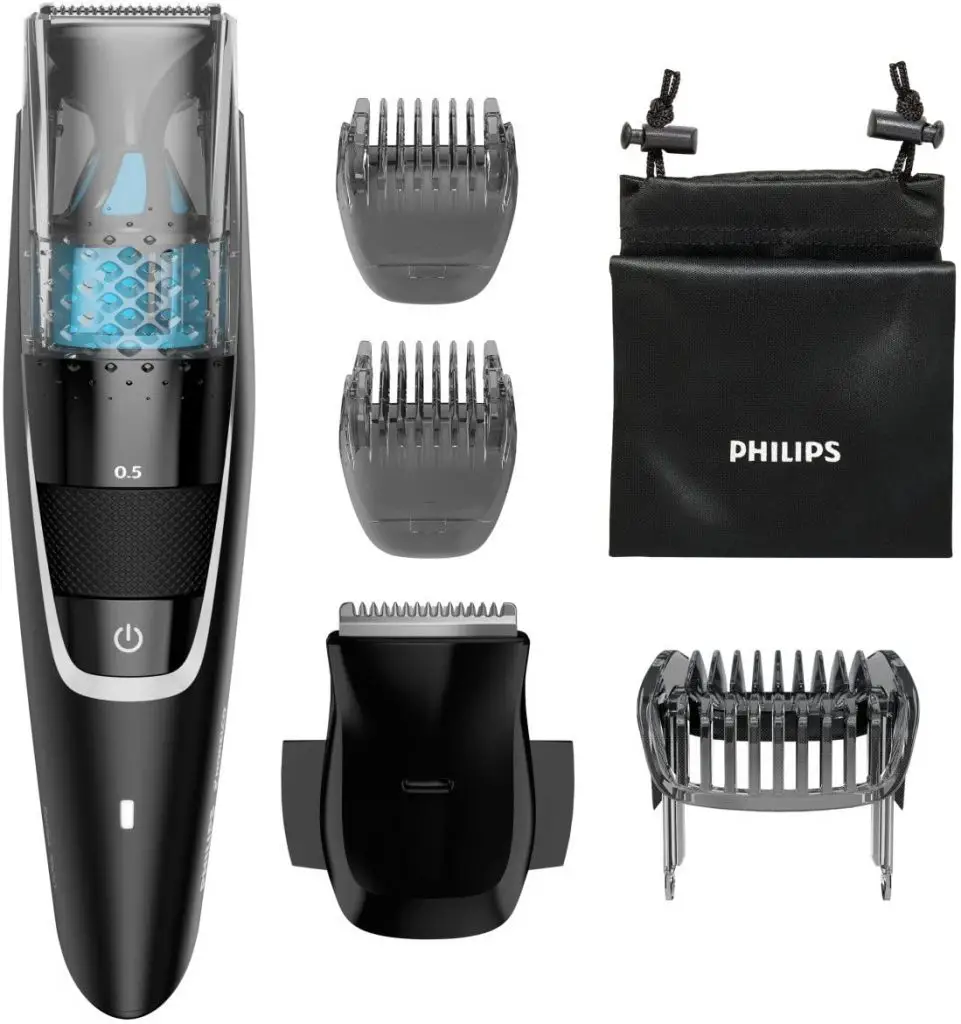 If you want to save some bucks, you should consider the Philips Norelco 7200. Like the 7100 model, this one has a powerful vacuum technology that catches all the trimmed hair as you groom. Overall, it can remove up to 90% of all the mess it takes to trim a beard.
Aside from that, this has a precision trimmer that allows you to trim hard-to-reach areas. It also has an innovative lift and trim technology for the closest shave on every pass. But if you don't want to shave your beard, this trimmer is also bundled with two combs to achieve the length you desire.
Moreover, the trimmer has 0.5 mm precision settings and a removable stainless steel blade for easy cleaning. You can set the blade from 1/32" to 13/32" using the zoom wheel on the trimer's body.
After each use, you can remove the blade to empty the vacuum bin. There's also a battery indicator to let you know if your trimmer is already running out of power. And speaking of battery, this trimmer has a lithium-ion battery that can run for 80 minutes on every one hour of charge. This is one advantage of the 7200 unit over the 7100.
And in case you need to replace the blade or any plastic parts of the trimmer, you can buy it from Philips Norelco as well. I also want to warn that the plastic parts can break easily if you drop it so practice caution when using the trimmer.
---
Remington HKVAC2000A Beard Trimmer Kit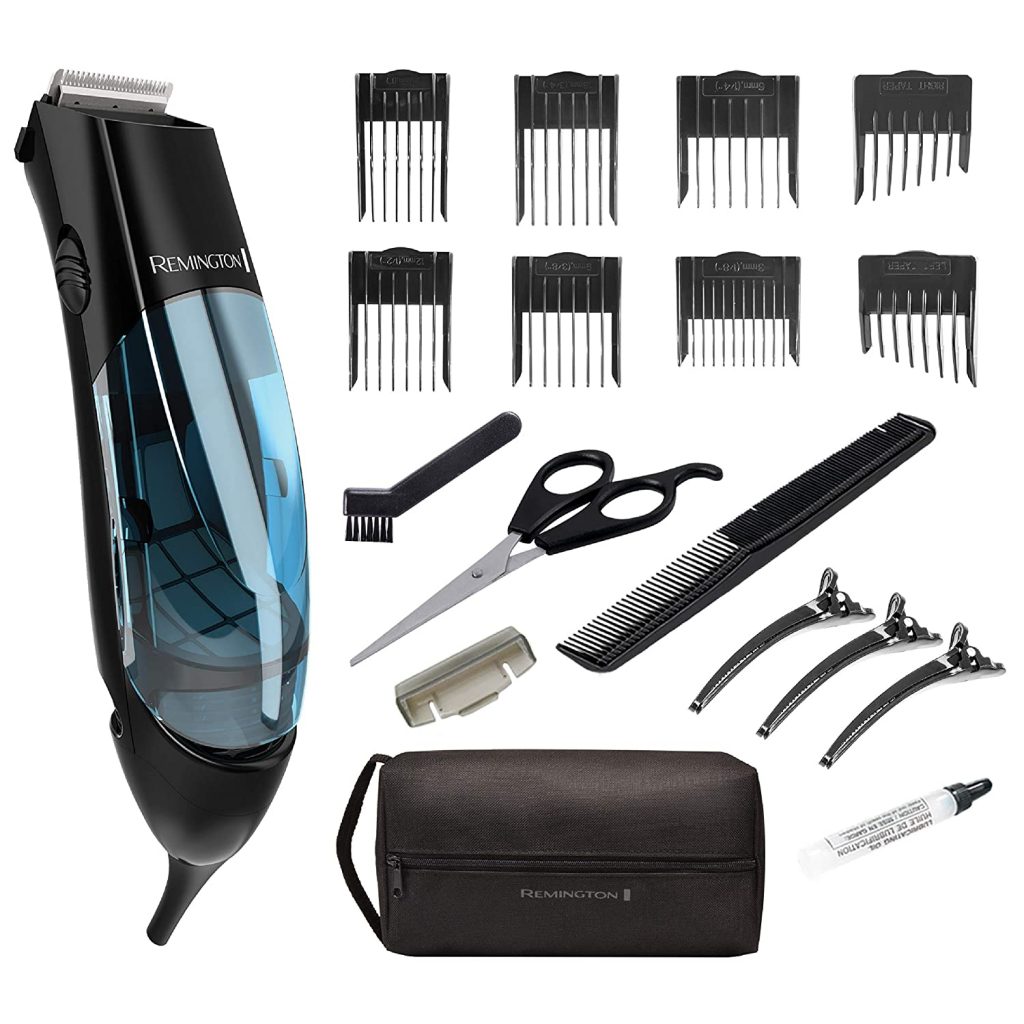 Another vacuum beard trimmer I swear by is the Remington HKVAC2000A Trimmer. This one has a corded construction that can perform at high speeds for the smoothest shaves. It sports precision ground blades that cut like butter.
Overall, this trimmer is part of a 16-piece kit that includes six comb guards, two tapers, one brush, one comb, three hair clips, one oil vial, blade guard, trimming scissors, and a storage bag. It's the complete manscaping kit for guys who are shaping and trimming their beards.
Aside from that, this trimmer is fitted with dual motors for precision and power like no other. And since it's a corded trimmer, you'll not worry about any battery draining. You can trim and clip to your heart's content as long as there's a power source where you can plug it in.
Since this Remington trimmer has a powerful motor, it's paired with an extra-large chamber that can hold lots of hair. It has a high-speed fan that collects the hair efficiently for little to no mess. I also like that the hair chamber slides out of the trimmer for ease of cleaning. You can also remove the blade to clean it separately.  
Just take note that trimmer body isn't washable because it's corded. But given that you can remove the blade and hair chamber, it's more than enough for regular maintenance.
Overall, this trimmer works as advertised. It's also cheaper than the two first two options I reviewed above, which is another plus point.
Overall, this trimmer works as advertised. It's also cheaper than the two first two options I reviewed above, which is another plus point.
---
Remington MB6850 Beard Trimmer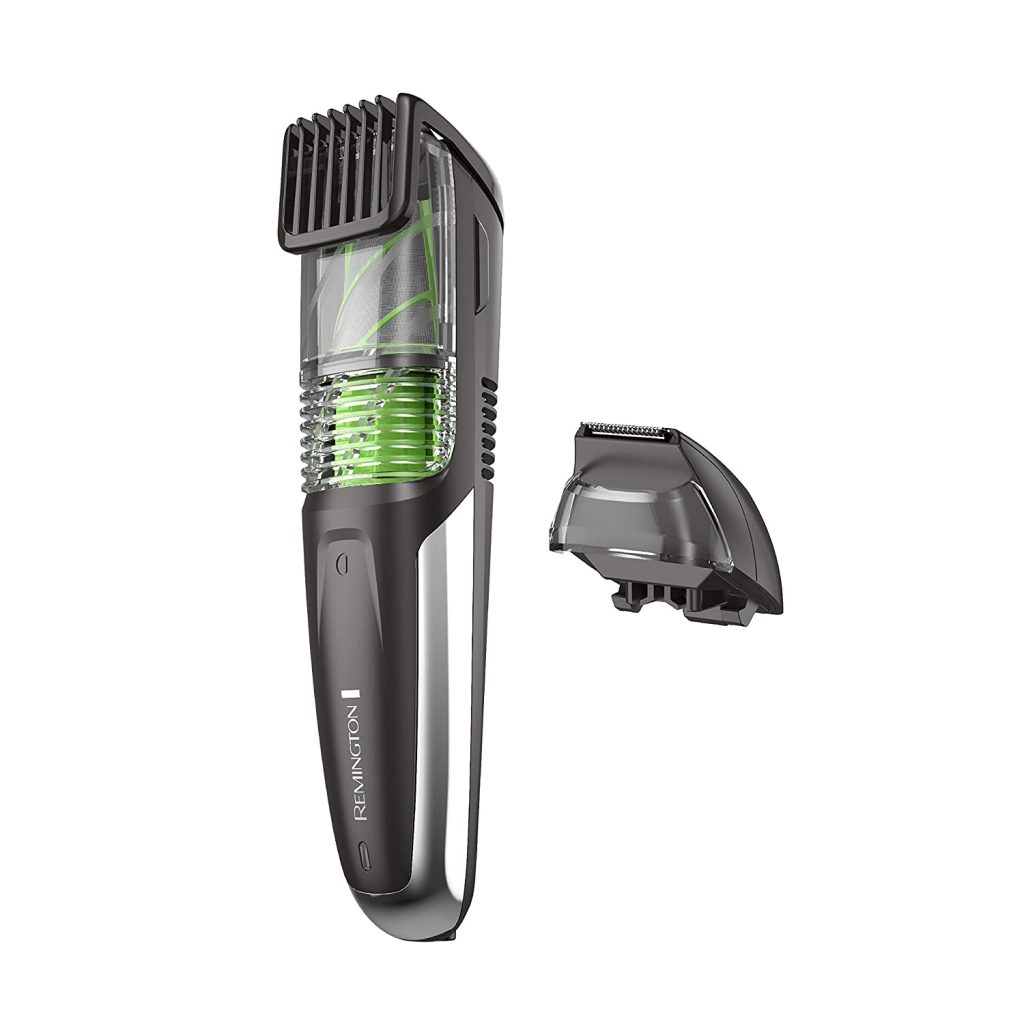 Another Remington beard trimmer I recommend is the model MB6850. This has a powerful vacuum system that promises to remove up to 95% of all trimmed hair. Aside from that, this has a washable blade that can be used for your beard, neckline, sideburns, and head hair.
The best part is the 11 length settings that you can use to adjust the length of the comb. Instead of a zoom wheel, this has a lock-in adjustable comb that you can set in 2 to 18 mm to suit your target length. With that, you no longer have to switch between different comb attachments. There's also a battery indicator on the body, so you'll know if it's time to recharge your trimmer.
As a cordless beard trimmer, this one is powered by a rechargeable lithium battery that gives up to 90 minutes of run time for each charge. Even professional barbers swear by the quality of this trimmer, which is surprising for its lower price range.
Both the blade and hair chamber are removable. However, the hair chamber for this one is quite smaller than the HKVAC2000A, but it's something I can live with at this price range.
If you're traveling, you'll be glad to know that the Remington MB6850 has a worldwide voltage. It will be your all-around beard trimmer wherever you go.
---
Remington VPG6530 Beard Trimmer Kit

If you're on a budget but still want to experience a vacuum beard trimmer, I highly recommend the Remington VPG6530. This has a powerful vacuum suction technology but in a lower price range.
Aside from the trimmer, you will also get four comb guards and attachments, including nose & ear, foil shaver, and detailer heads. For just one tool, you will get a multi-groomer that will cover almost all trimming tasks every guy has.
I also like its mess-free and sizeable hair chamber that you can remove for cleaning. This trimmer can run for 60 minutes for each charge. And if you run out of power, you can also use this corded, thanks to the long cable included in the package.
The Remington VPG6530 is a trusted beard trimmer, and it won the 2014 Red Dot Award for Quality Seal. It's proof that this trimmer works exceptionally than other counterparts at the same price range.
Overall, this has an excellent build, strong vacuum, good battery life, and a decent warranty. For such a low price, this is already a steal.
---
Frequently Asked Questions
Q: How often should I replace my beard trimmer?
A: Beard trimmers can last for years if maintained properly. However, if the blades get dull fast and the motor is no longer consistent, it might be time for a replacement. Always invest in a durable beard trimmer so it will last longer and save you more money in the long run.
Q: How often can I shave my beard?
A: The answer to this depends on how fast your beard grows. Most guys can forego shaving for a couple of days before their stubble grows back. However, there are those that need to shave every other day. Just avoid shaving every day because it can irritate the skin and even cause razor burns, much so for close shaves.
Q: How long should I wait before trimming my beard?
A: If you're growing a beard, you should only trim it once you're three to five weeks in growing the facial hair. Never shape or trim a beard that's less than three weeks. If you have thin hair, it's best to wait for at least five weeks so you'll have a sizeable growth that will not look too wispy after trimming.
Q: Can I use a trimmer to shape my beard neckline?
A: Yes, you can use a hair trimmer to shape your beard neckline, but you should use the right comb guard. You have to be careful in lining out your beard neckline because some end up shaving too close to the chin. Doing so will create a double chin and awkward effect that will take weeks to fix.
Q: Does trimming make my beard thicker?
A: There are a lot of misconceptions about beards, one of which is that trimming helps make it grow thicker. The truth is it not black and white. Trimming helps poor beard growth grow back stronger, which gives a thicker appearance. Better growth may not necessarily be thicker. 
Q: Is a vacuum beard trimmer worth it?
A: If you want the added convenience of easy cleaning, a vacuum beard trimmer is a genius addition to your manscaping toolkit. It prevents hair from getting everywhere, which is a big help for those who are tired of getting those tiny hairs flushed into the sink.
---
Final words
A beard trimmer that collects hair is the answer to your messy grooming. The built-in vacuum will gather the trimmed hair inside a removable chamber that you can empty later on. This trimmer will level up your trimming experience for years.