Are you thinking of going bold and bald? If so, you need the best balding clippers for black hair for a smooth and seamless finish. Also, going bald is a great way to break free from the burden of styling every morning. And unlike before, bald is now considered a hot look, with more and more Hollywood actors flaunting this style. So to make sure that yours will look suave, get the right tool for the job. Here are our top 7 picks:
CLIPPER
BRAND
EXPERT
RATING
CHECK PRICE
Wahl Professional
Balding Clipper

Check Price

Wahl Lithium Ion
Haircutting and
Trimming Combo

Check Price

Andis Pro Titanium
Foil Shaver

Check Price

OSTER Classic 76
Universal Motor Clipper

Check Price

Andis Professional T-
Outliner Trimmer

Check Price

Remington Shortcut
Pro Self-Haircut Kit

Check Price

Andis Master 15-Watt
Hair Clipper

Check Price
Why consider going bald?
Unlike in the previous years, bald men are considered hot nowadays. Aside from rocking a suave appearance, shaving your head bald is also time-efficient. You don't have to fuss about styling and adjusting your look for a specific occasion.
A bald hairstyle looks sharp and intelligent. Sure, not everyone can rock this look, but with the right clothes and head shape, it will look good to most.
Going bald also lengthens the life of your shampoo bottle (you still need to shampoo, by the way) and it helps hide your current bald spots.
Buying guide for the best balding clippers for black hair
So are you looking for the best balding clippers for black hair? Before we dive into the options, here are some points you should know:
*Corded vs. cordless
There are advantages to both corded and cordless clippers. Basically, corded ones offer endless power for long shaving sessions. On the other hand, cordless clippers are more convenient and easy to use. Still, you'd have to keep it charged in order to work.
*Motor Power
A powerful motor can cut through all types of hair, be it straight or curly. If you have thick hair and you're shaving bald, excellent motor power will also be handy. However, the more powerful the motor gets, the louder the clipper becomes. It's just a small sacrifice if you want better cutting performance.
*Blade type
Hair clippers have a variety of blade material: carbon steel, stainless steel, titanium, and more. The first three materials we listed are already a champ. If possible, look for a self-sharpening blade for less maintenance on your end.
*Guards and attachments
Aside from the clippers, you should look for guards and attachments so you can use the balding clipper for other hairstyles. This way, you can use it for fades, tapers, and lines. Most clippers are paired with various accessories like this as well as blade oil, grease, and brush.
*Suitability to your skin
Some clippers are notorious for giving bumps and rashes. Make sure that what you're getting is hypoallergenic and will not react harsh on African Americans. Afros have curly hair which is prone to ingrown, so a skin-friendly clipper is necessary.
*Ergonomics
Shaving your head bald needs precision and a long period of maneuvering the clipper. This is why the clipper you're going to buy should be easy to grip and considerably lightweight.
*Durability
Even though you're going bald, your hair clipper should withstand regular use. It should be durable enough for multiple users. Also, a shock-proof shell is ideal, so the clipper won't shatter if ever you dropped it on the floor.
*Cleaning
Hair clippers can get really messy with bits of hair everywhere. So if you're going to buy the best balding clippers for black hair, you might as well look for fully washable models. If your budget doesn't fit into this type of model, you can consider detachable blades.
*Noise level
Hair clippers aren't the quietest equipment, but you can look for on a unit that emits the lowest vibration and sound. Anyway, you should know that the powerful motors will normally produce louder sounds. It's always the expense of the other if you want performance
7 Best Balding Clippers For Black Hair
OUR #1 CHOICE
OUR TOP PICK: Wahl Professional Balding Clipper
Quality

Close cut

Durability

Value for Money
Summary
What we love about this clipper is it has twice the speed of common pivot motor clippers. It also sports a zero overlap surgical titanium blade made specifically for bald cuts. This is also skin-friendly, so rest assured that your head-shaving won't be mired with bumps.
Also, the clipper feels sturdy, and it produces superb cuts. You will get even shaves without slicing or snagging the scalp.
Pros
✔️Has a titanium surgical blade
✔️2x more motor power
✔️Professional grade clipper
Cons
❌Will rust if stored in the bathroom
RUNNERS-UP
Wahl Lithium Ion Haircutting and Trimming Combo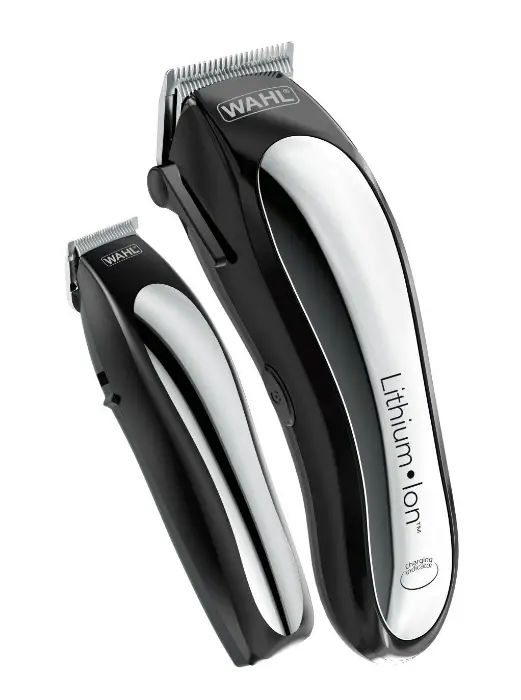 If you have a beard and planning to shave your head, you might as well invest in the Wahl Lithium Ion Combo. It has a powerful clipper plus a beard trimmer for a full-body grooming kit. Aside from that, you'll get 10 clipper guards, including No. ½ to No. 1/8 attachments.
Moreover, both the clipper and the trimmer have self-sharpening blades that can cut all types of hair: from straight to densely curly locks. This is also Wahl's best blade which can cut 40% faster than standard Wahl precision blades.
Also, if you're looking for convenience, this clipper is cordless and rechargeable. This way, you can shave your head bald without the cable clutter.
We also like that it can hold the charge for up to a year if you don't have to use it for long. For a 3 to 5-hour charge, you'll enjoy a 2-hour run time. That's more than what you need to shave your entire head.
Aside from the clipper and trimmer combo, you'll also get a storage case, hair clips, taper guards, charger, scissors, barber/styling combs, oil, and brush. For its price, this kit is one of the best balding clippers for black hair.
PROS
✔️Cordless construction
✔️2-hour run-time per charge
✔️Complete set of clipper guards
CONS
❌The AA batteries aren't included in the package
.

Andis Pro Titanium Foil Shaver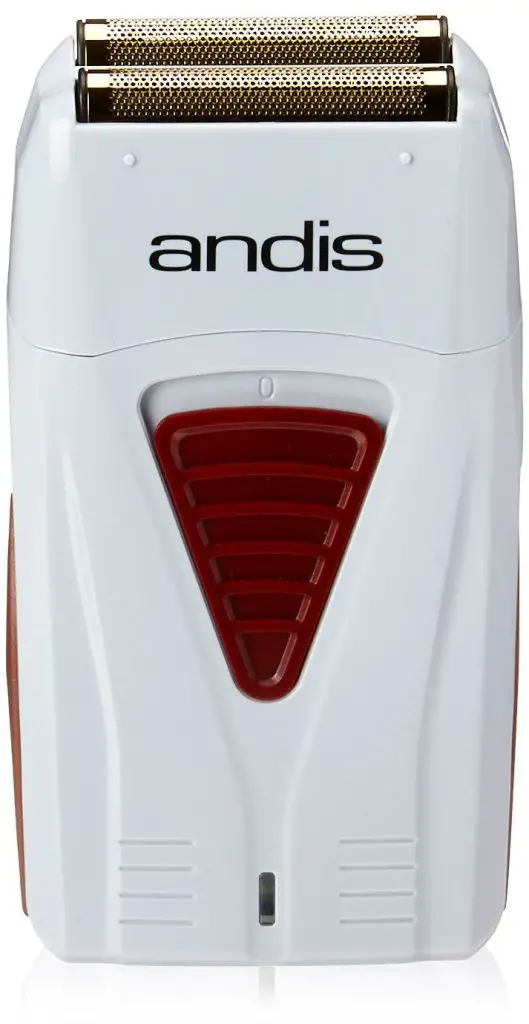 For those who miss the classic head shaver, the Andis Pro Titanium Foil Shaver will give you a blast from the past. It comes with staggered-head shaver blades that allow a closer shave than most clippers. With that, you'll get a smooth bald finish in a matter of minutes. Each use will produce stubble-free cuts, which is also ideal for fades.
Aside from that, it's powered with a Lithium-ion battery that stores and holds power for long. Each charge will give you an 80-minute run time. We also love that this is hypoallergenic and skin-friendly.
Unlike other clippers, the Andis Foil Shaver has dual and independent drive shafts for each blade. This guarantees excellent and unfaltering performance for all types of hair.
If, after a few years, the foil has lost its edge, you can get a replacement foil and cutter from Andis. This is a useful kit that even barbers use for their customers. Besides, you can also use this for styling and nailing suave fades.
PROS
✔️Lightweight for ease of use
✔️Gold titanium blades
✔️80-minute run time
CONS
.
❌Not ideal for hair neck
.

OSTER Classic 76 Universal Motor Clipper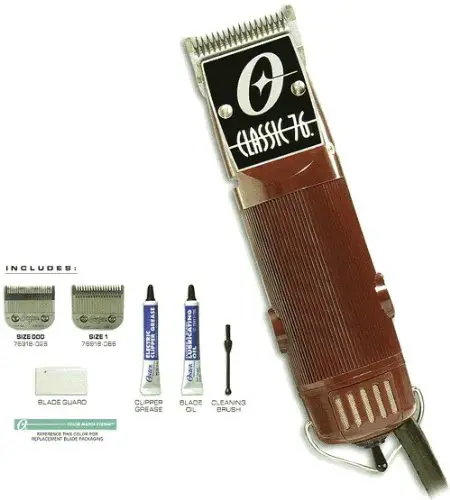 If you have the extra to splurge, you definitely have to give the OSTER Classic 76 a shot. It's not just a sophisticated-looking clipper; it's also powerful in the balding department. This comes with heavy-duty and detachable blades with sizes 000 and 1.
Also, this has a single-speed motor that encased inside a break-resistant housing. We also like its classic design that takes us back to the barbershops in the '70s. The textured housing also adds a better grip for long head-shaving sessions.
This OSTER Classic 76 is a total workhorse that can cut every type of hair. And since it comes with a 9-foot cord, this clipper can operate endlessly. And if you need to cut your beard down, this clipper comes handy as well. Just don't expect it to be a good shaper.
Aside from the clipper, you'll also get a blade guard, cleaning brush, clipper grease, and lubricating oil. Also, this clipper comes with an oiler port to prevent a mess on your shaving.
For those who are used to modern clippers, the OSTER Classic 76 will appear a little cumbersome. But after a few runs, you'll get used to its length.
PROS
✔️Detachable blade for easy cleaning
✔️Break-resistant housing
✔️9-foot cord
CONS
.
❌Feels large at first
.

Andis Professional T-Outliner Trimmer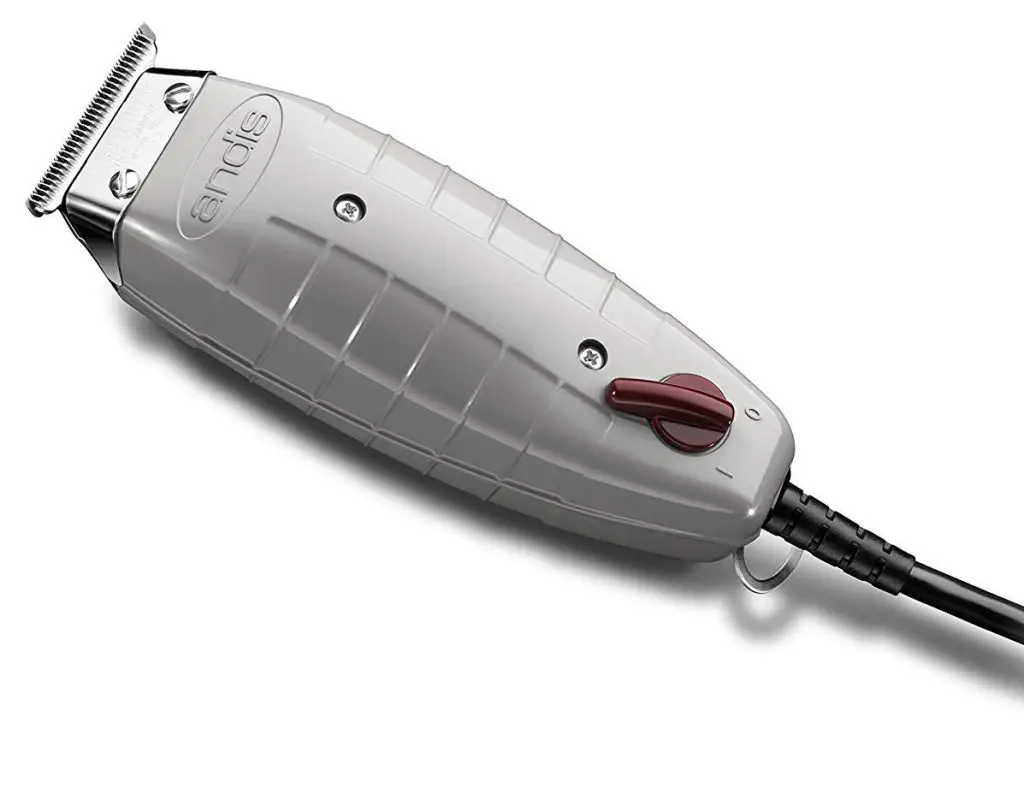 Another Andis clipper that we love is the T-Outliner Trimmer. It has a carbon-steel T-blade that can be placed with a zero-gap. This way, you can achieve a smooth close cut for your bald pursuit. This works for all-around outlining as well as fading and dry-shaving. So for a price of one, you're going to get a trusty trimmer for head and facial hair.
Aside from that, the T-Outliner boasts a high-speed and magnetic motor that can work quietly. This is considerably lightweight, too, not to mention that it comes with a set of accessories.
In addition, the T-Outliner Trimmer has a contoured housing that ergonomically fits into the hand of the user. It's also a corded trimmer that comes with an 8-foot cord paired with a hanger loop.
You can use this balding clipper as a beard shaver as well. There's no need for gels or creams as the T-Outliner produces crisp and smooth results.
PROS
✔️All-around clipper and trimmer
✔️Carbon steel T-blade
✔️Can be zero-gapped
CONS
.
❌Tends to run very hot during long use
.

Remington Shortcut Pro Self-Haircut Kit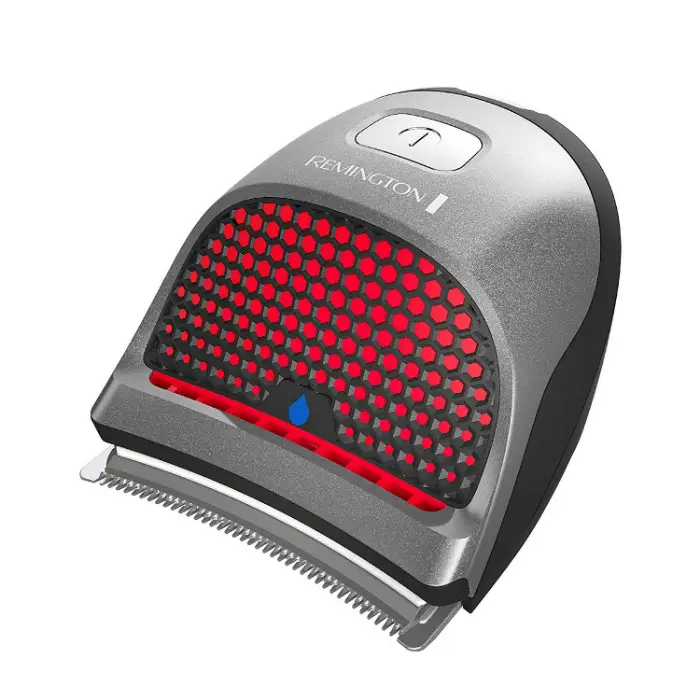 If you don't want cumbersome clippers, you might as well try the Remington Shortcut Pro Self-Haircut Kit. It's smaller than most clippers and it can fit on your palm. Aside from that, it has a wider and contoured blade made of stainless steel. This can give a smooth and bald cut that doesn't pull or snag your scalp.
Aside from the clipper, you'll also get length guards from 1.5 mm to 15 mm. Another great thing about this Remington clipper is it's cordless and can run for 40 minutes per charge. In case you run out of battery power, you can plug this clipper and use it as a corded type.
And after you're done shaving your head, the clipper is fully washable — no need to disassemble the blade. But if you wish to change the blade or store it for long, the blade itself is detachable.
Moreover, this clipper has an ergonomic design. Though smaller, it will not slip from your hands, allowing you to get a hassle-free bald cut within minutes.
PROS
✔️Fully washable
✔️Wider and contoured blade
✔️Corded/cordless design

CONS
.
❌No side trimmer
.

Andis Master 15-Watt Hair Clipper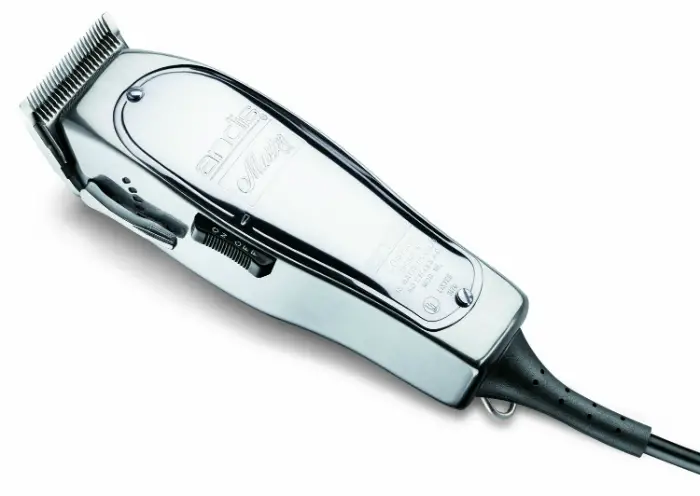 Last but not the least is the Andis Master 15-Watt Hair Clipper. This chromatic masterpiece generates up to 14,000 cutting strokes per minute for an efficient shaving session. Also, its carbon steel blade is adjustable from fine to coarse sizes. Also, it can be zero-gapped for bald cuts.
In addition, the motor is enclosed inside a lightweight aluminum case with a thumb-controlled side switch. This allows one-hand operation for less strain as one of the best balding clippers for black hair.
This Andis clipper is lightweight at 20 ounces and the package comes with blade oil and blade guard. Just take note that this is corded. So if you're used to cordless types, it will take a little adjustment time to master this clipper.
Aside from bald cuts, this is also great for fades and blend outlines. It also lasts for years and can be passed on to your son or daughter.
PROS
✔️Highly adjustable blades
✔️Can be zero-gapped
✔️One-hand operation

CONS
.
❌Guards are not included
.

Frequently Asked Questions
Q: Can beard trimmer be used for head hair?
A: Most beard trimmers have thinner blades, so it's not usually advisable to use as a head razor. Still, some units are made for dual purpose with thicker and more durable blades.
Q: What are the best clippers for a bald head?
A: Above, we reviewed 7 of the best options, including the Wahl Balding Clipper. You can also choose which one you'd like from our other picks.
Q: How do you maintain a bald head?
A: Even with a bald head, you still need to use shampoo to keep the very short hair clean. This will also moisturize your scalp to prevent scaling and irritations.
Q: How do bald heads get shiny?
A: Shiny bald heads are possible by using a special aerosol hairspray. You can also use baby oil then rub it with a warm towel to produce a shiny effect. It's similar to buffing a surface.
Q: Is shaving your head good for your hair?
A: If done properly, shaving your head bald will not damage your hair follicles and hair shaft. In fact, shaving your head bald is a fresh start, so you can start caring properly for a new length of hair. Always moisturize and keep shampooing.
Final words
The best balding clippers for black hair will give you a nice and smooth finish. Just make sure that you get the unit with the features and accessories that you need. Although some units can be a bit pricey, it's worth the splurge considering the quality and durability. And if you're looking for the right balance of everything, our top 7 picks here will surely nail it. What do you think of our options here? Let us know below!