During this quarantine period, one of the struggles is manscaping on your own. With barbershops still shut, you need to trim your beard on your own. For some, this can be challenging, especially with lines that shape your beard. If done wrong, it could be one hell of a disaster. With a little practice and the best beard line up trimmer, you can style your beard at home. 
TRIMMER
BRAND
EXPERT RATING
CHECK PRICE
Wahl Professional
5-Star Detailer

Check Price

Philips Norelco 3500
Beard Trimmer

Check Price

Panasonic Multigroom
Beard Trimmer

Check Price
In this post, we reviewed three of the best options so you can trim your beard in style. All of these trimmers are sharp and give suave finish on your facial hair.
---
What to look for a beard line detailer
With tons of trimmers in the market, it's challenging to find the right one for your beard. When it comes to the best beard line up trimmer, you should always focus on precision and versatility. The following are some of the considerations you should keep in mind:
*Invest in versatility
When buying any kind of trimmer, you should always opt for versatility as much as possible. We always recommend a trimmer that works for your beard, hair, and other types of hair. This will give the best value for your purchase, not to mention that you'll only use one tool for all-around trimming.
Multi-functional trimmers offer a wider range of settings and attachments. This way, you can adjust the trimming length of the tool to suit your preference. Also, look for one that can function as a detailer so you can fix the lines of your beard. 
*Always stay sharp
When it comes to trimmers, sharpness is long. A dull trimmer won't only fail to cut hair, but it will also wreak havoc on the lines of your beard. 
Always check the blade quality. We recommend titanium blades since these don't rust and it holds its edge for a long time. The likes of stainless steel and chromium are also ideal options, but it may require additional maintenance. 
Dual-edged blades are also a great option since it has better cutting precision. Nevertheless, all types of blades require maintenance is it will cut smoothly every time. 
*Consider your beard length
One of the things to keep in mind when choosing a trimmer is your beard length. We always recommend a trimmer that can be used in multiple settings so you can trim a stubble, short, medium, and long beards. 
Always choose a trimmer that suits the length of your beard. Otherwise, you'll be stuck with a trimmer with minimal to no use. 
*Opt for both wet and dry use
Modern facial hair trimmers can be used for both wet and dry trimming. Still, it pays to check this aspect when buying your new beard tool. Check if it can be used with shave gels, lotions, and foam solutions without getting stuck. 
If possible, look for a washable beard line up trimmer. This way, you can soak the entire tool in water for faster cleaning. Also, you can store waterproof trimmers safely in the bathroom. Such convenience is worth the price and unbeatable as compared to non-waterproof options. 
*Corded vs. cordless 
This aspect is often overlooked by many bearded users. Most of the time, cordless options are the go-to trimmers of bearded guys. It's easy to use and you no longer have to deal with cable clutter. However, the only downside here is you're stuck with the runtime of the beard trimmer you're going to buy.
If you are to buy a cordless trimmer, make sure that it has decent battery power. Also, you should check the motor power to guarantee that it can trim volumes of hair, much so if you have a thick beard. 
*Look for attachments
Aside from the trimmer itself, you should look for additional attachments. Most trimmers nowadays have trimmer guards and other accessories on the package. Some can be purchased separately. 
Trimmer guards allow you to trim the hair in different lengths. For beard lines, you should look for very close trim guards. Unfortunately, this isn't always included in many trimmer packages. You'll have to purchase it separately for a small amount. 
---
Tips in trimming your beard lines 
1. Start clean
Never trim a dirty beard. If you have to wash it, then wash it first before running your trimmer through it. If you have a dry shave trimmer, let your beard dry first. Also, brush your beard and get rid of tangles so the trimmer will work smoothly and to prevent snagging.
2. Trim bit by bit
Avoid running the trimmer in swaths in one go. Always trim little by little and check your beard shape on the mirror first. If you're lining up, stop every 2 cm to check if it's well-aligned. This way, you can avoid disastrous beard grooming.
3. Mind your neckline
Lining up a beard gets tricky on the neckline area. Always define the demarcation line on your neck so you can shape your beard well. 
Take note that a line too close to the jawbone will make you look like you have a double chin. However, letting your beard grow too far down will make it look unkempt. Remember that the biggest mistake is letting your beard connect to your chest hair. 
To find the right line, tilt your neck upward and put your middle finger at the top the Adam's Apple. This is the natural line where your neck and beard are separated. 
4. Know where you should stop
Never start lining up your beard if you don't know where to stop. Always plan the perimeter of your beard and mark where your line starts and ends. 
To do this, look in the mirror with your head in a neutral position. Any hair on your neck that you will see below your chin must be trimmed. 
5. Oil it afterward
After you're done lining and trimming your beard, finish it off with beard oil. This will lubricate the newly trimmed tips and prevent itching. It will also prevent stubborn beard hair from sticking out of nowhere. 
---
Best Beard Line Up Trimmer – Top 3 Picks for Every Man 
OUR #1 CHOICE
OUR TOP PICK: Wahl Professional 5-Star Detailer
Sharpness

Accuracy

Construction

Value for Money
Summary
Moreover, this Wahl detailer is trusted by many barbers. For DIY beard trimming, this unit will not disappoint. Aside from trimming facial hair, this is also a useful tool if you want to shave your head close. 
We also like that this trimmer isn't very noisy. It only produces soft sounds from its solid construction. It also does well for edge ups even if you have curly hair. The bonus part is that this trimmer is fast charging and will have full bars for just 30 minutes. 
Pros
✔️Fast charging trimmer
✔️Perfect for detailing and lining works
✔️Works as an all-around trimmer
Cons
❌No major problems so far 
RUNNERS-UP
Philips Norelco 3500 Beard Trimmer

If you don't want to deal with separate blade guards, we recommend the Philips Norelco Beard Trimmer. It has a20 built-in length settings that you can adjust through the zoom wheel on the handle. With this tool, you can trim from 0.5 mm to 10 mm. Once you've chosen the length, you can lock it in place for hassle-free trimming.
Aside from that, this beard trimmer has an easy-to-remove blade head that you can wash entirely. Also, it has self-sharpening titanium blades that hold its edge for long. 
Moreover, this trimmer can run for up to 120 minutes for every one hour of charge. We also like that it has an automatic voltage so you can charge it in both 100 to 240V. With that, the Philips Norelco makes a perfect choice for travelers. 
Overall, this Philips Norelco is skin-friendly and will not result in bumps and cuts. The body of the trimmer is also ergonomic so you can hold it with ease, even for hard-to-reach areas. 
Lastly, the Philips Norelco comes with a 45-day risk-free trial. If you're not happy with the trimmer within that period, you can get your money back. However, if you decide to keep it, you're still covered with the brand's 2-year limited warranty. 
PROS
✔️Built-in 20 length settings
✔️Removable and washable blade head
✔️Can be used on 100 to 240V

---
Panasonic Multigroom Beard Trimmer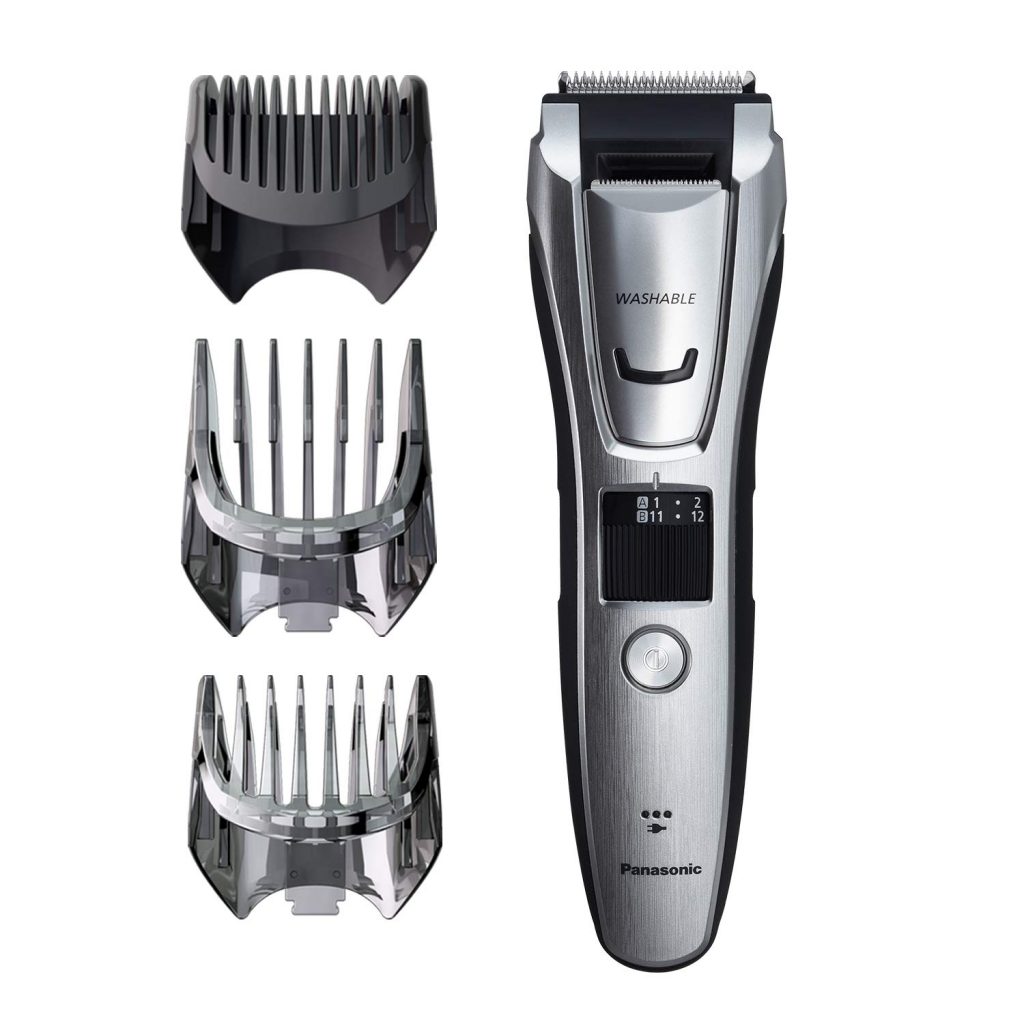 If you're on a budget, the Panasonic Multigroom Beard Trimmer is the best beard line up trimmer. Although cheaper than the two options we reviewed above, this one from Panasonic boasts an excellent quality. It has a 45-degree stainless steel blade that you can use for your face, head, legs, and other body parts.
Like Philips Norelco, this trimmer has a zoom wheel to adjust the length of the blade. Also, the package comes with three comb attachments so you can trim, sculpt, and line your beard with precision. 
Moreover, this Panasonic trimmer can be used as a corded and cordless unit. If the trimmer runs out of charged power, you can plug it in and continue trimming safely. Each charge of this trimmer will last for up to 50 minutes of use for every hour of charge.
Aside from the trimmer, the package also includes a cleaning brush, three comb guards, a voltage adapter, and a charger. 
Lastly, this is the perfect trimmer for those with sensitive skin. It even comes with a slide-up precision trimmer on the head which you can use for your sideburns and mustache. With this, you'll get two trimmers in one!
PROS
✔️Comes with a hidden slide-up trimmer
✔️Zoom wheel for length adjustments
✔️Perfect for all-around use

CONS
.
❌May not be perfect for very long beards
.

---
Frequently Asked Questions
Q: Can I use my head trimmer on my beard?
A: If you have a versatile trimmer, you can definitely use your head trimmer for your beard. Just make sure that it has the right blade and guard to suit your beard length. 
Q: When should I trim my beard, before or after taking a bath?
A: It depends on the type of trimmer that you have. If you a wet shave trimmer, it's best to groom your beard after taking a bath. Meanwhile, dry shaver must be used when your beard is bone dry or before taking a bath. Both dry and wet trimming has its pros and cons.
Q: Does trimming my beard help with growth?
A: Trimming helps in removing the bad tips that ruin your look. However, it doesn't help in growth directly, but it really does wonders for keeping your beard healthy. Trimming your beard from time to time will also prevent you from looking unkempt. 
Q: How long should my beard be before trimming it?
A: The rule of thumb is to do the first trim after four weeks of growing your beard. Trimming too soon will make your beard look too thin. Also, you should never let your neck beard connect with your chest hair. 
Q: Where should I start trimming my beard?
A: When trimming your beard, always start with the longest spot. From there, work your away around in increments. Do short trims and stop once in a while to check your beard's shape in the mirror. 
---
Final words 
The best beard line up trimmer will help you maintain your facial hair amid the stay-at-home order. Even after the pandemic, such trimmers will prove useful for your DIY manscaping.