Imagine crisp lines, smooth fades, and suave cuts – all of these are achievable with the best hair clippers for lineup. Unlike other trimmers, those made for lineups and outlines have excellent cutting precision as well as a sharp blade that will give an even cut. A lot of men, and even women, nowadays are opting for a clean-cut look with well-defined outlines that highlight their new haircut as well as facial features.
OUTLINER
BRAND
EXPERT
RATING
CHECK PRICE
Wahl Professional
Detailer/Trimmer

Check Price

Andis Professional
T-Outliner Trimmer

Check Price

Wahl Professional Peanut
Cordless Trimmer

Check Price

Andis Slimline Pro
T-blade Trimmer

Check Price

Oster Classic 76 Club
Tattoo Trimmer

Check Price
If you're planning to sport a new hairstyle through DIY cuts, the following trimmers are what we recommend. These picks are also great for barbers looking for new additions to their toolkit. 
We know that cutting men's hair is serious business. With this, you should only use trusted and reliable tools for the job.
---
Tips for clean and crisp lines
Regardless if you're a barber or a DIY-er, you know very well that perfecting a lineup cut takes practice. To help you achieve better outlines, we recommend the following tips:
*Line your self properly
One of the biggest mistakes that you will make while making lineups is going askew with the client. If you're a barber or someone entrusted to do someone's haircut, there's one simple trick to follow. Always line up your shoulders with the shoulders of the other person.
This way, you'll be right in the middle and you will have an excellent view of the person's top of the head. 
*Start with a straight line
Always start at the nape with a straight line. Extend this line outward slowly. The key here is to stop after a cm or two so you can take a good look. 
*Utilize the anchor point
When working on the sidewalls, you must start right at the bump located at the back of the ear. Here, you can make a straight line. Feel free to invert your trimmer to have a better view of the line you're making. 
*Trim the strays
After pulling back the hair if your client, you'll see some fine, stray hairs. You should trim this out first and not work within it. However, avoid overdoing this minor trimming or you'll be ruining the hairline of the client. 
*Level the sideburns
Aside from the back and front of the head, you shouldn't neglect the sideburns in the process. You should also outline these parts while making sure that both sides are leveled.
---
Best Hair Clippers for Lineup – Buying Guide 
Are you looking for the best hair clippers for lineup? If so, you must consider the following points first: 
-Corded or cordless?
The first thing you have to consider when purchasing a trimmer or outliner is if you're opting for a cordless or corded version.
Cordless outliners are convenient since you can move it around without the cable clutter. It's also somewhat lighter. However, the downside with cordless trimmers is they don't offer as much power as corded ones. 
Meanwhile, corded trimmers offer more power since you'll be operating straight from an electrical socket. However, there's a learning curve with this type of trimmer since it's heavier and the cord will impede your movement at first. You also need a power source to use this. Still, the consolation here is you can trim for long without losing power. 
-Check the blade
Next, you have to be very meticulous with the blade of the outliner or trimmer. You can only achieve crisp lines with a sharp blade. 
The most popular option among trimmers is carbon steel since it holds its edge longer than plain steel. Carbon steel is very effective in lining up your beard or doing a close trim. Moreover, carbon steel blades can make a super close cut of up to 0.5 mm. 
Although high-quality blades will cost more, it surely adds more value to your purchase. Investing a few more dollars will go a long way. 
-Get the right comb guards
Comb guards make a trimmer versatile. It lets you cut and trim the hair in different lengths. It's also very critical when doing lineups because these cuts are close and very precise. 
Standard trimmers will have comb guard numbers 1 to 8. This ranges from 3 mm to 25 mm. But for close trims, you can use comb guards that are 0.5 to 1.5. This can cut as close as 1.5 mm. 
-Opt for excellent motor power
Aside from the specifics of the blade, you should also check the motor power of the trimmer. This is more critical for corded types. A high-powered motor will give excellent cuts, even for very thick hairs. It's also a reliable option for lineups since it cuts without fail.
Just remember that a high-powered trimmer will also produce more noise. This is a reasonable trade-off if you want more cutting power. 
-Look for durable construction
One of the important considerations when buying the best hair clippers for lineup is the construction of the trimmer. You should always look for a durable chassis that can withstand regular use. We always appreciate a trimmer with a shock-proof shell. This way, the trimmer will not shatter to pieces if you drop it accidentally – something that can happen to anyone. 
-Invest in versatility 
A versatile trimmer gives the best value to your outliner. Look for one with an easy-to-remove blade so you can switch to another blade type and do more cuts. This way, you no longer have to purchase multiple trimmer sets.
-Look for an oil port
An oil port allows you to lubricate the trimmer easily. This will prevent overheating and it also extends the lifespan of the tool. Lubricating is necessary so the engine of the trimmer will run smoothly, much like why we oil cars. 
Some lineup trimmer sets also include an oil vial, brush, and other accessories. 
-Consider additional accessories
Nowadays, trimmers don't just come as a lone item in the package. Usually, it has a charger, cord, a set of combs, oil vials, brush, hair comb, and so on. These additional items give you more value from your purchase. 
-Check the maintenance needs
Lastly, consider the maintenance needs of the trimmer. No one wants a fixer-upper so make sure that the trimmer you're getting is durable and made to endure daily use. 
While it's normal for trimmers to require some level of maintenance, you should look for one that has the least needed. 
---
5 Best Hair Clippers for Lineup – Clean Cuts & Lines!
OUR #1 CHOICE
OUR TOP PICK: Wahl Professional Detailer/Trimmer
Blade Quality

Motor Power

Versatility

Value for Money
Summary
In the package, you'll get the trimmer, 3 trimming comb guides, recharging stand, recharging transformer, cleaning brush, oil, manual, red blade guard, and a pre-shave brush.
Aside from that, this outliner has a rotary motor powered by a lithium-ion battery that can run for up to 100 minutes on every charge. If being used as a corded clipper, you can enjoy the convenience of its swivel cord. 
Pros
✔️Can be used as a corded or cordless clipper
✔️Comes with a set of accessories
✔️Close-cutting blade 
Cons
❌Could make use of more attachments 
RUNNERS-UP
Andis Professional T-Outliner Trimmer 

If you're looking for a barbershop-quality clipper, you will never go wrong with the Andis Professional T-Outliner. This one is made for outlining, fading, and dry shaving. It's an all-around trimmer that will last for years. 
Aside from that, this has a carbon steel T-blade that will give you zero-gapped and close cuts. To pair the excellent blade, the T-Outliner series have magnetic motors that will run quietly without compromising the power. 
We also like its contoured body that makes it really easy to grip. Even if it's corded, you'll enjoy convenience since it comes with an 8-foot cord together with a hanger loop.
Overall, this trimmer is useful as an all-around clipper. It does wonders on beards, mustaches, and lining up your crowning glory.
Aside from the clipper, you'll also get a blade oil to keep your trimmer smooth and precise. We wish that it comes with other attachments, but considering the quality of the trimmer, it's just a small issue.
PROS
✔️Carbon steel T-blade
✔️Perfect for zero-gapped cuts and lines
✔️8-foot durable cord

CONS
.
❌Doesn't come with any attachments
.

---
Wahl Professional Peanut Cordless Trimmer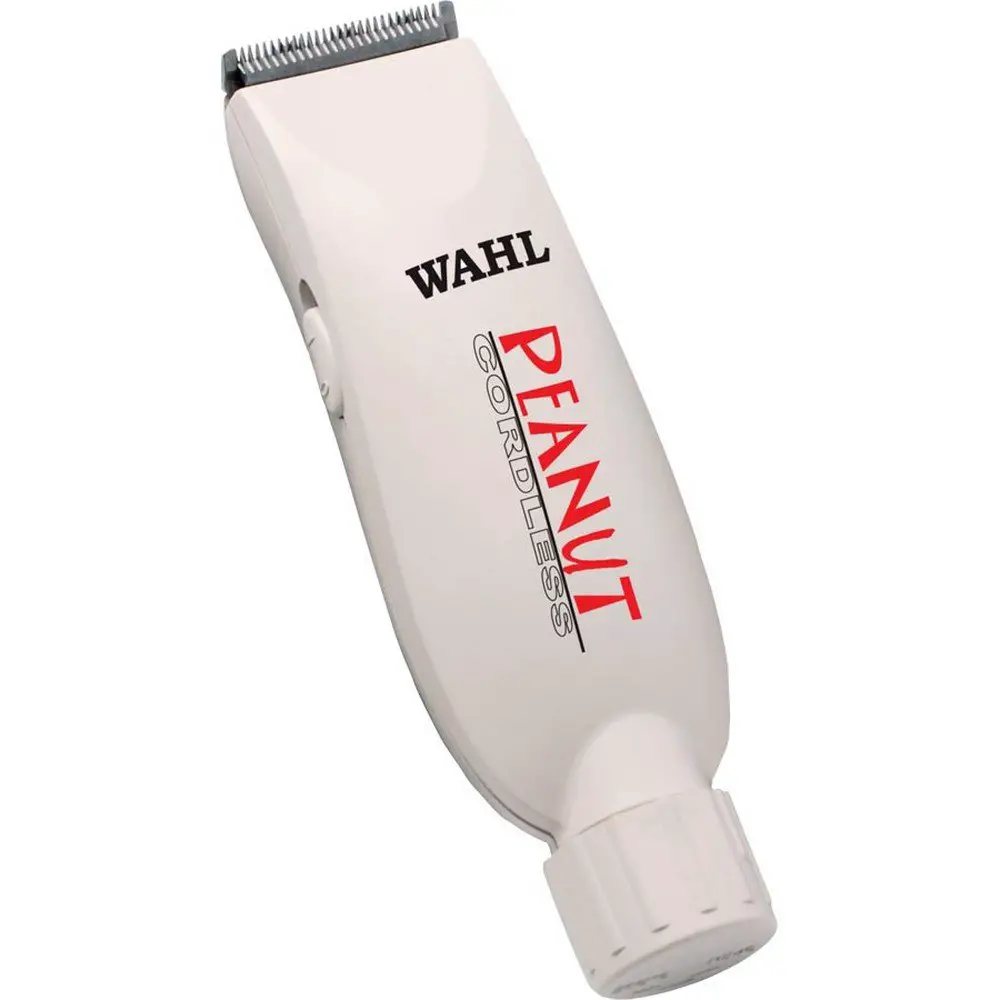 If you're looking for another Wahl clipper, the Peanut Cordless might be the perfect choice for you. It's made with commercial-grade materials for the best and sharpest performance. 
This is compact yet highly functional. It has a sleek design that offers both an aesthetic appeal and all-around use. This trimmer uses a #2068-300 blade that offers crisp and precise cuts.
Aside from the clipper, you will also get 4 combing guide attachments, red blade guard, 2 rechargeable batteries, oil, manual, cleaning brush, and battery stand. 
This is the perfect choice for those who want to practice their lineups at home. It's a great introduction to trimmers, especially if you're not yet willing to invest in more premium options. 
We also like how small and light this trimmer. It's only 5 inches long and 4 ounces heavy. If you're traveling and in need of a new trimmer you should definitely consider this one. 
PROS
✔️Very compact and light
✔️Comes with an accessory set
✔️Cordless and convenient

CONS
❌Requires to be charged more frequently than other units
.

---
Andis Slimline Pro T-blade Trimmer
The Andis Slimline Pro T-Blade Trimmer is a shimmering chrome option. Aside from its aesthetics, this clipper also boasts of a cord and cordless operation. You can use it as a wireless clipper or plug it in once the charge runs out. 
Aside from that, it has a powerful rotary motor that offers the best power, speed, and lifespan. Every two hours and a 15-minute charge can run for two hours. The Slimline Pro boasts 6,000 cutting strokes a minute. 
To pair with its excellent power, you will also get a T-blade that can be set as zero-gapped. Aside from that, this trimmer kit also includes four comb guides (0-3), blade oil and brush, a charging adapter, and a charging stand. If you want, you can also get Andis Zero Gapper Blade to use it as a dedicated lineup clipper. 
We also like its contoured body as well as a single-button operation. 
PROS
✔️Can be used as a corded or cordless clipper
✔️Comes with an accessory kit
✔️Powerful rotary motor

CONS
.
❌The buzz is a little loud
.
.

---
Oster Classic 76 Club Tattoo Trimmer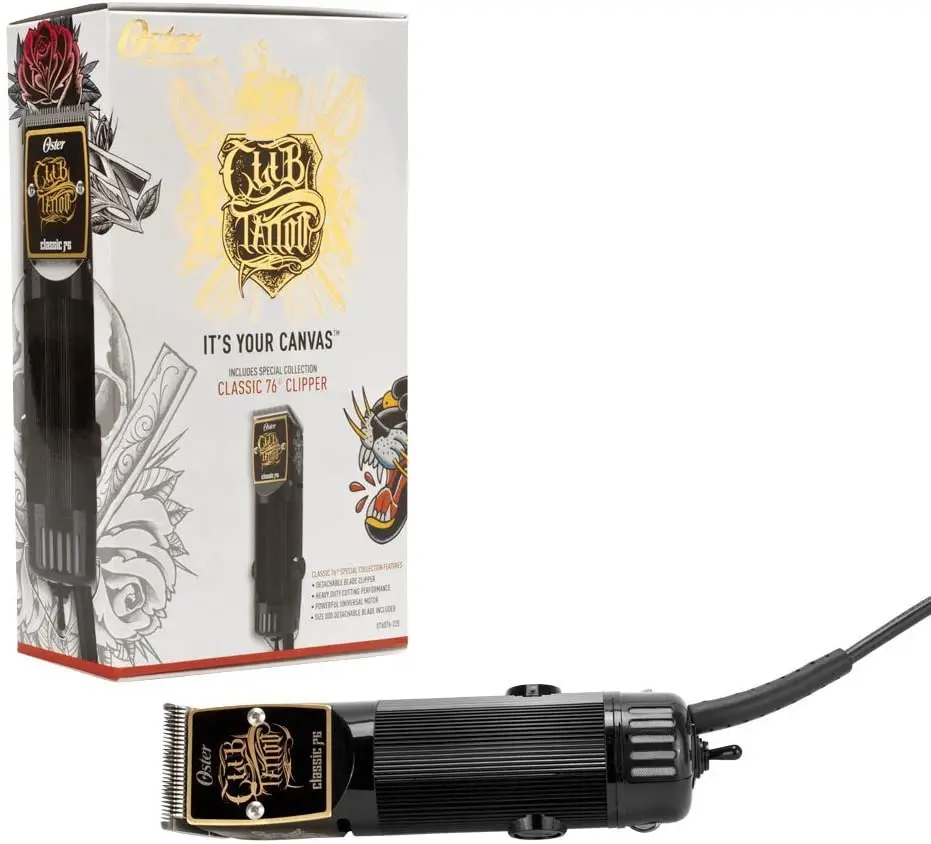 If you're a fan of classic barbershop tools, you should consider the Oster Classic 76 Club Tattoo Trimmer. It has a 000 detachable blade and a single-speed universal motor that offers excellent performance. 
We really love its housing, which is reminiscent of the clippers you'll find on barbershops back in the '70s. It's also extra durable and serves as a hard shell that will resist breakage. 
Aside from that, this comes with a 9-foot power cord so you can trim with ease. Take note that this is a corded trimmer that works on 110V only. 
The package includes the Oster trimmer, lubricating oil, blade guard, cleaning brush, and cleaning brush. Overall, this is a great trimmer set that you can use at home. 
Lastly, this comes in a stylish box that you can send as a gift to a friend or a family member. As one of the best hair clippers for lineup, this is value for money.
PROS
✔️Stylish classic design
✔️9-foot power cord
✔️Comes with a maintenance kit

CONS
.
❌A little cumbersome
.

---
Final words 
The best hair clippers for lineup will let you achieve the crisp and defined outlines for your hairstyle. You must look for one with the power, features, and accessories that you need. And as much as you can purchase a very cheap model, it's worth investing in a durable piece.  What do you think of our top clipper picks here? Let us know below!