While a lot of people in the world are currently in locked down due to coronavirus, there's one thing we collectively struggle with: haircuts. I never thought I would miss my barber this much, let alone try to clip my own hair. While we may not be able to go to a barbershop or our favorite stylists, we can always perform a DIY cut at home. I realized that the success of this at-home haircutting relies a lot on the tool you're going to use. To help you out, I reviewed 10 of the best clippers for cutting hair at home that meet your budget and needs.
Sure, you can always use a pair of scissors or a blade to cut your hair. But trust me, if you don't have experience doing this stuff, it can end up disastrous. My friend had to shave his head because his DIY blade styling left him with an awful buzzcut. And if you don't want to suffer the same fate, I recommend getting any of these:
HAIR CLIPPER
BRAND
EXPERT
RATING
CHECK PRICE

 Our Top Pick! 


OSTER Fast Feed
Clipper

Check Price

Andis BGRv 5-Speed
Hair Clipper

Check Price

Xtava Pro Cordless
Hair Clipper

Check Price

Philips Norelco
Multigroom Series Clipper

Check Price

SKEY Rechargeable
Hair Clipper

Check Price

Panasonic ER-GB80
Multigroom Clipper

Check Price

Braun All-in-One
Trimmer & Clipper

Check Price

Hatteker Cordless Hair
& Beard Clipper

Check Price

Wahl Color Pro Hair
Cutting Kit

Check Price

OriHea Electric Pro
Outliner & Clipper

Check Price
---
Important reminders when cutting your hair at home
Cutting your own hair has its risks, but you can always avoid most of it by keeping the following points in mind:
✔️Get the right tool
Before you touch your hair, make sure that you have the right tool for it. Invest in a reliable and solid clipper that can take the beating of daily use. If you're looking for a clipper that your entire family will use, you should get one with excellent adjustability.
If you're new to clippers, feel free to choose from the 10 options I reviewed here. I've tried all of these, and I swear by their performance. Don't worry, I chose those that have reasonable prices without compromising the quality. See my reviews below!
✔️Ask someone for help
This is one thing that everyone hates to do but turns out to be a simple solution. While you can always cut your own hair, it's very difficult to see what's happening at the back. If you're going for a more complicated hairstyle than simply reducing length, I suggest asking someone to do it for you.
✔️Always prep your hair
Before you lay the clipper on your hair, make sure that you wash it first then blow dry it lightly. This will help remove tangles and dirt that will affect the efficiency of the clipper. In my experience, clipping or trimming with damp (not wet!) hair yields the best results. If you don't have time to wash your hair and it's still clean, simply spritz it with clean water.
✔️Don't put your expectations too high
Here's one thing I want to warn everyone who will make a DIY haircut: don't put your expectations too high. Unless you have experience in haircutting, cutting your hair at home is just a touch-up. It may not be salon-quality, but you will at least see results.
✔️Cut one section at a time
The main rule of haircutting is working one section at a time. Just imagine gliding the clipper all over your head just to discover that it has a clip guard that cuts too short than your intended length. Work on a small part then expand from there.
---
How to choose hair clippers for home use
When it comes to the best clippers for cutting hair at home, I always recommend checking the following aspects first:
✔️Corded vs. cordless clippers
The first thing you have to consider is whether you want a cordless or a corded type. Both works spectacularly as long as you invest in a durable unit. Still, each one comes with some downsides.
Let's start with the corded clipper. Since it's corded, it delivers a higher power than cordless ones. You can also use this type without worrying about running out of battery since it sucks power directly from a wall socket. However, since it's plugged, you can't move around too much while clipping or trimming. Also, you always need a power source to operate this type of clipper.
On the other hand, a cordless clipper offers convenience, especially for those who are traveling. It's compact and easy to use since you don't have to deal with cable clutter. However, since it only runs on a rechargeable battery, it has less power than a corded type. Still, cordless clippers can give an excellent cut if used for personal and home purposes.
It's up to you to choose which one suits your cutting needs. I have both at home since my family all use clippers from time to time.
✔️Your target haircut
This one is very important, especially if you're eyeing for a specific style, length, and outline. You should always consider the hair type you want to achieve. Most of the time, cutting your hair at home only involves reducing the length or trimming the sideburns.
The likes of buzz cut and shaved require a clipper that can cut close to the skin. However, if you're looking for a clipper to suit family haircuts, try looking for one with wide length ranges.
For those who are also trimming their beards, look for a clipper with the right attachment.
✔️Motor power
The motor power affects the performance of the clipper. This is the feature that sets other clippers different from other options. A powerful motor will give faster and efficient cuts. However, it tends to be more expensive, as well.
Take note that cheap motors turn to burn out quickly, not to mention that it has less power. Even if you're just cutting at home, I recommend investing in a unit that's made to last long. 
✔️Blade material
Aside from motor power, another thing that will dictate the clipper's performance is the blade material and cutting edge.
Stainless steel is the most common and the cheapest of all options. This works well for home use, but it will need replacements faster than titanium or ceramic. Nevertheless, the blade is easy to sharpen and sanitize. Lastly, it's available in different sizes for a low price.
Titanium, on the other hand, is stronger than steel but lighter for up to 45%. It works well on cutting, and it holds its edge pretty long. However, once it's time to sharpen, titanium can be challenging due to its extreme hardness.
Lastly, expensive clippers use ceramic blades since it's way harder than steel. The main advantage of this blade material is it doesn't get hot as fast as steel or titanium. Although it's difficult to sharpen, ceramic blades last longer.
✔️Guide combs
The versatility of the clipper depends on its guide combs. Try to look for a set with multiple guide combs to suit a variety of users. This will also come handy in case you want to try a different hairstyle. To give you an idea, here's the guide comb and its guide sizes:
Number 1: 1/8th inch
Number 2: 1/4th inch
Number 3: 3/8th inch
Number 4: ½ inch
Number 5: 5/8 inch
Number 6: ¾ inch
Number 7: 7/8th of an inch
Number 8: 1 inch
The guide size indicates how much hair will be left in your head upon cutting. So if you're using a Number 4 comb, you will be left with hair that's half an inch thick.
Remember that you should always cut in increments. If you're planning a close shave, start with a bigger guide comb then work your away from it. This will prevent the clipper from working too hard to remove clumps of hair at a time.
✔️Multi-tool features
A multi-tool feature means you can use the clipper not just in your head but also on your beard, sideburns, face, and your privates. This makes the clipper versatile, so you no longer have to purchase such a tool separately.
I personally use the Philips Norelco Multigroom tool since it also comes with a set of guide combs and shaving tools. I reviewed this set below in case you also want to get it for yourself.
✔️Wet and dry cutting
Another important consideration when purchasing a clipper is whether it can be used on wet or dry cutting. Most clippers nowadays work both ways. The main advantage of wet clippers is you can wash the entire thing after each use.
Take note that your choice between these two depends on your hair type. Also, you must be careful when cutting wet because the hair appears thinner and longer than dry. If you cut haphazardly, you may cut too much length than what you intended to do so.
✔️Noise level
The noise level of the clipper is always a trade-off to its motor power. Most high-powered clippers will be louder than low-powered ones. Still, try to look for one with a decent noise level. The last thing you want is an annoying buzz machine. Also, the noise level is an important consideration if you're going to use it with your young child.
✔️Extra accessories
Although this isn't a requirement, you can make the most out of your purchase if you get a clipper that comes with extras. Some sets have clipper oil, cleaning brush, style guide, shaving tool, and charger. This is aside from the comb guides. The larger the set is, the more expensive it tends to get.
---
10 Best Clippers for Cutting Hair at Home
OUR #1 CHOICE
OUR TOP PICK: OSTER Fast Feed Clipper
Blade Quality

Motor Power

Noise Level

Extras

Ease of Use

Value for Money
Summary
Remember that this is a corded type, which is a good thing if you're grooming for long periods. Don't worry because it has an 8-feet power cord that's more than enough to move around and everywhere on your head.
Aside from the clipper, you will also get four comb guides with sizes ¼, 3/8, and ½. The package also includes a cleaning brush, blade guard, and lubricating oil.
So far, this clipper has been nothing but durable and functional. If you want a clipper that works with a vintage look, this one from OSTER is a wise buy.
Pros
Adjustable blade
Quiet pivot motor
Long power cord
Cons
Snags long hair a little but not a big deal
---
RUNNERS-UP
Andis BGRv 5-Speed Hair Clipper

If you're looking for adjustable speed, I recommend the Andis BGRv. This has a rotary motor with five variable speed settings to suit your cutting needs. It works for all hair types and densities, so it's an excellent choice for family haircuts.
This is a corded type, but it's also convertible to cordless using the BGR+ battery pack and charger that you have to purchase separately. For this clipper, you will get Andis UltraEdge blade size 1.
Overall, this clipper is 20% lighter and 10% smaller than the typical clippers you can find in the market. It also works with ceramic blades in case you want to switch to something tougher. Just make sure that you oil it before each use for a seamless operation.
This corded clipper works at a speed of 2,000 to 3,500 SPM. It has a contoured body that makes it easy to hold while cutting. I also like how low the noise is and that I can clip my hair at night without waking the kids up.
The only gripe I have over this clipper is it tends to get hot faster than other clippers I've used. Anyway, I think it's just a fair trade-off for its power.
Xtava Pro Cordless Hair Clipper & Beard Trimmer
---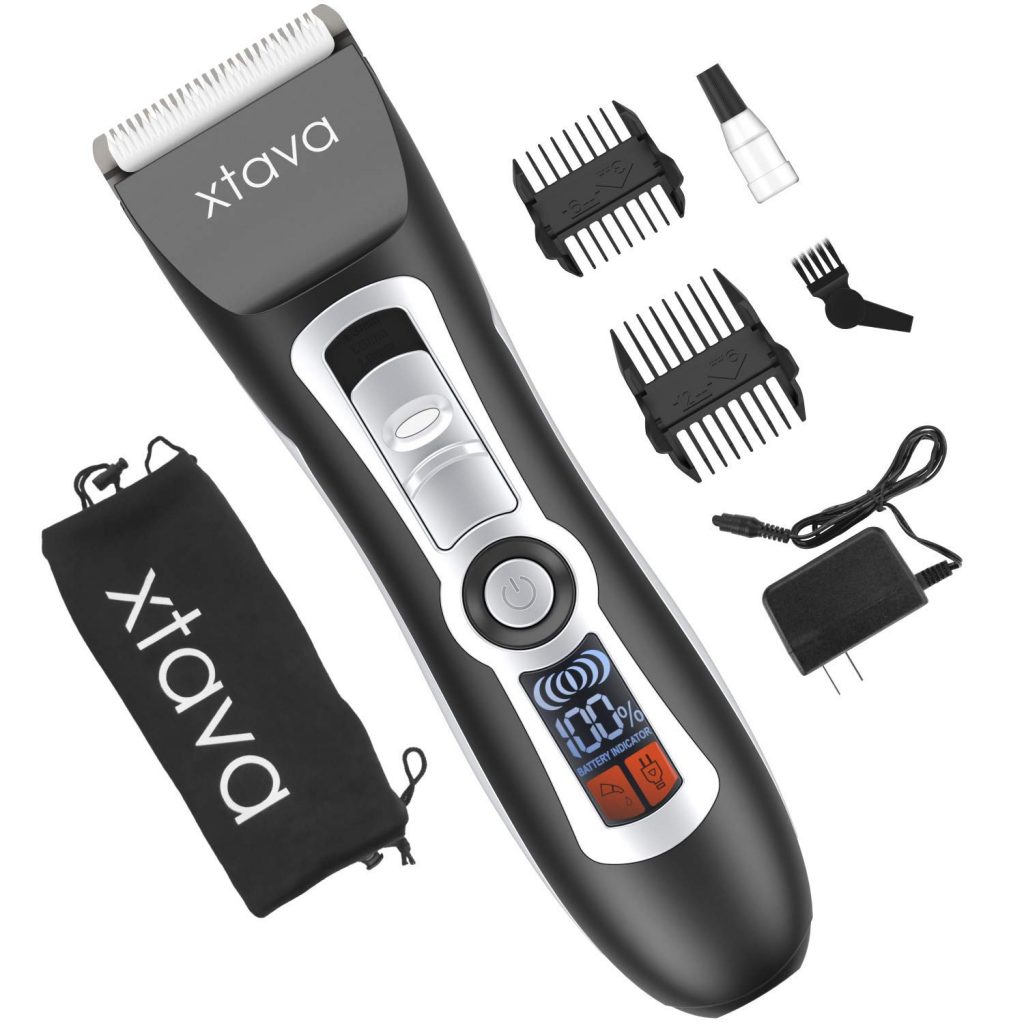 If you're looking for a multi-groomer tool, you should consider the xtava Pro Cordless Hair Clipper & Beard Trimmer. This is a complete groomer in just one tool. It works as a hair clipper, beard trimmer, and a family hair clipper.
The clipper has a precise length control that you can adjust from 1 mm to 1.3, 1.6, and 1.9 mm. To switch the length, you simply have to adjust the switch, and it will lock in place. It's intuitive and very easy to use.
This has titanium and ceramic blades that remain sharp even after repetitive use. There's no pinching, snagging, or pulling with this clipper, no matter what hair type you have.
One feature that I really like with xtava is its LED display on the body. It also shows the battery level as well as lubrication reminder to ensure that the clipper is in top shape before each use.
Moreover, this is a cordless clipper, so you will enjoy the convenience of clipping your hair without the annoying cable. Each charge on this clipper has a runtime of up to 4.5 hours, which is more than enough for long sessions of grooming.
---
Philips Norelco Multigroom Series Clipper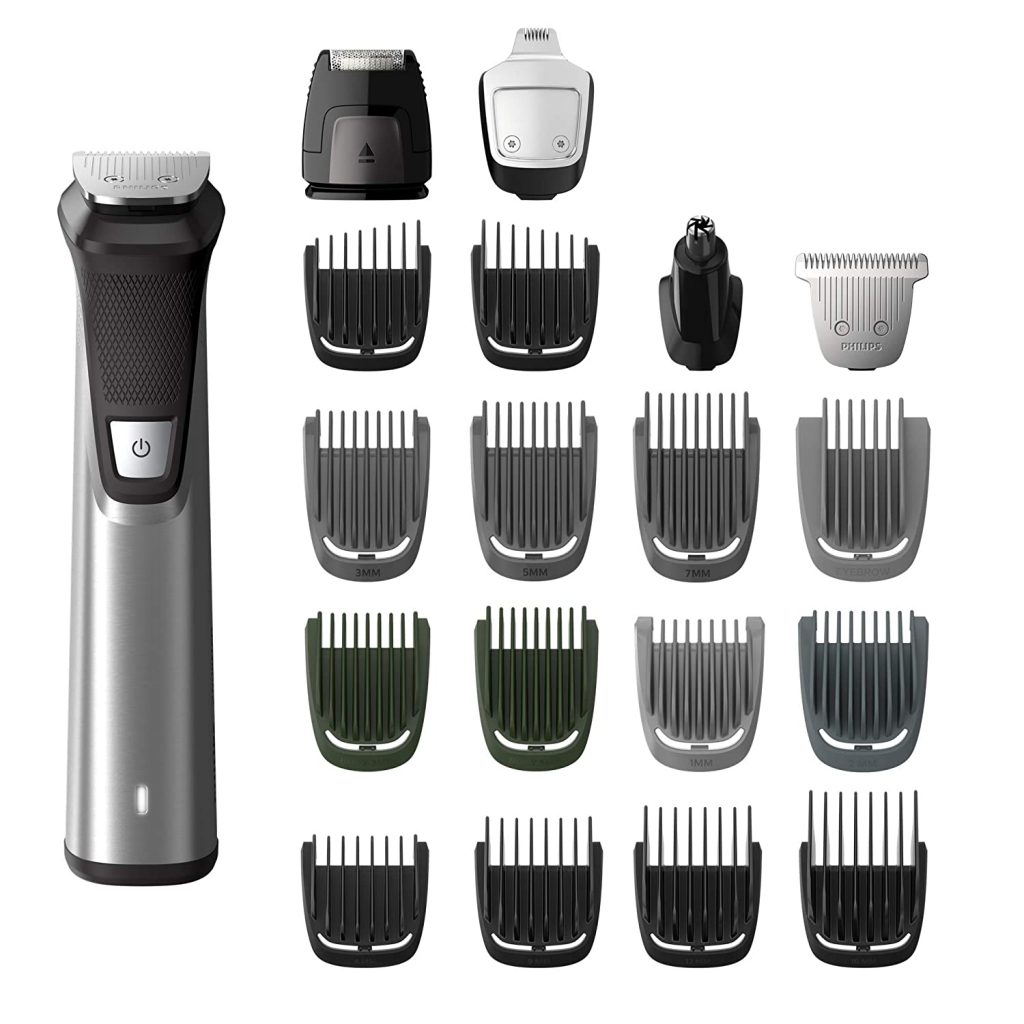 Another favorite of mine is the Philips Norelco Multigroom Series Clipper. It's an all-in-one trimmer that works for the head, body, face, and your privates. Overall, this set consists of 23 pieces to answer all your trimming needs.
This has the DualCut technology that provides the utmost precision with self-sharpening blades that are two times more efficient than traditional options. The blades can last for five years of continuous use before it needs to be re-sharpened.
Moreover, this clipper's motor delivers maximum torque so you can trim just about any hair type and thickness. Its drive train is equipped with tempered steel that can endure the daily beating of haircutting.
Also, the clipper is powered by a Lithium-ion battery that delivers up to five hours of performance for every charge. There's no blade oil required for this clipper because its blade sharpens itself.
Aside from the clipper, this set also includes cutting guards made of ultra-strong fiberglass to prevent buckling or bending when trimming thick hair.
Lastly, the blade detaches from the clipper easily so you can wash it well without damaging the clipper itself.
---
SKEY Rechargeable Hair Clipper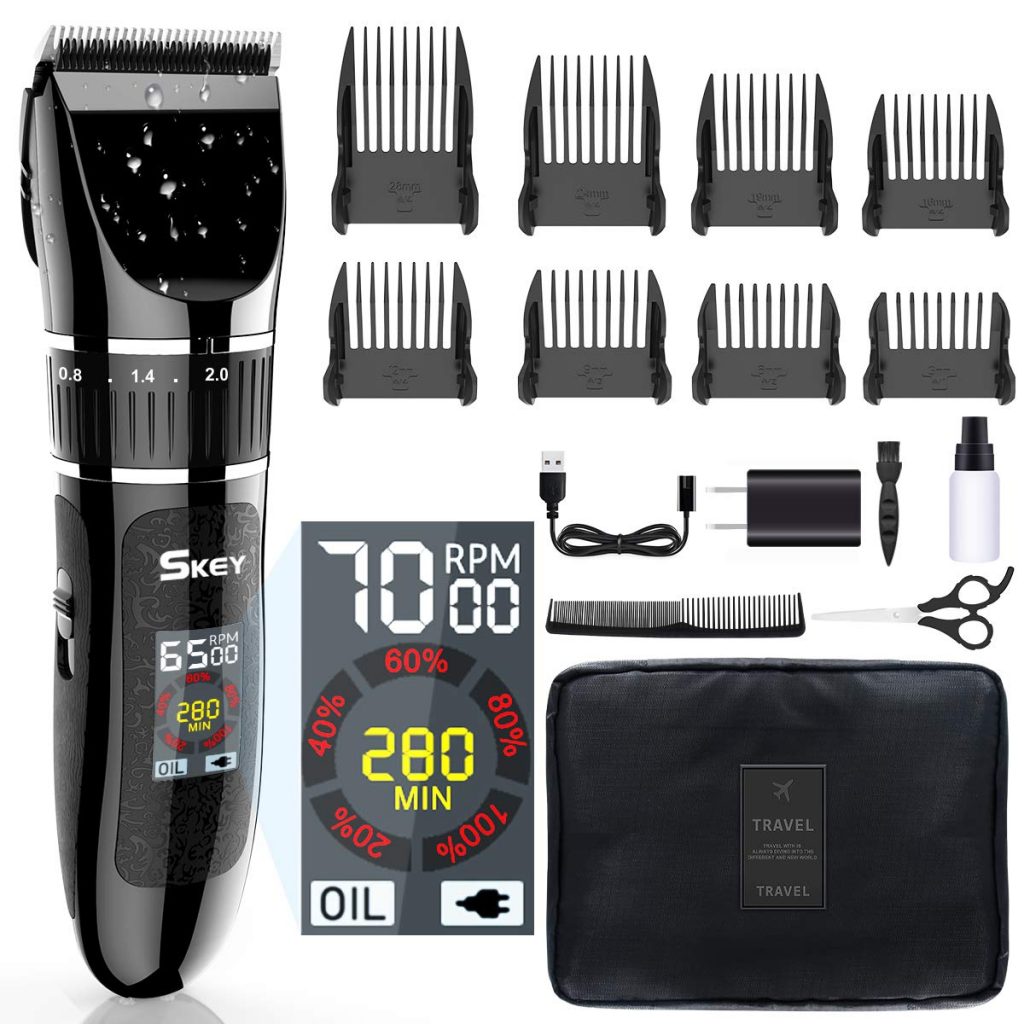 The SKEY Rechargeable Hair Clippers come at a set that includes the cordless hair clipper, 8 comb guides, 1 comb, 1 pair of scissors, clipper oil, cleaning brush, USB charger adapter, and a storage bag. It's the only set you'll need for your family's haircutting needs at home.
The clipper has an LCD display that shows the remaining battery charge and the speed. There's also an oil reminder to ensure that the clipper won't overheat during extended grooming sessions at home.
The head of this clipper is removable so you can wash it separately. You can also use this on both wet and dry cutting, whatever your hair type is. The best part here is that SKEY uses titanium and ceramic blades with rotating dial that adjusts its length. You can use this at 0.8 mm, 1.1 mm, 1.4 mm, 1.7 mm, and 2.0 mm. Simply rotate the dial to select the length that you wish to use.
Moreover, this is powered by a 2,500 mAh battery that can run for up to 4 hours for every 4 hours of charging time. It's also super quiet despite its 7,000 maximum RPM. It won't scare babies and pets, which is a big deal for many users.
---
Panasonic ER-GB80 Multigroom Clipper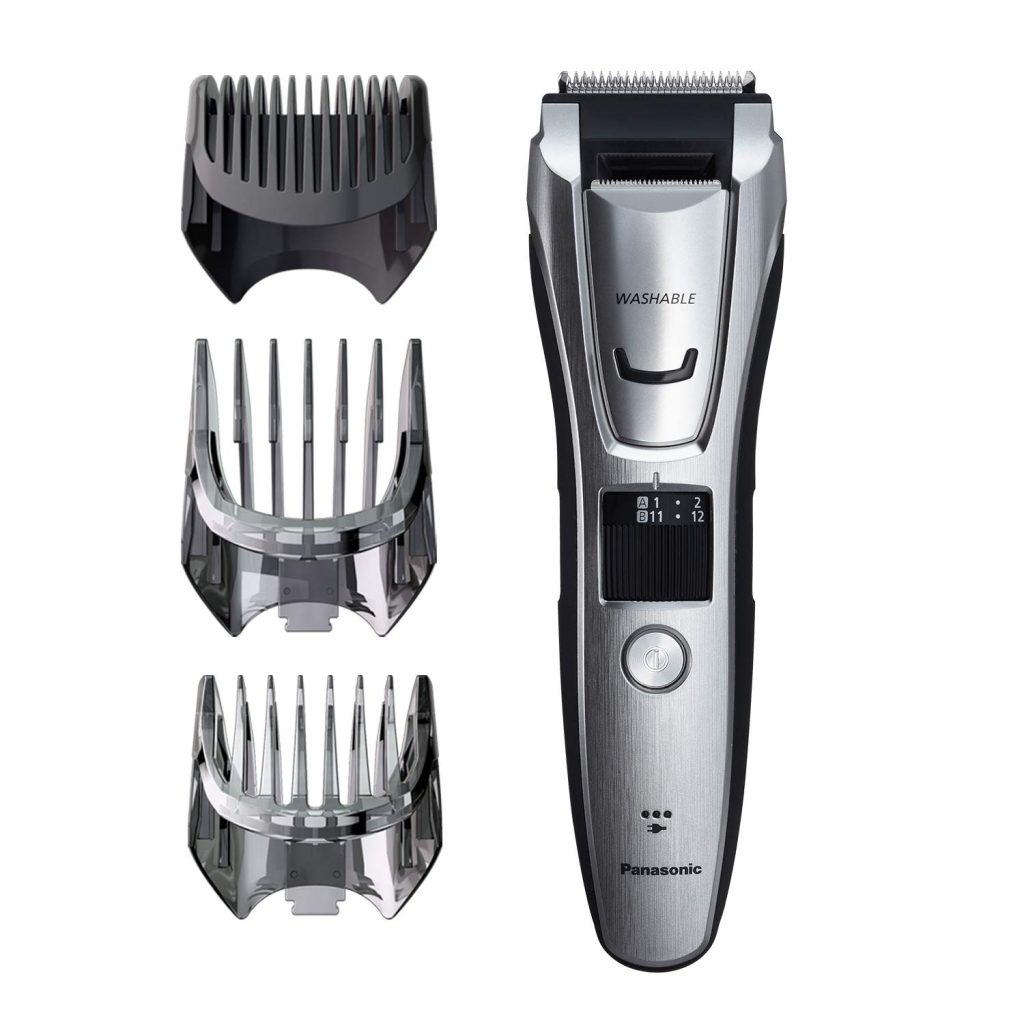 For the guys out there who are looking for an award-winning clipper to use at home, the Panasonic ER-GB80 is an excellent choice. It won the 2015 Men's Health Grooming Award, which is a testament to its excellent performance.
The clipper has a 45-degree stainless steel blade that can trim head, body, beard, and face hair efficiently. There's also an adjustable beard trimmer dial on its body that lets you choose from 39 precision settings so you can trim, sculpt, detail, and cut with peace of mind.
My favorite part here is the slide-up trimmer beside the blade. With this additional tool, the ER-GB80 becomes a two-in-one clipper for just the price of one. This slide up trimmer can be used as a razor for sideburns, mustaches, and beards. It's the total manscaping tool!
Moreover, this can be used in both corded and cordless manner. It has a rechargeable battery that can run for up to 50 minutes per charge. But if you run out of juice and you need to finish up, simply plug the clipper and continue grooming.
Aside from the clipper, you'll also get an AC adapter, 3 comb attachments, and a cleaning brush.
---
Braun All-in-One Trimmer & Clipper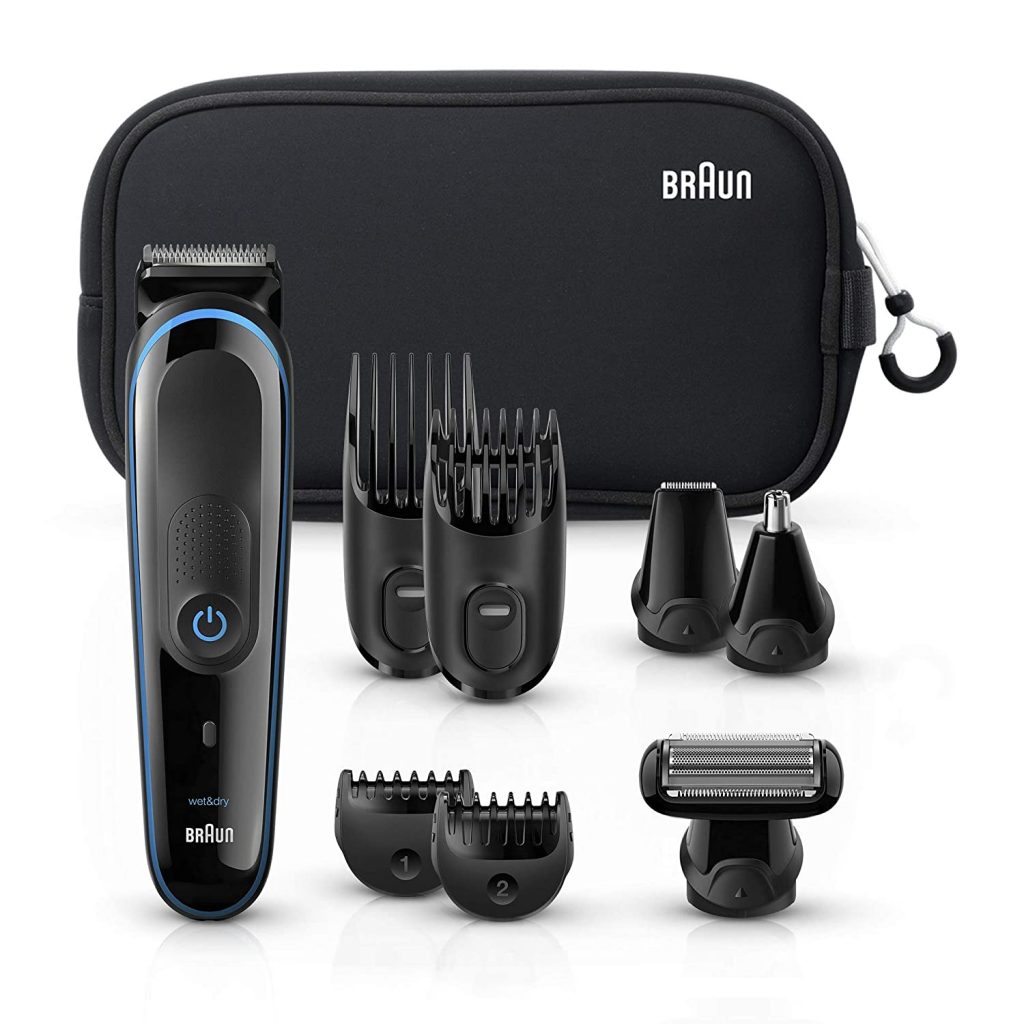 Another workhorse that you can get for cutting your hair at home is the Braun MGK3980. The clipper works for the head, stubble, nose, body, beard, and more. It comes with four combs as well as 13 precision length settings that you can set from 0.5 mm to 21 mm.
This is equipped with a long-lasting blade that provides ultimate precision. The clipper is also equipped to adapt to 100V and 240V voltage, which makes it suitable for traveling.
As a cordless clipper, this can run for up to 60 minutes for each quick charge. It's also 100% waterproof and safe to use in the shower so you can groom with ease. The good thing here is that the clipper shuts down while plugged in, so you don't stand the chance of being electrocuted. This works as a hair clipper, beard trimmer, edging tool, and body groomer.
Aside from the clipper, the package also includes the Gillette Fusion 5 ProGlide razor so you can groom the parts the clipper can't reach. It has the Flexball technology for smooth and snag-free shaving.
---
Hatteker Cordless Hair & Beard Clipper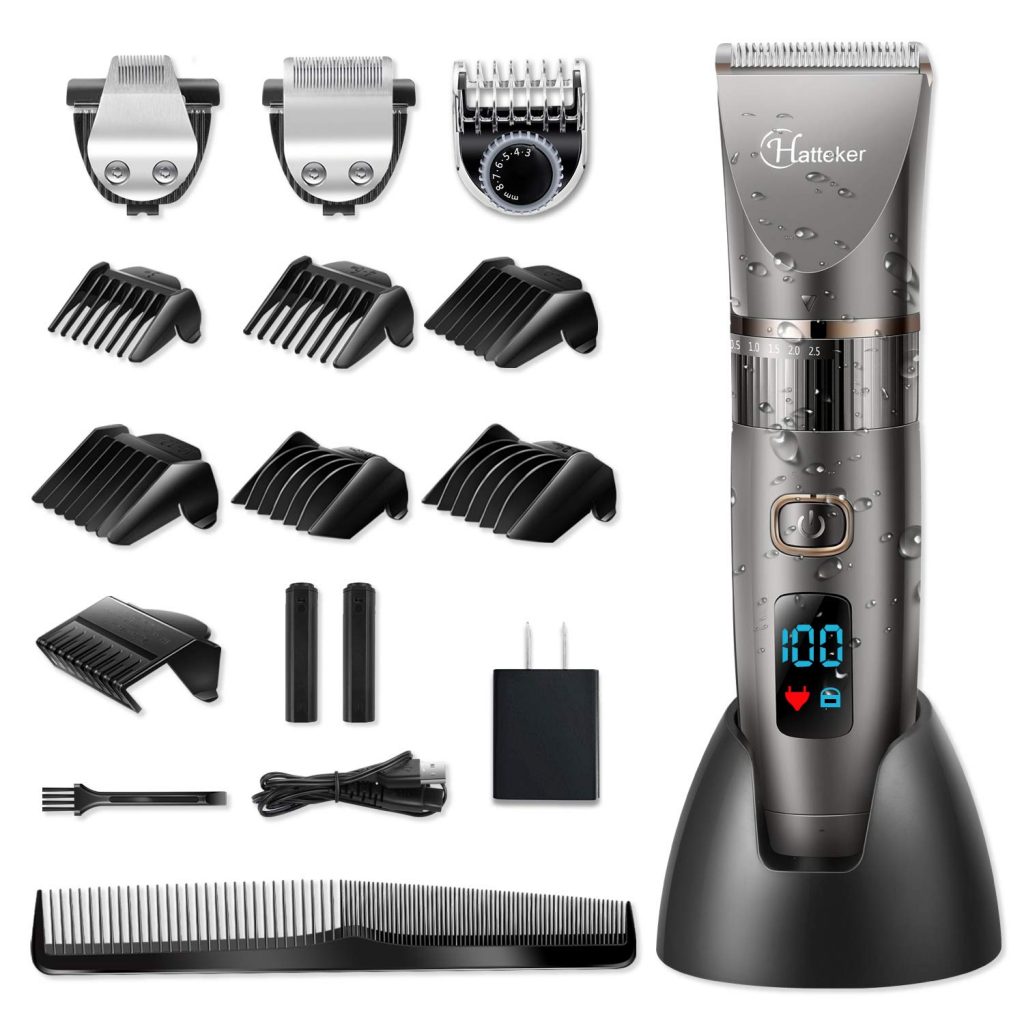 Another waterproof clipper you can use at home is the one from Hatteker. This is a 3-in-1 clipper that works for head hair, beard, and body. It's fitted with a ceramic titanium blade for the best performance. Such a blade is made with high-carbon precision that will last for years. It's also hypoallergenic to prevent irritation.
Moreover, the clipper is bundled with three different attachments to suit your grooming needs. The clipper itself has a precision dial that lets you adjust the blade length from 3 mm to 8 mm to suit a variety of hairstyles.
There's also an LCD display on the body that projects the battery capacity so you'll know when to charge.
This clipper is powered by a durable motor and a lithium-ion battery that can run for up 2.5 hours per charge. It's quiet and reliable for daily use.
Aside from the clipper and 6 comb guides, the package also includes a comb and cleaning brush. It's a great investment if you want an all-in-one tool that you can take in the shower.
---
Wahl Color Pro Hair Cutting Kit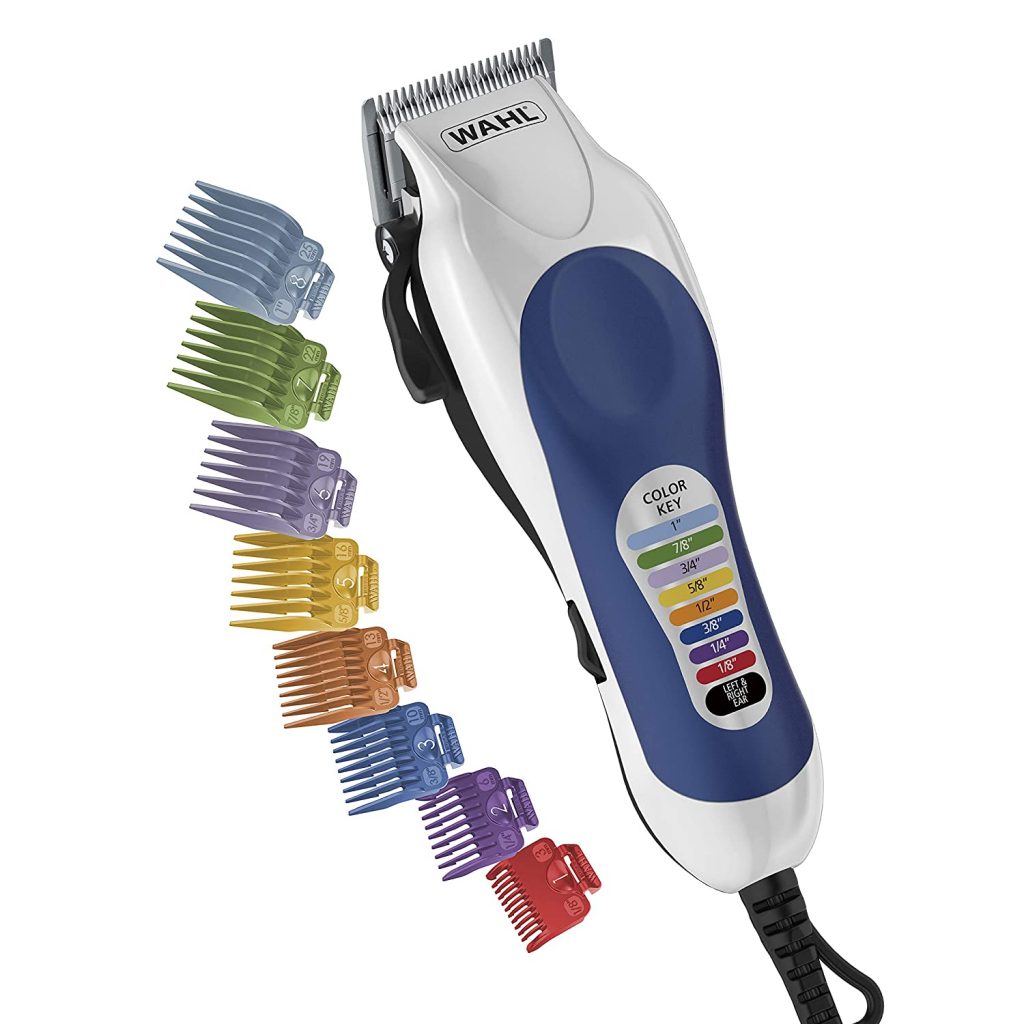 Do you get confused on the comb guides of your old clipper? If you're looking for a new unit, consider the Wahl Color Pro Kit. It comes with 8 color-coded comb guides, so you'll never use the wrong length ever again. I also like that the color-coding of the combs is printed on the clipper's body to prevent confusion.
Meanwhile, the clipper itself provides smooth cuts on its adjustable trim length. The clipper also uses a self-sharpening blade that holds its edge for long. Inside, it has a durable motor that ensures smooth and snag-free haircuts.  To adjust the length of the blade, simply use the lever on the side for quick switches.
This is a 20-piece grooming kit that contains the clipper, hair clips, eyebrow trim combs, ear tapers, styling comb, blade guard, and more. For a lower price, you'll get a complete grooming kit for the whole family.
One thing I like the most about this Wahl clipper is it's protected by a 30-day money-back guarantee as well as a 5-year limited warranty.
---
OriHea Electric Pro Outliner & Clipper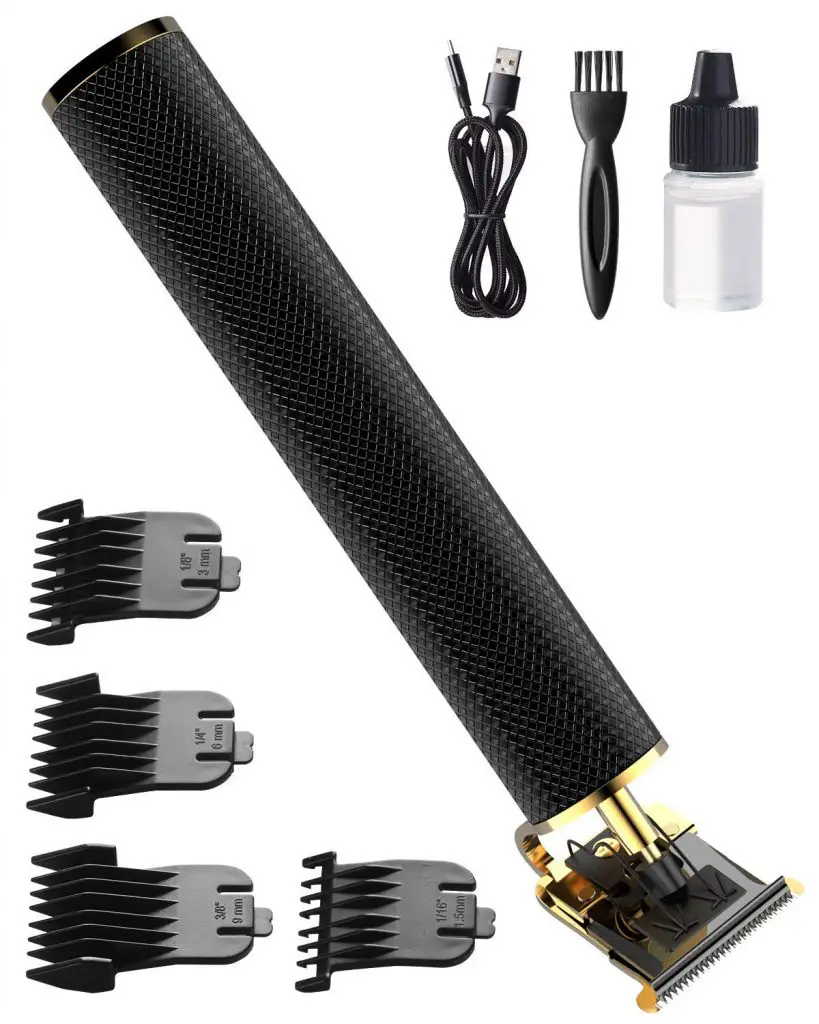 For those who are looking for slim trimmers, the OriHea Electric Pro Outliner might be the one. This is an ideal outliner, but it also works as a clipper and trimmer for your head hair. It's made of titanium and ceramic blades that will last long despite regular use. It doesn't pull or hurt the skin either, which is also suitable for those with sensitive skin.
Aside from that, this comes with four guide combs with sizes 1.5 mm, 3 mm, 6 mm, and 9 mm. You can also set the blade on a trim length of 0.5 mm to 9 mm. No matter what your hair type is, this clipper will work its magic for you.
This has a cordless design that can be used for travel. And although slim, this clipper has a textured handle that makes it easier to hold while working on hard-to-reach areas.
Moreover, you can wash the blade of the clipper, but avoid immersing the entire tool in water because it's not waterproof. You will also receive a USB charging cord, but please note that this clipper doesn't pack a lot of power like other options here. But if you're only using it occasionally, this isn't a big deal.
---
Frequently Asked Questions
Q: Can a woman use clippers on her hair?
A: Yes, of course! If you're a lady eyeing for a shorter hairstyle, clippers are handy tools. It's a great tool that can give accurate cuts, as long as you use the right blade guard. Clippers can also be used on body hair.
Q: What does a number 8 haircut look like?
A: The number 8 refers to the longest clipper guard size you can find in America. This cut has a one-inch length and widely used as a quick way to trim the hair at the top of the head. It's a less risky length, which is a great start if you're afraid of cutting too much hair at once.
Q: What is the difference between a hair trimmer and clipper?
A: Hair trimmers are used to cut small portions of the hair. It's used in outlining, edging, shaping, and shaving. Meanwhile, clippers are used to cut a bulk amount of hair, usually to reduce length. This can be done before trimming the hair. The good thing is that modern clippers can also function as trimmers, given that you use the right clip guard size.
Q: Can I use a hair clipper to shave?
A: Yes, you can use a hair clipper as a shaver, but it may not give the smoothest finish. If you need to shave, look for a clipper built with this function. Usually, these clippers cut close to the skin to reduce stubble and ingrown hairs.
Q: Should I use clippers on wet or dry hair?
A: It depends on which the clipper is rated. Some clippers can be used on both wet and dry cutting. Even if that's so, you should never clip a dripping wet hair because it will hurt, and the result will be patchy. Always check the label of the clipper just to be sure.
---
Final words
The best clippers for cutting hair at home will let you groom yourself even if you can't go to a professional stylist or barber right away. It's a handy tool that the entire family can use. Just make sure that you get one with the right features for your needs.