Dogs and other furry pets require a special clipper. Such clippers are made to cut through a long and thick coat without snagging or hurting the dog. While human clippers will work, it's not a good idea to share one tool with your doggo. Whether you're a professional groomer or a pet owner, the best clippers for long haired dogs are a must-have.
DOG CLIPPER
BRAND
EXPERT RATING
CHECK PRICE

 Our Top Pick! 


Andis UltraEdge
Professional
Animal Clipper

Check Price

Wahl Professional
KM10 Animal
Clipper

Check Price

Oster Pro 3000i
Cordless Pet
Clipper

Check Price

Andis Excel
Professional
Animal Clipper

Check Price

Wahl Professional
Arco Pet Clipper

Check Price
Professional groomers invest in their tools to deliver the best service to their clients. This includes a trusty clipper that can work on any coat type and length. On the other hand, pet owners that perform home trims on their pets will also benefit from using a pet clipper.
In this post, I reviewed five of the best clippers you can use for your pet. See which one suits your budget, preference, and your dog's needs.
5 Best Clippers for Long Haired Dogs & Other Pets
OUR #1 CHOICE
OUR TOP PICK: Andis UltraEdge Professional Animal Clipper
Cutting Edge

Motor Power

Noise Level

Value for Money
Summary
Moreover, the blade doesn't get hot as long as you use a lubricant on it. It's also fitted with a 14-feet cord, so you'll not find it hard to groom your dog.
Overall, this clipper is 7.32″ long and weighs 1.10 lbs. It has a polymer body and carbon steel blade that are made to last long. You can also choose from five different colors to suit your preference.
If you're a professional groomer, this clipper will pay for itself really quickly. Sure, it costs more than other options, but every dollar will reflect on the performance.
My only gripe over this clipper is it will get very hot if you forget to lubricate it. Also, you should oil it more often when working on very thick and long coats.
Pros
Blade is made of carbon steel
Two-speed rotary motor
14-feet power cord
Cons
It gets hot if you don't oil it regularly
---
RUNNERS-UP
Wahl Professional KM10 Animal Clipper
Another dog clipper I swear by is the Wahl Professional KM10. This has two speeds adjustable between 3,000 and 3,700 strokes per minute. You can also utilize the Constant Speed Control to have more trimming power on difficult areas.
Moreover, this has a brushless motor for a quiet operation. It's also very lightweight for just 0.7 lbs. and a length of 7.5″. I also like the rounded front housing, which prevents dog hair from clogging the blade.
Speaking of the blade, this clipper comes with Wahl's #10 competition series blade. It's made to last long and stay sharp even on the thickest dog coats.
For the best performance, I suggest that you follow Wahl's '5-point' oiling system. This involves putting a drop of oil on each blade side and then three along the blade cutting edge. After that, run the clipper for 10 seconds to let the oil spread.
Overall, these are professional-quality clippers with a 14-feet cord length. Just note that using the highest speed will make the blade heat up fast. This is fairly normal, especially if you're trimming thick dog coats.
This clipper is also one of the quietest I've ever had, not to mention that it's also very easy to change blades.
If you're new to using corded clippers, the long cord of the Wahl KM10 will take time to get used to. Other than that, this will be a workhorse both at home and in pet grooming shops.
---
Oster Pro 3000i Cordless Pet Clipper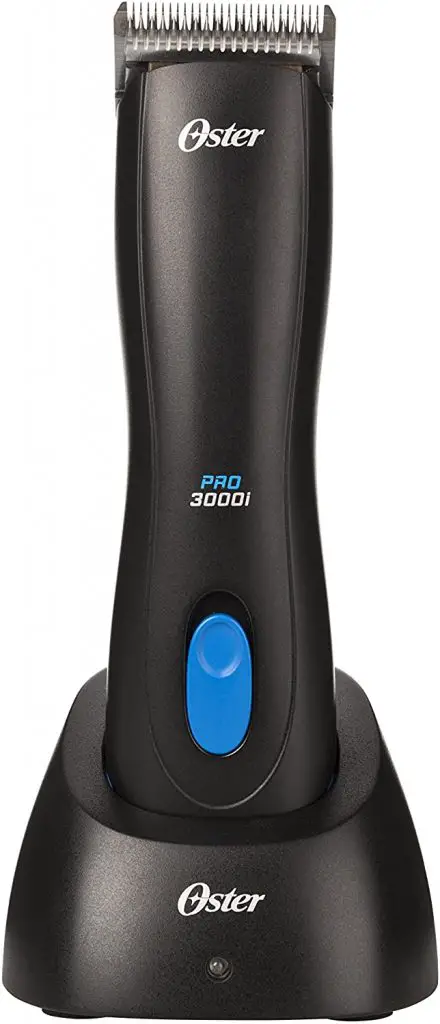 If your dog won't sit still while grooming, your best bet is the Oster Pro 3000i. This is a large clipper that boasts a #10 CryogenX blade that can cut through the thickest and curliest dog hair you can find.
The CryogenX blade is made of high-carbon steel that's been handcrafted to meet the highest cutting standards.
Moreover, this has a 3,000-SPM motor that you can use for dogs, cats, sheep, horses, and more. It's equipped with a rechargeable battery that can work non-stop for two hours.
Aside from that, this clipper is compatible with Oster A5 blades, including the wide ones. The package also includes a charging stand and oil tube, so you can use it straight from the box.
Overall, this dog clipper is 6.125″ long and 4″ wide. It weighs 15 ounces, which is very light and easy to maneuver while clipping a dog's coat.
I like that this clipper can work for long without overheating. But if you're worried about the blade getting warm, you can use a coolant spray on it. Nevertheless, oiling it before each use should be enough to prevent the blade from getting too hot.
If you have a Golden Retriever, Poodle, or a dog with a similar coat, this clipper would be a champ.
---
Andis Excel Professional Animal Clipper

The Andis Excel Professional Animal Clipper spots a rotary motor that works at a maximum speed of 4,500 SPM. This is a powerful clipper with a variable 5-speed setting to suit the grooming needs of each dog.
Also, this has a polymer body paired with a soft grip, so you won't drop it while working on difficult areas. I also like that this clipper's body is contoured for added grip but with minimal hand strain.
Moreover, this comes with a #1 Ceramic Edge blade that's easily removable, just like the one from Andis Ultra Edge. Since the blade has a ceramic material, it doesn't heat up faster than steel. Also, it lasts longer and will keep its edge even after high-volume cutting.
Aside from that, this is a wonderful clipper for arm and hand fatigue. It's also fairly quiet compared to other dog clippers I've purchased before.
Just note that this is a corded clipper. I also noticed that the cord part that meets the clipper is a bit wobbly, so you have to be careful when handling it.
This is also nicely weighted for 2.2 lbs. and a length of 9.92″. This is the perfect clipper for large and long haired dogs since it cuts a lot of hair in every pass. I also like how it powers through the thickest fur.
However, the buttons are in an awkward location, which took me some time to get used to. Also, the plug is quite giant, which others find weird.
---
Wahl Professional Arco Pet Clipper

If you're looking for a cordless Wahl trimmer, you should consider the Animal Arco Clipper. This has a 5-in-1 blade adjustable in sizes #9, #10, #15, #30, and #40. For a single clipper, you'll get multiple blade settings to suit all breeds and coat types.
Aside from that, its cordless design makes the clipper very convenient for hard-to-reach areas like the paws, chest, ears, and face.
For every 75-minute charge time, this clipper has a total runtime of 80 minutes. This is more than enough to groom a long haired dog.
Moreover, the package includes guide combs #1, #2, #3, and #4. It's also bundled with two drop-in NiMH batteries, so you can keep trimming while the other charges. The set comes with a charging stand, charging cord, cleaning brush, and a small bottle of blade oil to complete the ensemble.
The Wahl Arco Animal Clipper has a slim profile that's very comfy to hold. It's also very easy to clean with very little maintenance needs.
The package doesn't come with an instructional guide, though. It's just a small issue for me, but for pet owners who are new to dog clippers, a manual will be much appreciated. Overall, I think this is very easy to use for beginners with a little research on the web.
---
How to choose the best clippers for long haired dogs
If you're shopping for the best clippers for dogs, you should consider the following aspects:
✔️Corded vs. cordless
The first thing you should consider is whether you need a corded or cordless clipper for your dog.
Corded clippers are good options if you have a large dog. This allows uninterrupted grooming since no battery will run out of power. However, the cord can take time to get used to since it will get in the way.
However, if you have a dog that just won't sit still, you're better off using a cordless clipper. This will let you work on all areas of the dog coat without a cord in tow. However, you need to recharge it regularly for hassle-free use.
✔️Dog hair type
The next thing you should consider is the hair type of your dog. If your dog has curly and dense fur, you should look for a powerful clipper. This will let you cut through thick chunks of hair without the blade getting too hot. It will also prevent snagging and pulling as clippers made for short hair can get easily clogged with fur.
✔️Speed
Variable speed settings are unbeatable when shopping for dog clippers. This lets you adjust the cutting speed based on the thickness of the fur and the area you're grooming.
Usually, two speeds are more than enough for most purposes. But for detail work, you can get a clipper with up to five levels of speed adjustments.
✔️Motor power
The motor power of hair clippers is often measured by SPM or Strokes Per Minute. The higher the SPM, the more powerful the clipper will be. It's suitable for dogs with thick or matted fur.
Just note that clippers with higher SPM tend to be noisier and more expensive than other options. Still, this is a fair bargain if you need more power to groom your dog.
✔️Blade material
Another important consideration is the material of the blade. The most common option is carbon steel since it's durable and can be purchased at a low price. However, you need to lubricate this blade often since it gets hot fast, especially in high-speed settings.
On the other hand, you can also consider a ceramic blade. This runs cooler than carbon steel and not prone to chipping. However, it's usually more expensive than steel.
✔️Grip and handle                    
Clipping a dog's fur is a serious task. You have to be careful and accurate at the same time to achieve the result that you or your client likes.
Always look for a clipper with a contoured handle. This will reduce the strain on your hands while allowing you to hold the clipper for long. A clipper with a rubber grip is also a good choice, especially if your palms get very sweaty.
✔️Added accessories
Added accessories like comb guides, cleaning brush, and blade oil are excellent bundles for a clipper. While this isn't really a requirement, it adds value to your purchase. It saves you some bucks from buying such supplies separately.
✔️Size and weight
Next, you should check the weight and size of the clipper. This is to ensure that the tool will fit nicely on your hand and prevent excessive strain on your arms.
The good thing is that dog clippers are available in a wide range of weight and size options. You can easily find one that suits your grooming style well.
✔️Noise level 
Remember that dogs are like toddlers. They can get spooked by a loud buzzing noise. This is why you should look for a dog clipper with a quiet operation. It will reduce the stress of grooming on your dog.
However, you should remember that high-power clippers are normally noisier than most. This is due to the higher SPM that gives the clipper better cutting power.
✔️Cost
Lastly, check the cost-performance ratio of the dog clipper. Make sure that it's worth the splurge in terms of features and construction. While it's easy to invest in the cheapest option in the market, you're likely to spend more in the long run on replacements and repairs.
If you are a professional dog groomer, I suggest that you invest in a durable dog clipper like the five I reviewed above.
---
Frequently Asked Questions
Q: Can I use a clipper on a heavily matted dog?
A: Yes, but make sure that the clipper is made with ample power to cut through such difficult spots. Matted fur is thick, stiff, and hard to cut. You should consider cutting portions of the matted fur with a pair of scissors before you use the clipper. This will reduce the clipper's heavy load and prevent it from overheating.
Q: Is it better to clip a dog's hair wet or dry?
A: When clipping a dog's fur, it's important to do so while it's dry. Clipping it while wet will cause nasty snags and intense pulling. Your dog will not like it, and it will surely ruin their coat. Also, you should give the pooch a quick brush before you start clipping the fur. And if you encounter tangles, don't pull at it. Work it with your fingers and a small amount of tangle spray.
Q: Is there a difference between a dog and human clippers?
A: Although human and dog clippers look similar, they are actually very different tools. For dog clippers, the blade is sharper to cut through thick and matted fur. Also, the blade has fewer teeth than those made for humans. While human clippers work for home clipping, it will not produce the best results, especially when working on sensitive areas like the face, ears, and paws.
Q: Is it bad to shave a long haired dog
A: Take note that you should only trim a dog's coat and never shave it clean. Shaving is reserved only when the vet needs to perform incisions or treatments on the canine's skin. Remember that shaving your long haired dog will damage its coat permanently.
Q: Do dogs get depressed after grooming?
A: Grooming sessions can be very uncomfortable for most canines. But if done right, your pooch will not be in pain. In fact, your pet will feel better once it has its matted and extremely long fur trimmed. It's important to get your dog used to grooming at an early age to prevent anxiety and stress.
---
Final words
The best clippers for long haired dogs will let you groom your pet with ease. For professional groomers, it's very crucial to get the right tool for the job. This will guarantee repeat customers and happy dogs in your shop.
What do you think of these dog clippers? Let us know below!