Double edge razors are classic grooming tools, and you've probably seen one in your grandpa's house. Although it's traditional, safety razors are here to stay. It's an excellent option that many guys (and even ladies!) still swear by to this day. True enough, many barbers and stylists still have this handy razor on their toolkit. And if you're looking for the best double edge razor blades for sensitive skin, you're at the right place. For this post, I scoured over hundreds of razors to find the 8 best options you can get:
RAZOR
BRAND
EXPERT
RATING
CHECK PRICE

 Our Top Pick! 


Rockwell Razors 6S
Safety Razor

Check Price

Edwin Jagger Ivory
Safety Razor

Check Price

Merkur Classic 34G
Double Edge Razor

Check Price

Bevel Safety Razor
for Men

Check Price

VIKINGS BLADE The
Chieftain 5 BC Razor

Check Price

Weishi Nostalgic
Butterfly Safety Razor

Check Price

Parker 99R
Safety Razor

Check Price

WLDOHO Ebony
Wood Safety Razor

Check Price
---
What is a safety razor?
A safety razor is composed of a double edge blade locked inside the razor head. Although most double edge razors have the same look, it also comes in different types.
Moreover, safety razors can give a close shave, but you have to be careful because it's notorious for nicks and cuts. Rushing and shaving haphazardly may result in bumps and painful ingrown hairs.
But how come it's called 'safety razors' if that's so? Back in the 1800s, when it was first introduced in the market, safety razors are safer options than the classic razors used by barbers (think of Sweeney Todd). And although there are safer options nowadays, safety razors retained its name and charm.
The good thing with double edge razors is that you'll enjoy shaving with two sides. If the other one gets dull, you still have the other edge to use. It's pretty simple and straightforward, not to mention that safety razors are cheaper.
---
Safety razor vs. cartridge razor
Many razor buyers often struggle with whether they should get a safety razor or a cartridge razor. Both works, but in different ways and varying features.
Safety razors, or double edge razors as it's called, are often made of metal. It has a blade installed on the razor head and a guard that protects against cuts and bumps. Safety razors are also popular because they are less likely to irritate the skin than cartridge razors.
This offers superior shave, but if you want one that lasts for a lifetime, you should invest in a heavy-duty option. Still, safety razors tend to be cheaper in the long run because you only have to replace the blade, which is a standard razor blade available in many stores.
However, safety razors come with some downsides, too. First, it requires a bigger initial investment to get excellent quality. Also, it takes practice to master than a cartridge or electric razor.
On the other hand, cartridge razors are disposable and cheaper than its double edge counterparts. It usually has a plastic handle and a replaceable blade. Most of the time, this has 3 to 5 blades at a time. If you want to shave fast without a smooth finish, this will suit you. The good thing here is that cartridge razors are easy to learn, and you only need to spend a little.
On the downsides, cartridge razors offer a lower quality shave as compared to safety razors. Also, it's notorious for skin irritation and can be expensive in the long run as you buy multiple replacements.
---
Tips in using a double edge safety razor
Once you get the best double edge razor blades for sensitive skin, the next step is to learn how to use it. Here are some of my tips for the smoothest and seamless shave:
Practice first. Unlike cartridge or electric razors, safety razors take time to learn. If you haven't used one before, gliding it straight to your chin might not be a great experience. I recommend shaving a little spot and having a good feel of the razor.
Start at a 30-degree angle. With a double edge razor, you have to maintain a specific angle for a smooth and pain-free experience. A 30-degree angle is just right to get the hair but not tear your skin. To do this, place your safety razor about 90 degrees on your skin then tilt it down slowly until you feel the blade being in contact with your hair.
Pull the skin. Pulling your skin taut or flexing your chin by putting your lip inward to your mouth will give a smoother shave. It will smooth out any blemish or bumps that may get in the way of the razor. Also, the tension on your skin will reduce the risk of nicks and cuts.
Use shaving cream. Another way to ensure a smooth shave is to apply shaving cream to your hair. This will soften up the hair and act as lubrication as your glide the razor on your skin. Nowadays, you can find aerosol shaving foams or lathering shaving creams aside from the traditional options.
Be prepared for some cuts. No one has ever learned how to use a safety razor without experiencing some cuts from time to time. Even experienced users may sustain such wounds if they shave haphazardly. With that being said, it's best to have a styptic pencil to stop the bleeding and potential infection.
---
How to choose a double edge safety razor
There are many safety razors in the market, and not all of them work well. To ensure that you get the best double edge razor blades for sensitive skin, you should consider the following points:
✔️Slant bar vs. straight bar
The first thing you have to decide upon is whether you'll get a slant bar or a straight bar. This refers to the angle of the razor head.
A straight bar is a regular type wherein the blade is held at a right angle for a predictable shave. This is easier to use, but it takes a little more effort to slice through the hair.
On the other hand, slant bar razors offer a twist on your shaving experience. It adds a mild slicing action so you can easily take on the hairs easily. For each pass, you'll get a closer shave. However, you should note that slant razors are more aggressive and can be difficult to learn how to use. But on the skilled hand, a slant bar razor will be a powerhouse shaver.
✔️Fixed vs. adjustable blade
Next, you should decide if you'd want a fix or adjustable blade. Most razors in the market have a fixed blade, which means the length of the exposed blade is already set. But if you have the extra budget, you can find ones with blades that can be adjusted in different angles.
Remember that both fixed and adjustable blades are removable. It's just that the former is only available in one blade configuration. If you want to experiment, which works for you best, you can try an adjustable safety razor.
✔️Number of pieces
The number of pieces refers to how many parts the razor splits into when disassembled. You will find three options: butterfly, 2-piece, and 3-piece. The following are the differences between the three:
Butterfly. This type is composed of a single piece with no removable parts. There's a knob that opens the top of the safety razor wherein the top plates will swing open. From there, you can access the blade. This is easy to use, but since it has moving and hinging parts, it may not last as long as other piece types. But then again, it depends on how you maintain the razor.
2-piece. Like how it's called, a 2-piece razor has two parts where the cutting head unscrews from the razor for blade changing. With this design, it's a little difficult to change the blades but not as much as a 3-piece.
3-piece. Lastly, there's the 3-piece razor. The top cap and the base of the head come apart, making three pieces that include the handle. Despite its tricky assembly, a 3-piece razor lasts longer than the first two types above. And since everything can be disassembled, it's easy to deep-clean.
✔️Aggressiveness
The aggressiveness of the safety razor refers to how much the blade is exposed. If a razor has a highly exposed blade, it would be very aggressive. Since the blade is more exposed, it increases the risk of cutting the skin. Still, this aggressiveness works for a closer shave in a single pass.
If you're a beginner with sensitive skin, you should steer clear of very aggressive razors. Those with shaky hands should follow suit.
✔️Sharpness
Safety razors are made to do one thing: cut hair. This is why you should always look for a sharp and long-lasting option. Although you can always change the blade later on, it's always great to have a sharp edge straight from the package.
However, beware of extremely sharp razors if you're a beginner. The learning curve of this shaver could make the extra sharp edge quite a pain (literally).
✔️Comb style
The comb style of the safety razor refers to the configuration of the covering on the razor head. The following are the comb styles used on double edge razors:
Closed. This one has tiny grooves at the edge of the razor head. It's designed for those who shave regularly since it protects the skin.
Open. Meanwhile, open combs have individual and bigger teeth that act as a guide when shaving your stubble. Both the closed and open combs can achieve a close shave. However, if you're planning to shave daily, I don't recommend an open comb.
✔️Handle material
The handle of the double edge razor will dictate how easy it is to hold and maneuver all over your skin. You can find safety razors with metal, wood, or ivory handles, which gives it an aesthetic touch. All of it works, but if you want your razor to last long, I swear by stainless steel. Some are even gold-plated for added beauty and rust protection.
Aside from the material, you should also consider the length of the handle. If you have large hands, go for a longer option to comfortably hold and maneuver the razor. Most razors will have handles ranging from 3.5 to 4.5 inches.
✔️Weight
Next, consider the weight of the double edge razor. You'd want the razor's weight to do most of the work so you wouldn't strain your hands. By leveraging the weight of the razor, you won't have to apply pressure that will increase your risk of sustaining cuts. So aside from the premium feel, safety razors are made heavy for a good reason.
✔️Cost
Last but not the least, consider the cost of the safety razor. While you can always find the cheapest option, it's always worth investing in a model that will last a lifetime. In the long run, putting your money on a top-of-the-line razor will save you more money.
Also, many expensive double edge razors come with an excellent warranty to protect your purchase.
---
8 Best Double Edge Razor Blades for Sensitive Skin
OUR #1 CHOICE
OUR TOP PICK: Rockwell Razors 6S Double Edge Safety Razor
Sharpness

Comb

Ease of Use

Material

Weight & Length
Summary
This 3-piece razor comes with one month's worth of blades. Everything is packed nicely on a metal gift box lined with leather and felt. The best part is that this safety razor is covered by a lifetime warranty in case you're not happy with the shaving performance.
In case you run out of Rockwell Razors blades, this one will work with a standard double edge blade in the market. Overall, this is a durable razor for a lower price than other high-end options you can find.
Pros
Lifetime warranty
Adjustable shaving system
Free leather metal gift box
---
RUNNERS-UP
Edwin Jagger Ivory Safety Razor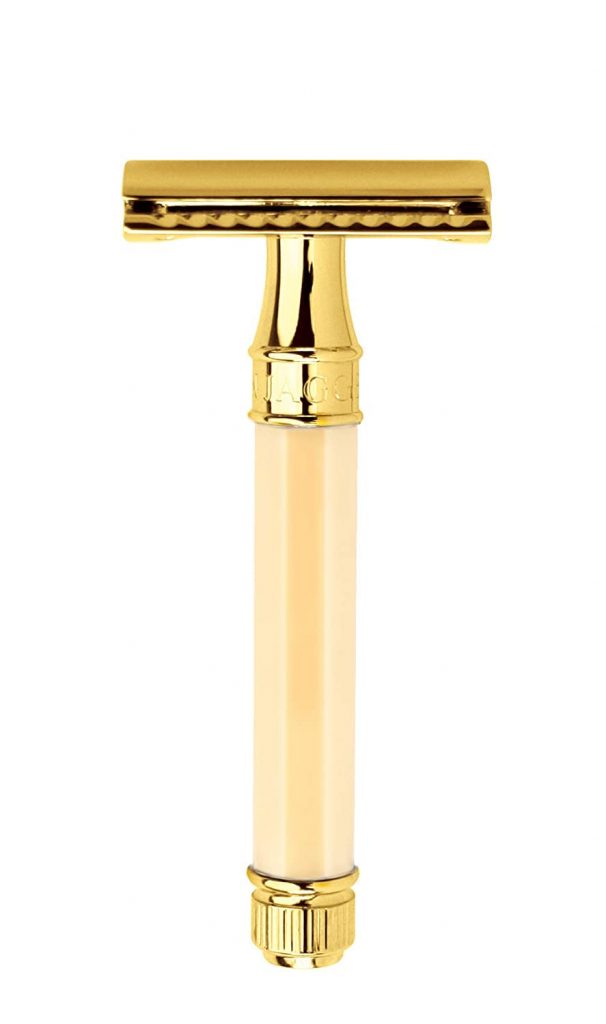 If you're looking for an aesthetic safety razor, you should check out the Edwin Jagger Ivory. This one has a gold plated handle tip and razor head and an acrylic ivory handle. You can also get this same razor in different colors, material options, and textures. If you want to stay fancy while shaving, check out their 23-carat plated razor!
This is a perfectly balanced razor that weighs 2.2 ounces and bears a length of 8.25 cm. It has a closed comb and a finely sharped double edge. If you have smaller or bigger than usual hands, you can get this in small and long handle options, respectively.
Overall, this Edwin Jagger Razor is perfect for beginners with sensitive skin. I found the ivory handle a bit slippery, but with the right technique, you can find a workaround on this minor niggle.
For a lower price, Edwin Jagger uses almost the same shaving head as the expensive options from Mühle. Aside from guys, the ladies can also use this for their legs, bikini areas, and armpits. It gives a smooth finish without razor burns or ingrown hairs.
If you don't want to spend too much on a Rockwell Razor, this one from Edwin Jagger is equally awesome.
---
Merkur Classic 34G Double Edge Razor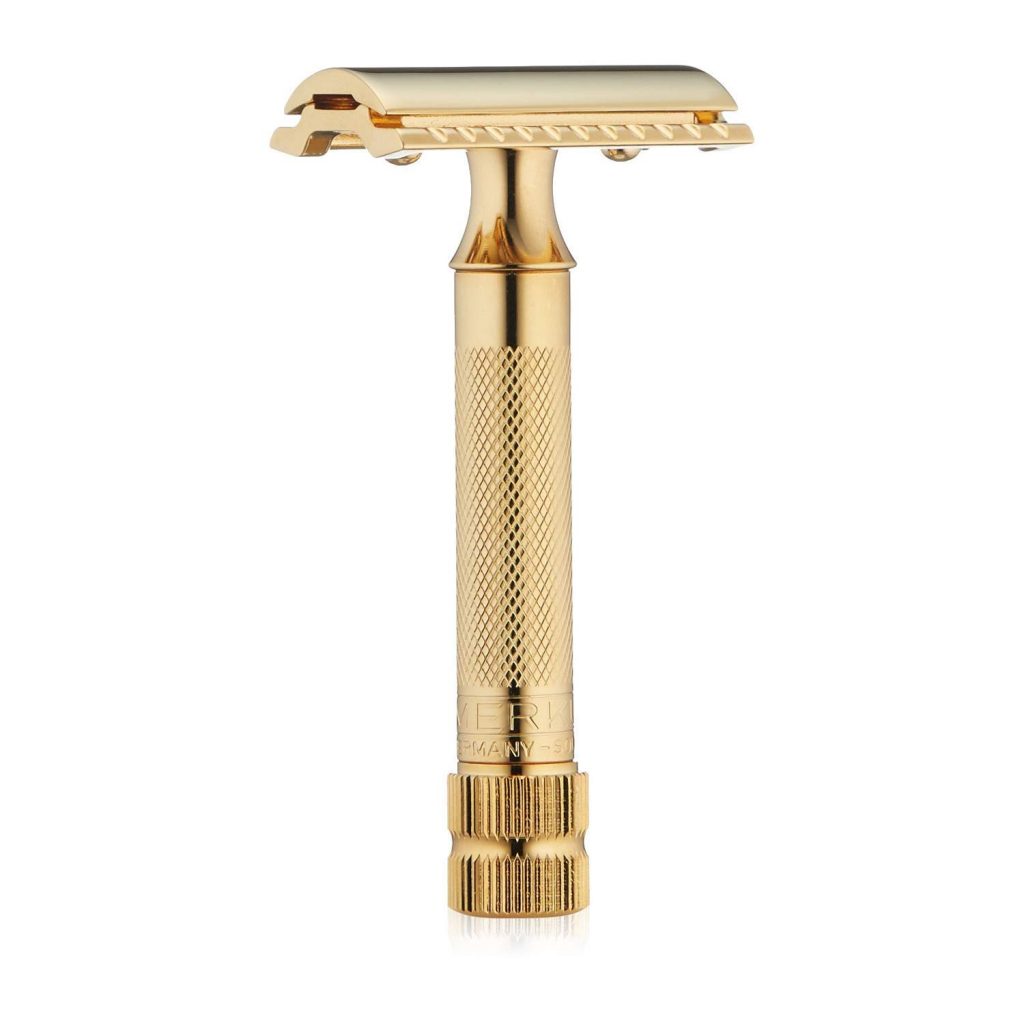 Another closed comb razor that I like is the Merkur Classic Double Edge Razor. It has a short yet thick handle as well as a heavy head that will do the shaving for you. This offers a close shave without irritating your sensitive skin.
Moreover, this has a gold finish, polished to look elegant and premium. The handle is knurled for fine control despite its shorter length.
In case the blade becomes dull, you can replace it with just about any double edge blade in the market. Overall, this razor gives straight cuts and zero irritation on its 2-piece construction.
Aside from the polished gold version (34G), you can also get this Merkur safety razor in 34C, 38C, and 43C – all of which have different handle designs.
Aside from guys, the ladies will also find this comfortable to use. The result is super soft and way better than cheap razors made for women. Apart from that, this razor is made to last a lifetime, something that you won't regret buying.
Also, I want to highlight the craftsmanship of this safety razor. It looks, works, and feels premium for such a low price. However, if you have larger hands, this specific model could be a little difficult to maneuver.
---
Bevel Safety Razor for Men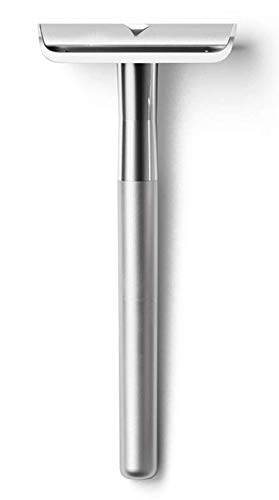 For the minimalist person who doesn't want the frills of other double edge razors, the Bevel Safety Razor is a good purchase. It's generously weighted for easy and comfortable shaving. It's also designed to shave on skin level so you'll not experience nicks and bumps.
This has a chromium-plated head that's easy to clean after every use. Also, it sports a brass handle weighted perfectly so you can glide the razor smoothly all over your skin. No added pressure is needed because the Bevel razor will do the shaving for you.
Overall, this is 4 inches long and weighs 3.2 ounces. Aside from shaving your stubble, you can also use this razor to close-shave your head. Unlike other multi-bladed razors, this one from Bevel will not cause ingrown hairs.
This is a useful razor that's made to last a lifetime. However, beginners will need to go past the learning curve, which is reasonable for this type of razor. Still, I noticed that each shave with Bevel lasts longer before stubble grows on my chin, thanks to its super close shave.
Even the ladies love this razor, unlike the plastic ones found in supermarkets. The design, blade quality, and weight are perfect for regular use. As compared to Gillette, I can say that Bevel gives better results.
---
VIKINGS BLADE The Chieftain 5 BC Razor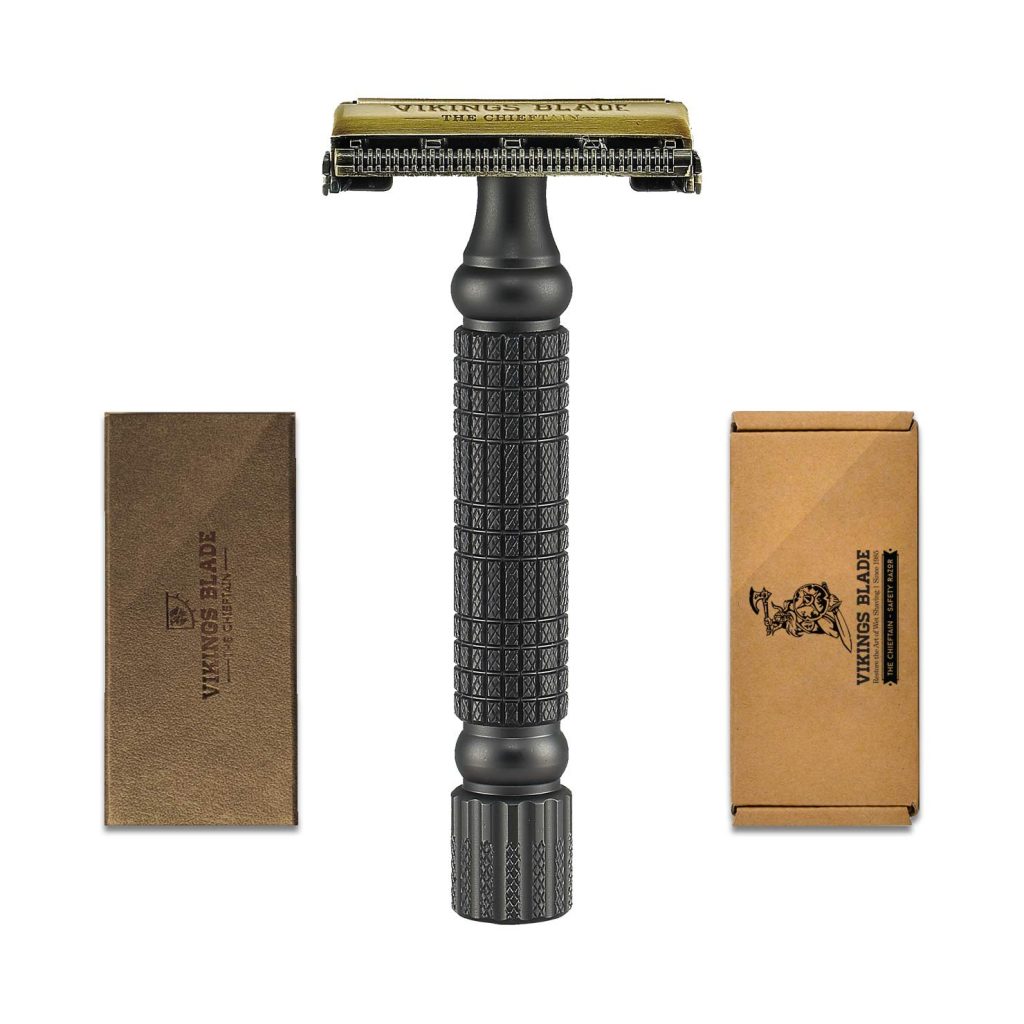 For the bold gentleman, the VIKINGS BLADE The Chieftain is a suave pick. This is the '5 BC' edition of the popular brand, which sports a textured brass handle with a vintage bronze color. It has an ancient design that does manscaping in style.
The Chieftain has an open comb and a neutrally aggressive blade placement. If you have experience using safety razors before, this will suit you well. Also, I like the fact this is one of the heaviest variations of VIKINGS Blade razors, which makes shaving a total breeze.
Another thing that I like about this VIKINGS BLADE razor is its one-piece design. The top flips open so you can replace the blade with total ease. 
Moreover, this weighs 3.55 ounces at a length of 3.74 inches. And aside from the sophisticated safety razor, you'll also get a luxury carry case that makes an elegant gift box. If you're looking for a perfect gift for a friend or loved one, this razor from VIKINGS BLADE might be the perfect option.
Aside from bronze, you can also get the VIKINGS BLADE in chrome and obsidian+rose gold colors. For this price range, I was quite surprised by the quality and craftsmanship dedicated for this razor. It's a worthy purchase that will last for years.
---
Weishi Nostalgic Butterfly Safety Razor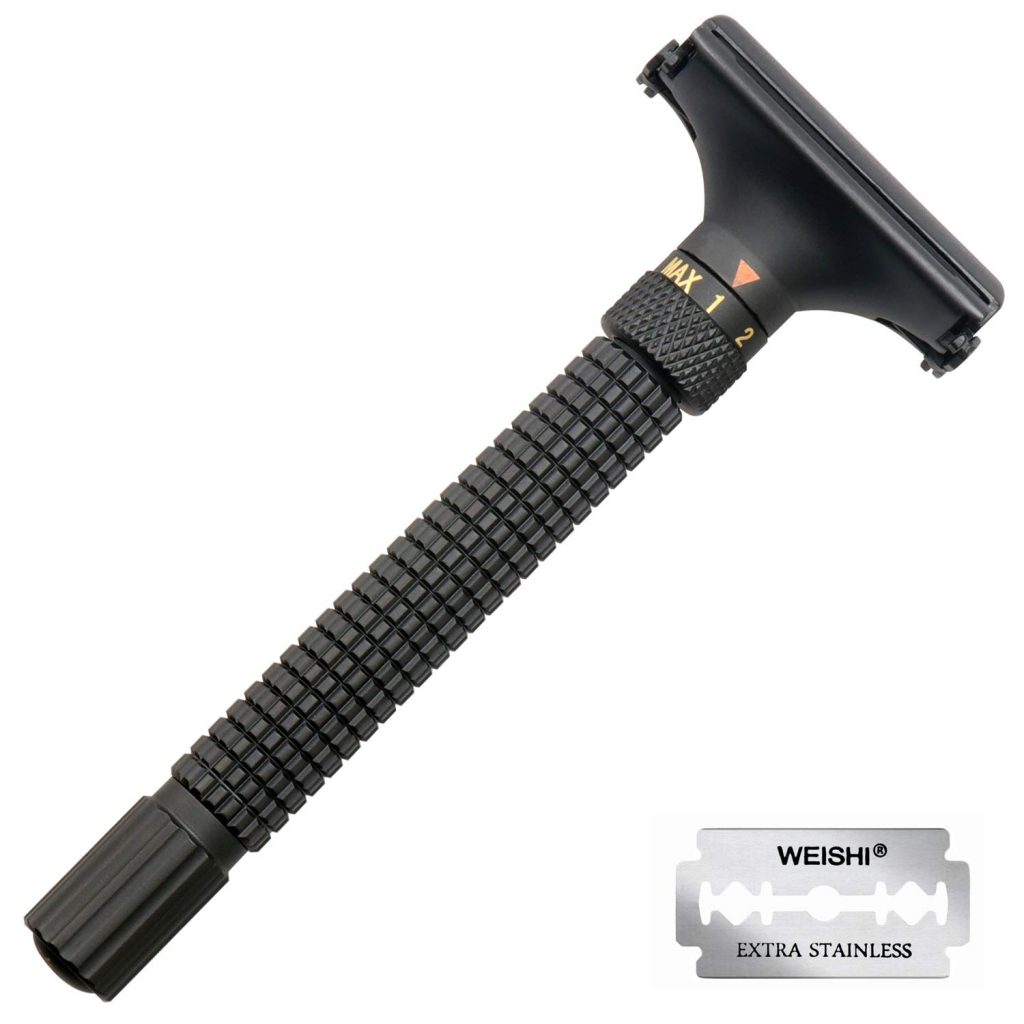 Another butterfly option that I recommend is the Weishi Nostalgic Safety Razor. It has a step-less adjustable setting from 1 to 7, so you can set it on the angle that you want. To adjust, simply rotate the dial just below the razor head with number markings. The low numbers offer light shaving, while higher numbers provide close shaves.
Aside from that, it has a smooth-action butterfly design that makes blade changing easy. You only have to twist the bottom end of the handle to open the razor head. It's a genius design that makes shaving tasks less demanding.
It also sports a non-slip, textured handle so you can shave without slippage. It's designed for beginners who are still learning the ropes of using a double edge razor.
This razor is properly weighted, so you won't have to apply pressure to shave. It also features a longer handle that measures 4.5 inches. And aside from the Weishi razor, you'll also receive five replacement blades.
You will enjoy close and smooth shaves on each use. It's a well-made razor with a low price range. And if you're looking for one that will last for long, the Weishi razor is already a steal.
---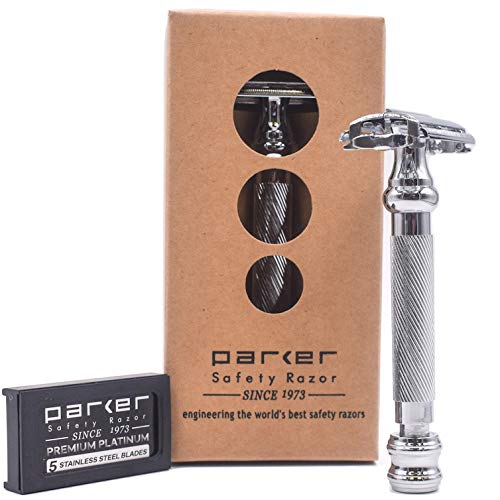 If you don't have the budget for top-shelf safety razors, I highly recommend this one from Parker. The 99R Safety Razor is a great starter shaver for those who are new to double edge razors. This one has a chrome-plated brass frame that resists corrosion.
Moreover, it has a butterfly design that opens the razor head by twisting the handle's bottom. Aside from that, this has a textured handle for sure grip even if you're shaving with wet hands.
The best thing about this razor is that it's assembled by hand. This guarantees the craftsmanship of every piece, even at this price range. It also underwent an advanced plating process for a beautiful and long-lasting look.
Overall, this is 4 ounces, which is just the right weight to let the razor do the shaving for you. Also, it sports a 3.8-inch handle, which is suitable for average hands.
Aside from the razor, you'll get five blades kept in a small case. Meanwhile, the razor itself is encased on a gift box, ready for gift-wrapping.
Based on my experience, this razor really gives a close and smooth shave. It can give more expensive options a run for its money.
---
WLDOHO Ebony Wood Safety Razor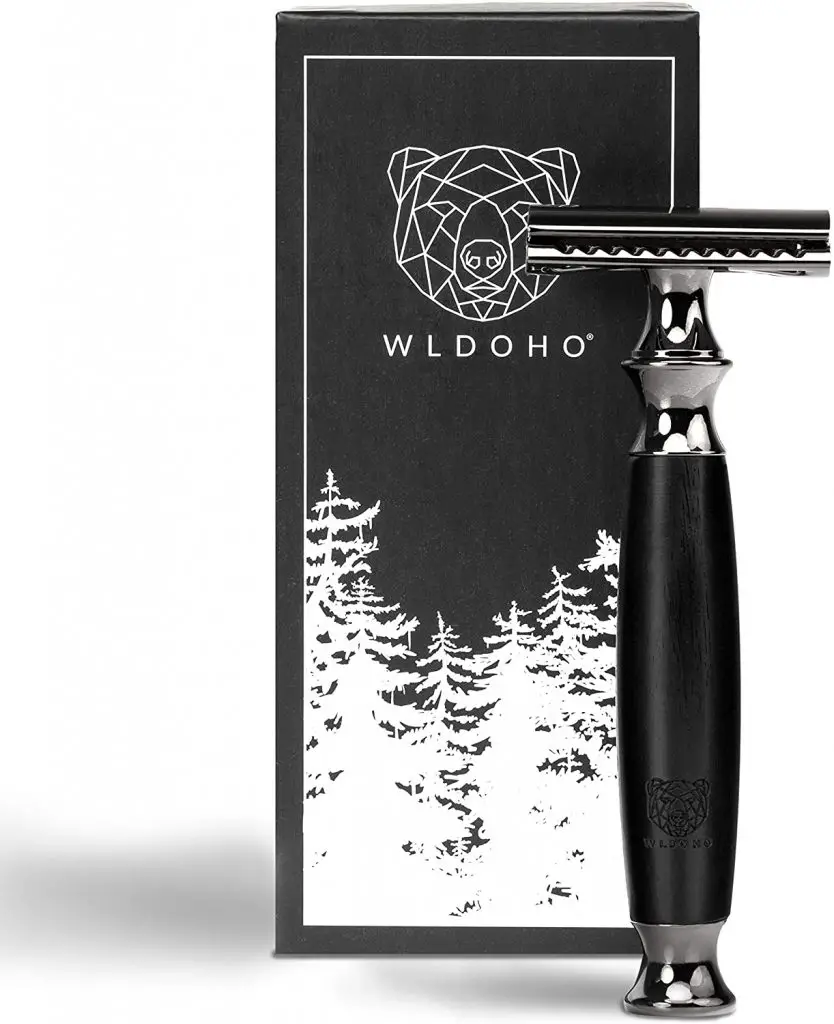 Are you looking for the best double edge razor blades for sensitive skin at a low price? This one from WLDOHO might nail it! This is a plastic-free razor, which makes it last longer, even if used every day. It's made of stainless zinc alloy paired with a gunmetal finish.
Aside from that, this is a 3-piece, double edge, razor. One thing I really like is the ebony wood handle that gives this razor a vintage and sophisticated look. It also gives a nice grip, thanks to its tapering shape.
This uses a closed comb razor head, which is perfect for those with sensitive skin. And since it's made of stainless steel, it's not prone to corrosion even if you're shaving wet.
As for the length, this razor is 4.4 inches long and 3.3 ounces heavy. It's well-balanced for easy shaving. The package also includes five blades so you can shave straight away upon receiving your razor. Also, the razor is encased in an elegant gift box, making it a perfect present for the man in your life.
The best thing about WLDOHO safety is its 100% satisfaction guarantee. If you're not happy with the quality of the razor within 30 days, you're entitled to a full refund.
---
Frequently Asked Questions
Q: Can a woman shave with a safety razor?
A: Yes! Women can shave their legs with a safety razor. In fact, many ladies I've talked to prefer safety razors since it produces closer and smoother results than cartridge counterparts. With the right practice and technique, you'll not cut yourself. Just make sure that the blades are always sharp and clean.
Q: Can you use a safety razor every day?
A: No, it's not advisable to use a safety razor every day. You must give your skin the time to recover, and your hair follicles to grow back to normal before doing another shave. Anyway, it all boils down to how fast your facial hair grows. If you already have a stubble after a day, it won't hurt to shave again, given the right technique and razor choice.
Q: Can I shave my pubes with a safety razor?
A: Yes, you can use a safety razor to shave your private areas. However, you must practice on less sensitive parts of your body to prevent nicks and cuts. Also, glide the razor gently and always follow the grain of your hair. Shaving wet hair may also do the trick.
Q: Can you shave against the grain with a safety razor?
A: No, regardless of the razor type you're using, you should always follow the grain of your hair. This will prevent painful pulling. Also, if you shave against the direction where your hair grows, you stand the chance of developing ingrown hairs. This can be more painful and uncomfortable.
Q: Is it better to shave morning or night?
A: There's no specific time as to when it's best to shave. As long as you're doing it right, you can shave both day and night. Still, many prefer shaving in the morning before they go to work for a fresh feel. It also depends on your preference and what works for you best.
Q: How do you maintain a double edge razor?
A: Cleaning after each use is important to lengthen the lifespan of your safety razor. Never leave it in the shower and make sure it's dry before you store it. Most of all, change or sharpen the blade once it's dull. It's also for the sake of your skin because a dull blade will cause more nicks and cuts.
---
Final words
The best double edge razor blades for sensitive skin will let you groom without the burns, bumps, and nicks. It's a great investment for a smoother finish and hassle-free shaving. Although safety razors have a learning curve, it's nothing compared to the result.
What do you think of the double edge razors I've reviewed here? Let me know below!