Instead of enduring the pain of pulling nose hairs, you can now remove the pesky strands without cringing. Grooming is a widely discussed and highly profitable industry. You can find just about any trimmer for different body hairs – including those in your nose. A nose trimmer makes it easier and faster to remove unsightly hair that peaks from your nose. So what is the best nose hair trimmer on the market? Below, I've reviewed the three best options that I tried and tested.
TRIMMER
BRAND
EXPERT
RATING
CHECK PRICE

 Our Top Pick! 


Philips Norelco Nose
Trimmer 5100

Check Price

Panasonic ER-GN70K
Nose Trimmer

Check Price

ToiletTree Products
Nose Trimmer

Check Price
---
How does a nose trimmer work?
A nose trimmer is a specialized tool used in removing nasal hair. While nasal hair serves a purpose, it can grow too long that it's already visible from the outside. Trimming it will help you maintain a more hygienic look. Besides, the excess length doesn't do anything but gather dirt.
Electric nose trimmers are leveled up versions of manual trimmers. Instead of enduring painful plucking, you can use this tool for swift and pain-free grooming.
To use an electric nose trimmer, you simply put press the button and put the tip at the entrance of your nose. The small trimming element will do its magic, but you should be careful not to hurt your nose. Below, I discussed some tips to ensure that you will use the nose trimmer properly.
Remember that these tools are battery-powered, so you should charge it regularly for hassle-free grooming.
Fun fact: a research found out that many women find very long nasal hair more offensive than morning breath.
---
Manual nose trimmer vs. electric nose trimmer
Both the manual and electric nose trimmers cut hair. However, with manual trimmers, you have to utilize the blade by rotating the tool and drawing it back and forth. This is prone to pulling and snagging, which can be painful and uncomfortable. Also, you stand the chance of cutting your skin if you're not careful.
As with electric nose trimmers, you'll be spared from the manual work. You simply turn the trimmer on and work your way inside your nose. No more rotating, and your chance of cutting your skin is less as compared to manual trimmers.
---
Tips in using a nose trimmer
Caution is necessary for using any nose trimmer. To ensure that you have a safe and seamless grooming experience, you must keep the following tips in mind:
✔️Clean your nose first. Remove any clogging so the trimmer can work without any problems. Also, make sure that your nose is dry.
✔️Be gentle. While electric nose trimmers are safe, you should work with it gently. Start at the entrance of our nose then work your way inside slowly.
✔️You have to be patient. Electric nose trimmers can feel tingly but avoid the urge to wrinkle your nose. Endure the mild discomfort so all the hairs will be trimmed.
✔️Clean your trimmer. After each use, see to it that your clean your nose trimmer properly. This will remove any bacteria or viruses that attached to it from your nose. It will reduce infections, especially if you're sharing the tool with someone else.
✔️Never pluck. Remember that your nasal hair is there for a good reason. Never pluck everything; simply trim it at a considerable length.
---
How to choose a nose trimmer?
Nose trimmers come in different shapes and sizes. To find the best one on the market, you must consider the following points first:
✔️Trimming system
The first thing you should check is the trimming system of the nose trimmer. Double-edged blade systems are excellent because it trims nose hair without pulling or snagging. It's also more comfortable to use, not to mention that it cuts faster. The following are some of the widely used trimmer heads on nose trimmers:
Rotary head. This is the most popular type that sports a stubby tip that you can use on your nose and ears. The tip is elongated to reach farther inside the nose. Also, it uses double blades that trim the hair efficiently.
Side action. This is usually found at the back of a beard trimmer or shaver. It's cost-efficient because you'll get two tools in one. However, it may not produce the same results as a dedicated nose trimmer.
Foil guard. Similar to foil shavers, this trimming system has a blade that works sideways to remove nasal hair. This is safe because there's a guard (foil) that covers the blade.
✔️Battery capacity
Another important consideration is the battery power of the nose trimmer. Cordless nose trimmers are convenient because you no longer have to look for a power outlet just to start grooming.
The good thing about nose trimmers is you don't need much battery power since you only have to trim a small patch of hair. But if you don't want to keep charging the tool every single time, you should look for one that holds the charge for long.
✔️Vacuum system
Although this isn't a requirement, a nose trimmer with a vacuum system is always a great purchase. While you trim, the vacuum system will suck in the cut hair. This will prevent you from sneezing or making a mess in the bathroom.
✔️Waterproof construction
Nose trimmers are small tools, so it must be easy to clean. As much as possible, look for one with a waterproof case so you can rinse it on the sink after each use. Also, a waterproof nose trimmer will let you groom while you're still in the shower.
✔️Accessories
Lastly, look for some accessories. The Philips Norelco 5100 I reviewed below comes with attachments that allow you to use it as a multi-groomer. This will save you from purchasing other tools separately.
---
What is The Best Nose Hair Trimmer on The Market?
OUR #1 CHOICE
OUR TOP PICK: Philips Norelco Nose Trimmer 5100
Trimming System

Power

Performance

Value for Money
Summary
Also, this nose trimmer is water-resistant and can be washed on the sink after each use. It's engineered for precise trimming on all facial hair. This is a painless trimmer, which is why many have already switched to it from manual trimmers.
The only gripe that I have is that it doesn't come with rechargeable batteries or a charger for that matter. But with the accessories and overall value, I think that's one niggle I can live with. You can get a separate rechargeable battery and charger, which you can also use on other applications.
Pros
Comes with accessories
ProtecTube technology to prevent pulling
Sharp Dual Cut technology
---
RUNNERS-UP
Panasonic ER-GN70K Nose & Ear Hair Trimmer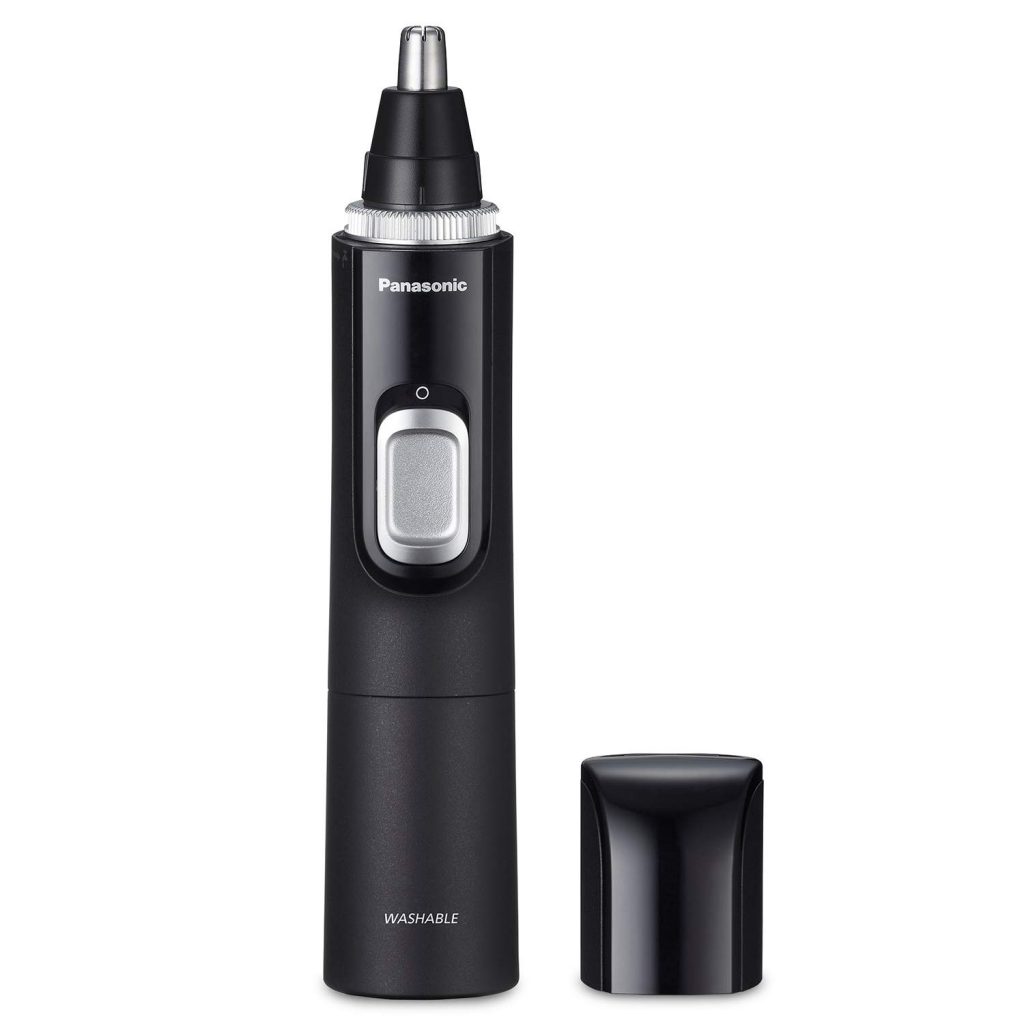 If you don't need a lot of accessories, another good option is the Panasonic ER-GN70K. This nose trimmer is slim and sleek, which can fit on a small pouch for traveling. It has a high-performance motor that produces 9,400 cuts per minute. Also, it uses a quiet motor drive so you can trim your nasal hair in peace. 
I also like its strong motor that can trim any hair type: coarse, thick, and unruly. It also has extra-sharp blades made of well-honed, dual-edge Japanese stainless steel. For those with sensitive skin, it would be great to know that this nose trimmer is also hypoallergenic.
Moreover, this is fully immersible in water that allows you to clean it easily. You can also use it while in the shower without worrying about damaging the trimmer.
Another highlight of this nose trimmer is its micro vacuum system that collects trimmed hair as you groom. It's also engineered for safe cutting, so you'll be free from pulling and pain. To make sure you won't experience pain, the tip has an outer cone so that the blade won't touch your skin.
To operate this nose trimmer, you need two AAA batteries, which, unfortunately, isn't included in the package.
---
ToiletTree Products Water-Resistant Nose Trimmer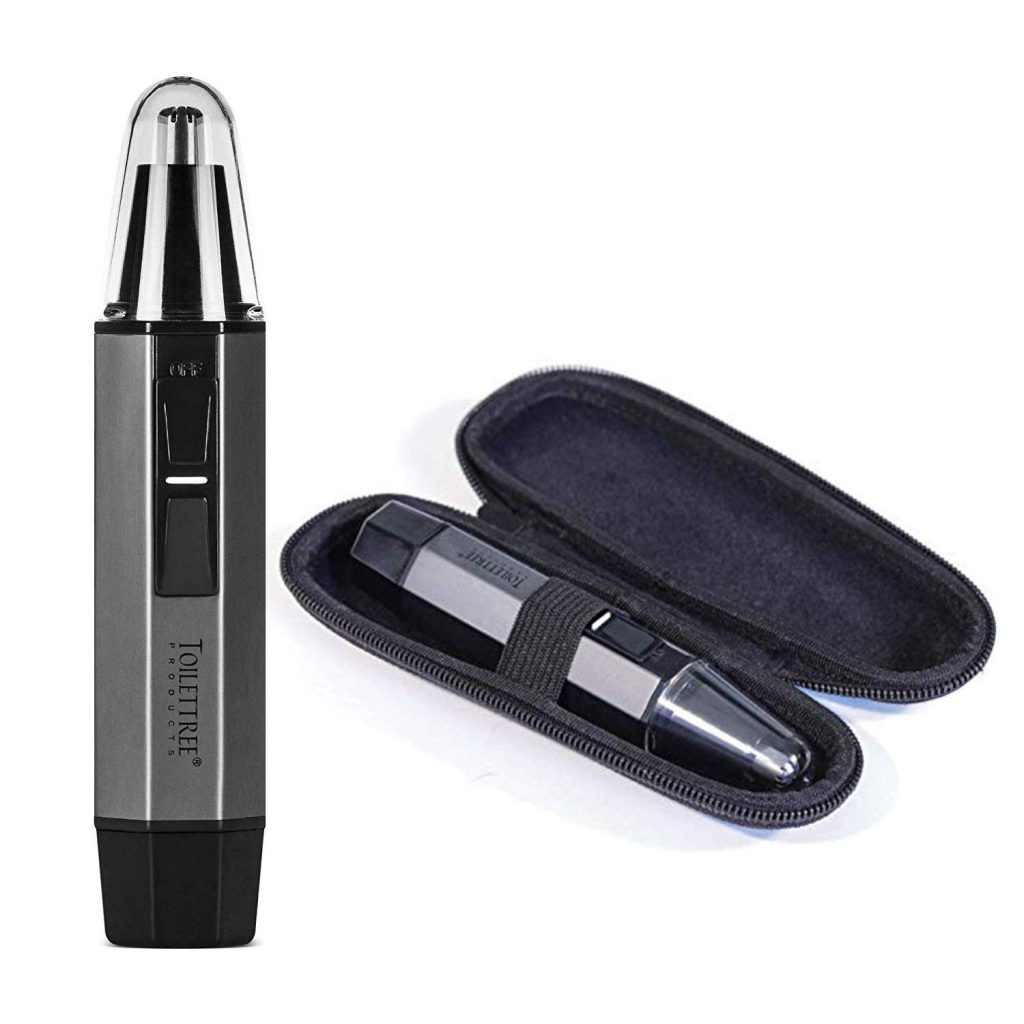 If you're really on a budget, I highly recommend the ToiletTree Products Nose Trimmer. It has a rotary cutting system that lets the hair enter the tip on the sides and top. It also has an outer cone that shields the skin from the blade inside.
Moreover, it has a LED light that helps you see the inside of your nose on a mirror for easy trimming. Also, this nose trimmer is portable and guaranteed cordless for easy operation. It's also waterproof so you can trim in and out of the shower.
I also like the hexagonal body that makes the trimmer easy to grip. There's also a cap that secures the tip aside from the travel case with a secure strap.
To operate this nose trimmer, you need one AA battery that's not yet included in the package. Although it's not bundled with a battery, it's covered with a lifetime guarantee. For a low price, this guarantee makes the nose trimmer a total steal.
Overall, this is a lightweight, reliable, and pain-free nose trimmer. For such a low price range, it cuts premium. I really don't have major complaints about this nose trimmer.
---
Frequently Asked Questions
Q: Does trimming nose hair reduce boogers?
A: While trimming nasal hair may somehow affect nasal crusting (formation of boogers), it still depends on the quality of the air you're breathing. Your nasal hair traps the dirt that will form into boogers, so it's not really a bad thing. Even if you're trimming your nasal hair, make it a habit to clean your nose to remove any nasal crusting.
Q: Is it okay to trim your nose hairs?
A: Yes, but you should never overdo it. Your nasal hair should remain to trap any dust or dirt that you may inhale. As long as you do it properly, it's totally fine to trim your nose hair. Some experts also recommend it to reduce your risk of infection.
Q: Has anyone died plucking nose hair?
A: Yes, plucking nose hair can be fatal if the infection enters the open follicle. Some cases of nasal hair plucking led to meningitis and even brain abscesses. As much as possible, trim your nasal hair so you won't open up an entrance for infections.
Q: Do nose hair grow back thicker?
A: Unfortunately, no. Even if you trim your nasal hair regularly, it will have the same thickness. Still, trimming is necessary to keep it at a decent length.
Q: Is waxing your nose bad?
A: Yes, waxing your nasal hair entirely is a bad idea. You'll be removing hairs that trap dust and dirt that might get into your lungs. This will weaken your immune system, and it will make you prone to infections and ingrown hairs. Trimming is the only advisable thing to do on your nasal hair.
---
Final words
What is the best nose hair trimmer on the market? I personally swear by the Philips Norelco, Panasonic, and ToiletTree. These three nose trimmers are tried and tested by many users. With these tools, you can trim your nasal hair safely and without the threat of infections.