A lot of women have been going through the endless hunt for the best razor. We want one that's hypoallergenic, gentle, and offers the best value for money. Shaving can be a chore, and it becomes more burdensome with the wrong razor. So for this post, I sifted through the web for the best female razors for sensitive skin that I personally tried and tested. I also discussed a buying guide below to help you choose one that suits your needs!
Are you in a hurry? Here are my top 7 picks:
RAZOR
BRAND
EXPERT
RATING
CHECK PRICE

 My Top Pick! 


Clever Bright Electric
Safety Razor

Check Price

VOYOR Electric Shaver
for Women

Check Price

VIMC Electric Shaver
for Women

Check Price

Brori Electric Razor
for Women

Check Price

Ribivaul Cordless
Lady Shaver

Check Price

Schick Quattro
Women Razor

Check Price

BIC Silky Touch
Women's Razor

Check Price
---
Men razor vs. female razor
One thing that some women I've talked to struggle with is whether they can use men razors. The truth is that razors shouldn't be judged by which gender it is marketed for, but how it cuts hair. This is why I've used a lot of men razors in the past, which produces a smooth finish.
You should check for the aggressiveness, blade quality, and if it's hypoallergenic. Since most women shave everything clean, you wouldn't need comb guards or taper attachments.
So is there a difference between a men's razor and those marketed for women? Well, aside from the "feminine" colors, there are varying practical features like the following:
Razor head shape. Razors made for women have rounded heads that make it easy to maneuver down there. Meanwhile, those made for guys are usually square-looking to suit the contours of the face. Nevertheless, you can find unisex designs.
Blade angle. A lot of men's razors are highly aggressive and are angled to cut through dense facial hair. This configuration isn't suitable for women. It will cause nicks and cuts on gentle skin found around the bikini area.
Handle design. Most women razors have rounded handles that are easier to grip while shaving on hard-to-reach areas. Some men razors also come with this handle configuration, which is useful for women.
In the end, it's all about what's comfortable for your manner of shaving. While men razors are designed for facial hair, you can also look around and find one that's compatible with your legs, armpits, and bikini line.
---
How to choose a razor for women
When it comes to the best female razors for sensitive skin, I want to make it simple. I've listed here the most important features you should look for together with your personal preferences:
✔️Number of blades
The number of blades on a razor isn't just vanity – it actually serves a purpose. The more blades there are, the smoother the shave will be. Multiple blades remove more hair on each pass, which speeds up your grooming time. It also gives a softer and closer shave without the nicks or bumps.
If you can, look for a razor with 4 to 5 blades for the best finish. But if you're on a budget, two blades will usually do the trick.
✔️Aggressiveness
Aggressiveness is how much the blade protrudes from the razor head. A highly exposed blade is very aggressive and not suitable for sensitive skin. As much as possible, look for a razor with neutral or medium aggression so you can use it on your legs, armpits, and bikini line. Or better yet, get one with adjustable aggressiveness to suit your preference. You can also share it with your man who shaves his beard – if he's good with the idea, though.
✔️Maneuverability
Shaving down there can be a tough job because you have to be careful. The razor should be maneuverable and easy to use. It should also contour on your skin without pulling or hurting the skin. Try to look for a razor with floating heads or at least individual blades that adjust based on your skin's contours.
✔️Handle
The handle of the razor has a bigger role than what most ladies think. Aside from the color, you should focus on the length and ergonomics. It should be long enough for the size of your hand and thick enough to hold comfortably. There should also be a contoured or textured part that will help with the grip.
---
7 Best Female Razors for Sensitive Skin
MY TOP PICK: Clever Bright Electric Safety Razor
Summary
One thing I like the most about this razor is its floating foil head. It shaves residual hairs that other razors often miss. And no matter what shaving head you use, there's only one button to operate everything. It's easy, intuitive, and straightforward, even if this is your first time using an electric razor.
The razor also comes with a charging stand, but you can also power this up by plugging the razor directly to a wall socket.
The Clever Bright Safety Razor is covered by a 360-day warranty to protect your purchase.
Pros
Bundled with multiple grooming heads
360-day warranty
Waterproof for easy cleaning
Cons
The massage attachment can be improved
---
RUNNERS-UP
VOYOR Electric Shaver for Women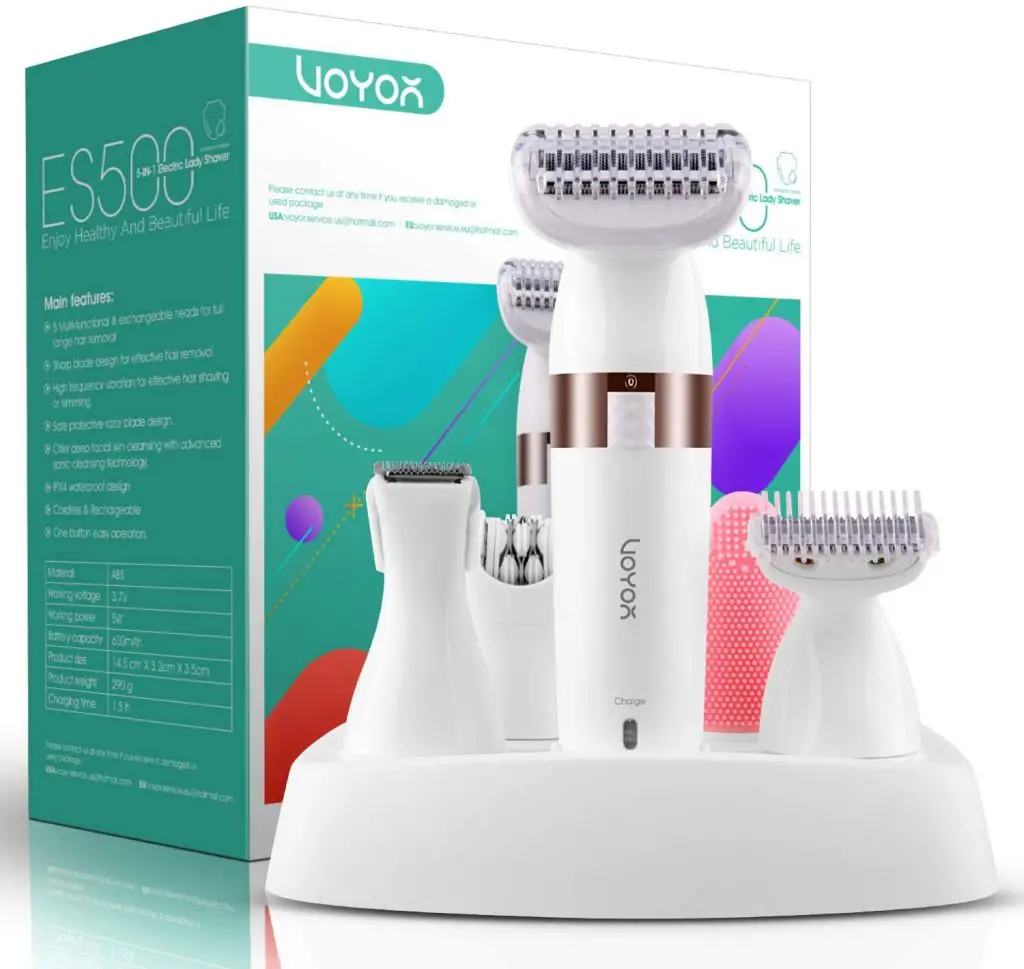 Another safety razor that I recommend is the one from VOYOR. It offers precise and effective shaving, thanks to its stainless steel blades that sharpens itself for long-lasting use. Inside, there's a rotary motor that provides reliable and consistent shaving. Overall, this razor has five head attachments as a multi-groomer.
Aside from the foil shaver head, it also comes with a trimming head, silicone facial cleansing head, precise trimmer head, and epilator head. It's a powerhouse groomer that goes beyond the basic functions of a leg razor.
Moreover, this razor is waterproof, so you can use it in the shower or cleanse it on the sink. It's effective in removing unwanted hair on your legs, bikini line, face, arms, and more.
This electric shaver offers two hours of shaving for every 1.5 hours of charging. But if you're in a rush, a five-minute charge will give you just enough time to get your legs shaved.
What I also like about this razor is its low noise. It also shaves without pulling the hair, which is a must for us ladies. If you have very sensitive skin and you're tired of a traditional razor, this might be the perfect grooming kit for you. Personally, I won't mind splurging a bit for this toolkit.
---
VIMC Electric Shaver for Women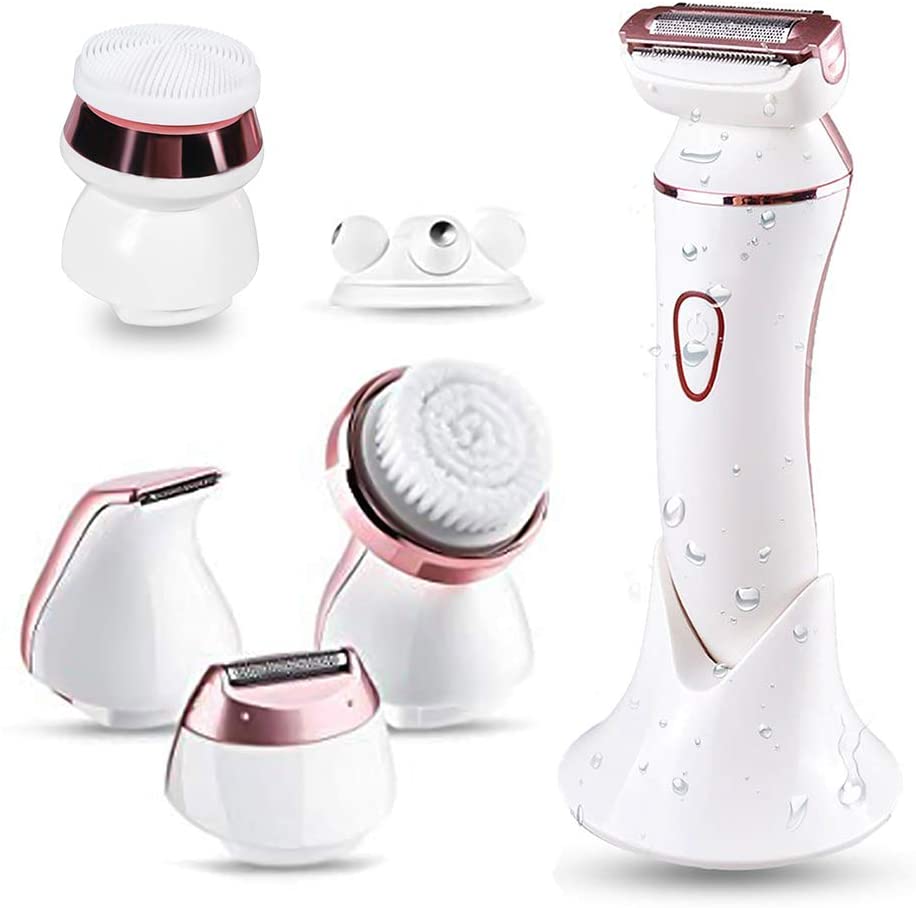 If you want a razor that you can use for full-body grooming, you should consider the one from VIMC. This is a 6-in-1 tool that works for both dry and wet shaving. Aside from the foil shaver head, you will also get a trimming head, cleansing brush head, rotating massager, and more. It's the complete toolkit for the lady who is tired of residual hair.
Moreover, this razor is waterproof, so it's easy to clean, and it's also safe to use on the shower. After shaving, you can use the facial massager to promote blood circulation and healing on your skin.
I also like the single-button operation of this electric razor. The handle is also ergonomic and contoured for easy maneuverability. And thanks to its floating foil head, you can get rid of residual hair for a close and smooth finish.
I've tried shaving my bikini line with this, and the results are stellar – no blood, no scratches, and no cuts. It costs more than disposable razors, but you'll get to save more in the long run because this razor is durable. I also want to highlight that this razor holds a lot of power on every charge. I get to use it for a whole week without running out of juice. But then again, it depends on your level of use.
---
Brori Electric Razor for Women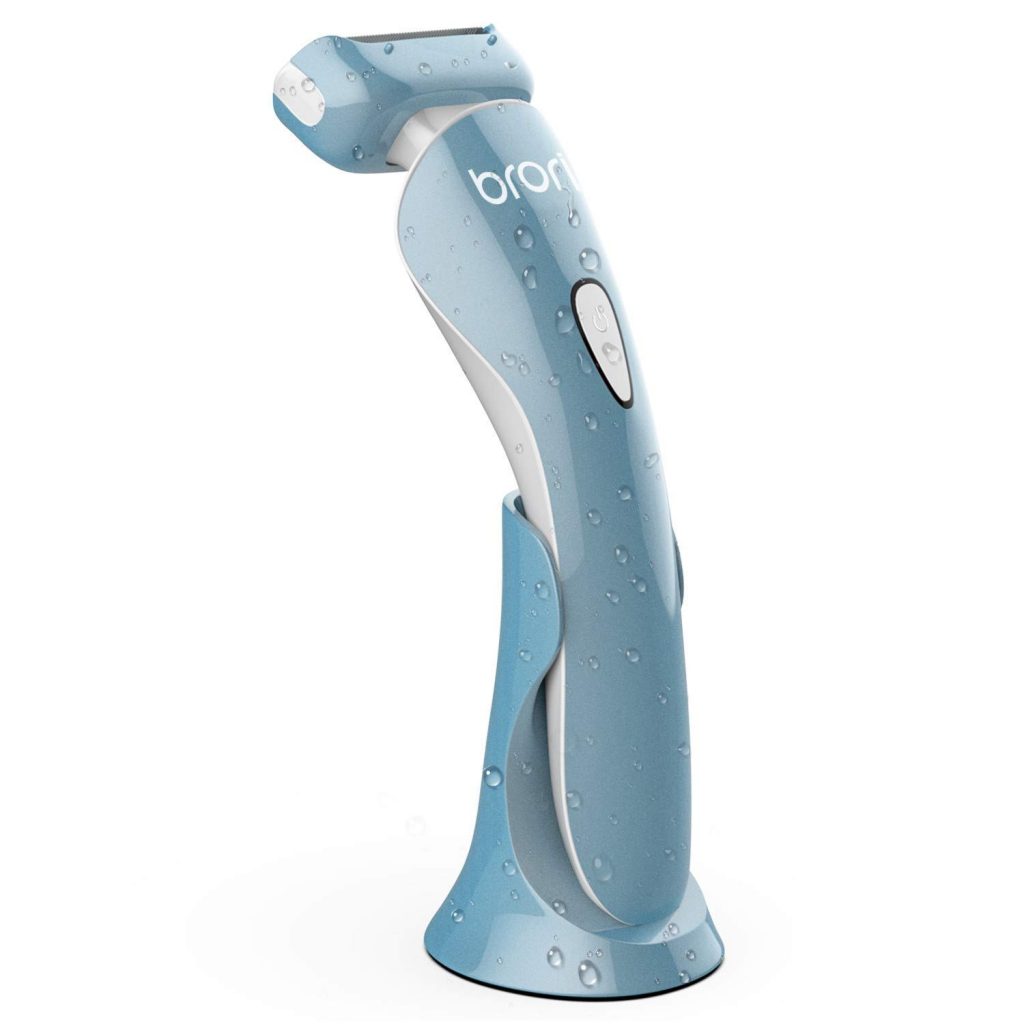 If you want to save some bucks while enjoying an electric razor, you should consider the one from Brori. It has a low-noise operation with a high-speed motor. You will have a smooth and nick-free shave, be it for your legs, armpits, or bikini line.
This is a foil shaver and a LED light below the shaving head so you can groom hard-to-reach spots. It also lets you see tiny residual hair easily. Moreover, it has one straight blade and one curved blade, as well as a floating foil that removes more hair on every pass as compared to disposable razors.
The Brori Razor for Women is waterproof so that you can use it in the shower. You can also detach the shaving head for deep-cleaning on the sink.
Aside from the razor, the box also includes a charging stand and a USB connector. Every charge will give you up to 60 minutes of cordless shaving. There's also a small cleaning brush to remove stuck hair on the shaving head.
I also want to highlight that this razor has a dual voltage, which means you can use it on your travels abroad. It's sleek, reliable, and potable for all your shaving needs.
---
Ribivaul Cordless Lady Shaver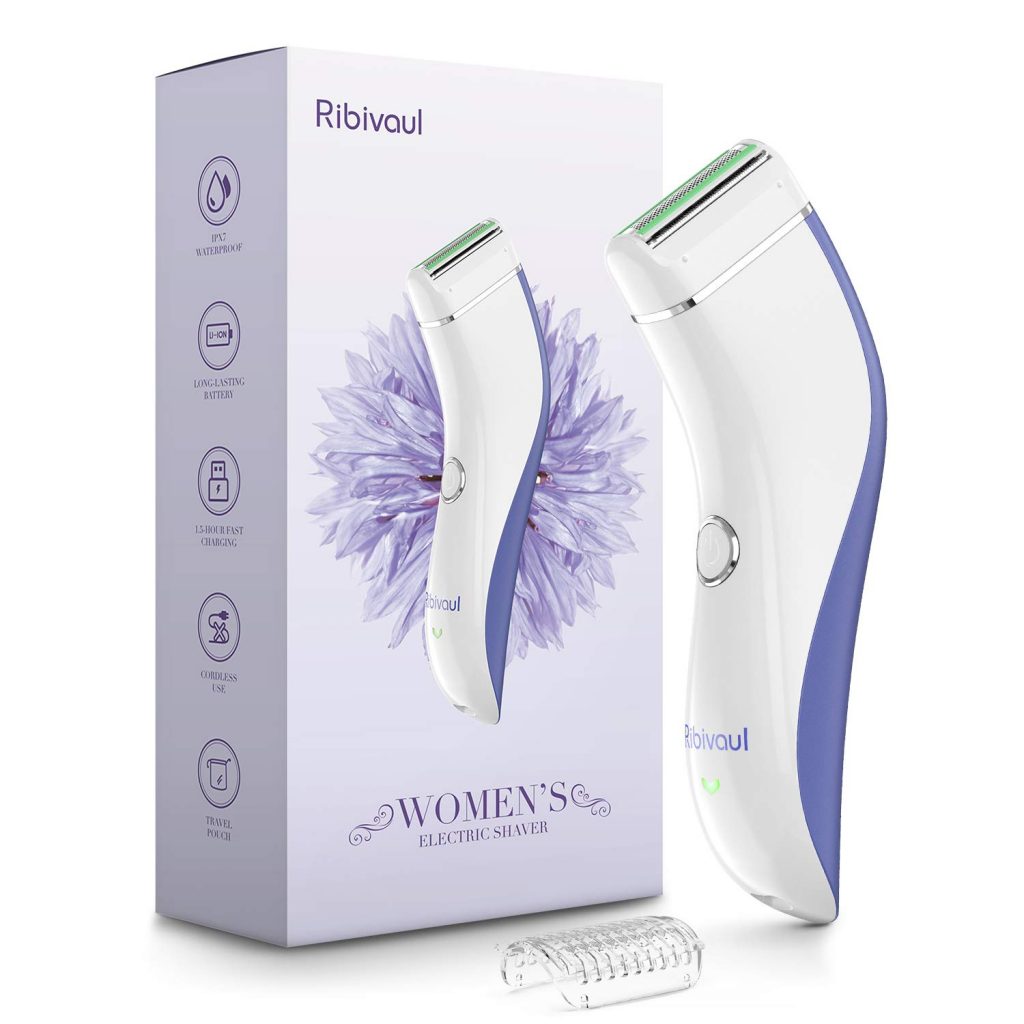 Are you tired of electric shaver that doesn't last long? If so, you should switch to the Ribivaul Lady Shaver. It works for a full 90 minutes or up to six weeks' worth of shaving. It's truly cordless and portable that you can use for both wet and dry shaving, thanks to its IPX7 waterproof body.
Moreover, this works on two modes: low-speed for gentle areas like the bikini line and high-speed for thick hairs. This is an excellent feature for those with sensitive skin and those who find other electric razors harsh.
This uses a straight blade with a floating foil to catch residual hair. There's also a curved blade that works well for the bikini line and the armpits. Overall, this is a very versatile razor that you should have in your grooming kit.
Another thing I like about this shaver is its Aloe lubrication strips. This prevents shaving rash while keeping the skin moisturized and smooth.
Lastly, I like how the handle is contoured, so the blade falls naturally on the skin. It also makes it easier to shave down there.
---
Schick Quattro Women Razor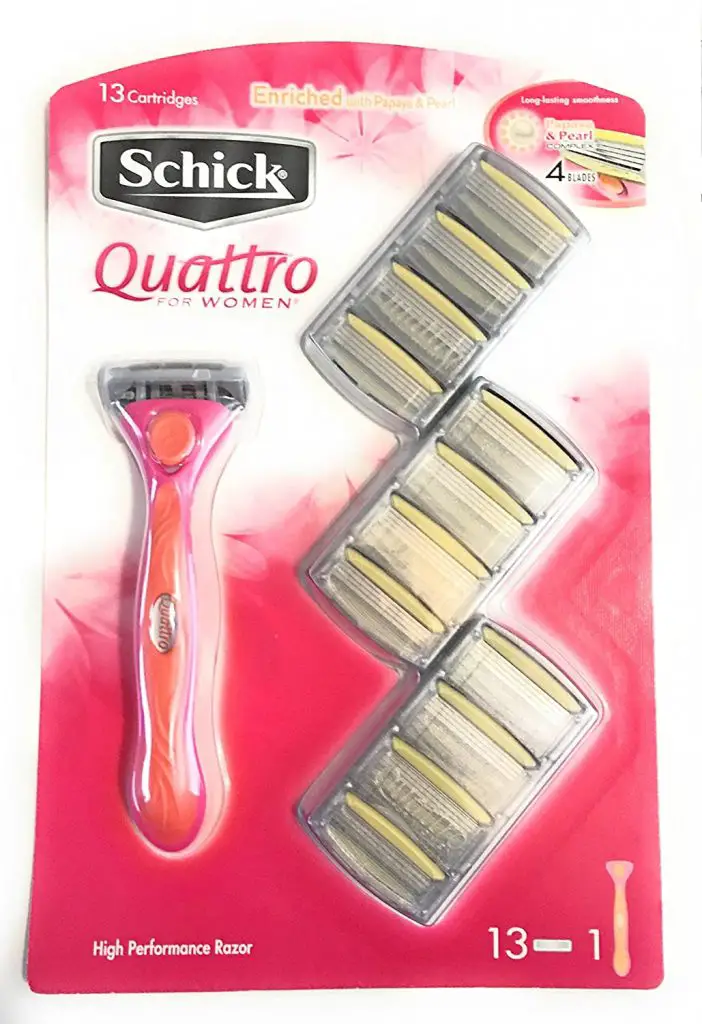 For the ladies out there who swear by traditional razors, I highly recommend the Schick Quattro Razor. It's a traditional razor for women, but it offers smooth and pain-free shaves. This is equipped with a pivoting head that conforms to the contours of your skin.
Aside from the razor, you will also get 12 replacement blades on the package. Each one has four ultra-thin blades that give a close shave every single time.
One thing that I like the most about this traditional razor is that the blades are infused with papaya and pearl. This will keep your skin moisturized to prevent irritation and itchiness. If you have sensitive skin, this might be the perfect razor for you.
The handle is made of plastic, but I like the contour that makes it easy to hold. Overall, I've tried this razor, and it didn't cut me even when shaving my bikini line.
Based on my experience, this pack will last for about a year, which is a big money-saver. For such a low price, I can say that this is a great deal if you're using traditional razors. It's also designed with women's needs in mind, so it's bikini-friendly and will not cause hair pulling.
---
BIC Silky Touch Women's Razor

Another traditional razor I recommend is the BIC Silky Touch. It has twin blades for a nice shave, not to mention that it's made for sensitive skin. It also has a slim head and a long handle so you can shave down there without the hassle.
Another thing I like about this is it comes in a package of 10 razors. This specific bundle has 12 packs, which means you'll get 120 razors for a bargain price. That's a total steal for years' supply of efficient razors.
This isn't a fancy razor, but I like how simple yet efficient it is. The handles are also tapered for a comfortable hold. It may not have the frills of other razors, but it still does its job.
I was pleasantly surprised when I first tried this razor. Honestly, I wasn't expecting much based on its look and price. But after a shaving session, I had a nice and clean leg without nicks. For most ladies, this is more than enough, especially for those who are a bit short in cash.
---
Tips in shaving sensitive skin
Shaving sensitive skin can be tricky. To help reduce the irritation, I recommend doing the following tips before, during, or after you shave:
?Use the right shaving product. The market is saturated with shaving gels and foams. You'd want an alcohol-free option, which is usually in gel types. The problem with many shaving foams is it uses alcohol, which can dry up and irritate sensitive skin even more.
?Exfoliate first. For a smoother finish, exfoliate the area you need to shave. Use gentle exfoliators for this so your skin won't be irritated even before you use a razor.
?Follow where your hair grows. Going against the grain is the mortal sin of shaving. You should always follow where your hair grows, or you'll suffer the consequences. I did this when I was a teenager shaving the first time. Tears were shed, to say the least.
?Use a soft towel. Before and after shaving, pat your skin gently using a soft towel. Never brush it aggressively because it will irritate the newly shaved skin.
?Moisturize. After moisturizing, it's important to moisturize your skin. This will prevent the newly shaved skin from being itchy or flaring up. Avoid moisturizers with alcohol because it will sting the skin and defeat the purpose of moisturizing.
---
Frequently Asked Questions
Q: How can I stop my skin from being too sensitive after shaving?
A: One thing you can do to avoid sensitive skin after shaving is applying topical ointments to soothe the itch. Also, avoid shaving too fast and too often because this will lead to razor burns, bumps, and even folliculitis. When shaving your bikini area, rinse it with warm water and apply a moisturizer that's safe to use near your privates.
Q: Can I use a men's razor to shave my bikini area?
A: Many razors made for men are actually multi-groomers and can be used by ladies in their gentle areas. Make sure that the razor is snag-free and hypoallergenic, so it won't cause irritations after shaving. Also, less aggressive razors are useful for the ladies in shaving their legs and other body parts.
Q: How often should females shave their face?
A: Whether you're a guy or a lady, experts recommend shaving the face at a maximum of once a week. This is to allow the skin to heal. On other days, you can use a gentle exfoliant to keep the skin and hair healthy. It will also prevent ingrown hairs and irritation, especially for those with sensitive skin.
Q: Do most girls shave down there?
A: According to a study conducted by JAMA Dermatology, about 83.8 % of over 3,300 female respondents reported grooming their pubic hair. On the other hand, about 16.2% said that they don't groom or shave down there at all. Also, it was found out that younger women at the age bracket of 18 to 24 are more likely to groom their bush than females who are 45 and above.
Q: Can I shave my bikini line every day?
A: It's not necessary to shave your bikini line every day, especially if you're not wearing a bikini. Also, shaving down there daily will cause irritation. If you're not a fan of bikini waxing, limit your bikini shaving once a week. This will let your skin recover from the previous shaving. This is very critical for those with sensitive skin.
Q: When do I need to replace a razor?
A: When it comes to your razor blades, only dullness can tell if it's time to get a replacement. If the razor starts pulling on your hair and already feels rough, the edge is already worn out. You should replace the razor head or get a new unit if you're using disposables.
---
Final words
The best female razors for sensitive skin will solve every lady's nightmare: bloody shaving. The right razor will produce smooth and pain-free results for a reasonable price. And if you're looking for one, the seven options I reviewed here won't disappoint.