An ordinary barber clipper is not enough because quality matters over the price. What we want, whether a professional barber or a self-proclaimed barber is to achieve our ideal hairstyle — sleek, professional look, and clean. To do that, it will boil down to the haircutter itself. But most of all, we want a top of line barber clippers to get the job done with ease and efficiency.
So, if you are on the hunt of looking for the best and top of the line barber clippers, you have come to the right place. This article will review what we think one of the best barber clippers in the market right now. Because we care about the quality of your tools for a hair cut and above all, we care about your hair.
BARBER CLIPPERS
BRAND
EXPERT RATING
CHECK PRICE
Oster Classic 76
Barber Clippers

Check Price



BaBylissPRO
Barber Clippers

Check Price



Panasonic ER1611
Barber Clippers

Check Price



Andis Slimline Pro
Barber Clippers

Check Price



Wahl Senior
Barber Clippers

Check Price



What's a barber clipper?
A barber clipper is specifically designed for cutting the human hair on the head. Barber clippers as we have known in today's modern usage, use an electric motor to function which makes the blades work from side to side and capable of cutting human hair. Back in the old days, barber clippers were actually operated manually. Much like the same principle of the scissors. However, their difference is that barber clippers used razors while the scissors use blades.
Furthermore, when the electric clippers were invented, it gave way to the more efficient cutting of hair because it gives accurate and sleek cuts, compared to scissors that it's sometimes hard to angle out the hair depending on the hairstyle. That's why the electric clippers or barber clippers have gained popularity, it became a hit to barbers making it the gold standard of cutting here until this day.
When it comes to maintenance, it's no wonder that electric barber clippers need regular maintenance and it needs to be lubricated most often.
Trimmer and Clipper difference
Clippers are mainly used to cut out long hairs whether it's a long beard or long hair. As long as it's long hair, they are designed to cut those types of hair. This type of hair-cutting tool isn't capable of close cut, but they work fine for thinning the beard that's overgrown. Furthermore, clippers are much useful when it comes to smooth finishing and final cut, in short for polishing rough cuts.
In addition, clippers come in different attachments according to whatever style you are trying to achieve making it easier to cut at varying lengths. They are also a great alternative for scissors.
Trimmers are suited for close cutting, thicker hair, and layering. This type of cutting tool is excellent if you want something looking neatly shaved. Trimmers are great for trimming (hence the word) mustache and for edging the beard. Also, trimmers are a great alternative for a shaver for ingrown hairs or if you have sensitive hair. In the case of trimmers, they don't often have attachments but nowadays, there are few trimmers who have.
That said, whether trimmers or clippers, it will depend on what hair type you are going to cut and also what style you are trying to achieve. Use trimmers for layers and work on the details while using hair clippers if you just want to shorten your hair.
Now that you know the difference, it's best that you should know what features and qualities to consider when choosing the right hair clippers for you.
What to look for when choosing the top of the line barber clippers on the market?
It's easy to think about getting a new set of hair clippers. But when you are on the verge of buying and on the selection process of getting your ideal hair clippers, there's as if a second voice that's saying it's not the right tool for you.
The main reason you are having second thoughts is that you didn't take the time to research and weigh in some options. Now is the time to look further into the details and you must consider these features first before buying your hair clippers.
Powerful Motor
A motor is the main pulse of a barber clipper. The barber clipper's overall performance will largely depend on the motor and with the blade of course. However, if the motor is not high speed and robust enough to power the blades, your cutting device will get stuck through curly and thick hair, hence it's completely useless and substandard. Whether you are a professional hairstylist or just want to have a decent hair clipper, you deserve a powerful motor.
That said, flimsy motors will just ruin the hair and it's embarrassing to go outside with your having an uneven haircut.
Actually, there are three main motor types that hair clippers have
Pivot motors: low blade speed but with high power. They work best for thick and wet hair.
Magnetic motors: This motor type operates in AC and DC, also known as a universal motor. The highlight feature with this is they are compact and lightweight, although they tend to wear out with daily use and they are noisy.
Rotary motors: The best motor among the three. It has an even amount of power and blade speed which makes the clipper become more versatile.
Price point and brand
One of the common logic where consumers have is they think that the more expensive it gets and the more the brand is popular the more it posses quality. Of course, you need to watch out for the brand, but don't go with the flow. Do some little research first about the manufacturer. Don't pay attention to the price either, be wise enough and dig a little deeper into the products.
The easiest way to know whether the brand is good or not to through looking at their customer feedback, be it on Amazon or on their personal website. Is it reliable? Durable? Do they have great before and after-sales customer service?
Also, you need to pay heed to the price. Although there are premium quality hair clippers that come at a higher price point, there are still decent yet good quality hair clippers you will come across in the store with a lower price point.
Design Matters
Apart from hair clippers are noticeable because of their distinct structure and design, professional barbers wanted more handy hair cutting tools, in a way it can be used on a daily basis. The fact that hair clippers depend on the weight and structure for ease of use and for you to angle out the hair easily.
That's why if you will notice, professional barber clippers are usually comfortable and light to hold, whereas regular home clippers tend to be bulkier. With that, if you're considering having barber clippers, go for a machine where it's lightweight and able to hold for long periods of time.
The blades
After all, one of the most basic things we need to look at is the performance of the motor and the blade. Because the blade is an important factor that they function to cut the hair. First, consider looking for sharper blades. We suggest looking for blades that are made from stainless steel or carbon. Because these two blades are considered the gold standard material even in scissors. Carbon steel lasts longer and requires only low maintenance. Stainless steel on the other hand is the most common superior material in blades and they last long either.
While it's definitely perfect to consider titanium blades which are the best when it comes to quality but the price point is much higher. The last thing you need is a dull blade. A dull blade is more dangerous than the sharper ones because it can ruin your hair and they tend to pull hair which is difficult to use. So when choosing the blades of your hair clipper, better choose the excellent material.
Accessories
Hair clipper accessories are sometimes included in the package when you are buying barber clippers, which is hassle-free. Hair accessories that are included are sometimes great that is if you are a hairstylist. This is because you can tweak your hair in various methods and in different styles. But ask yourself first, do I really need it? Because usually, accessories may cost an additional fee which is completely useless if you are not going to need them anyway.
That said, make sure when investing in barber clippers that include accessories, you are going to use them frequently. Furthermore, some of the usual accessories included are comb attachments, clipper oil, blade guards to name a few.
Guide Combs
If you want to level up your hairstyle, you are going to need proper guide combs. It may be useless for people who just want simple hair cut but for people who dare to experiment with different hairstyles of their own, a guide comb is a must. Guide combs are commonly made from plastic which can be destroyed after a short term use, but there are some combs that are better. When looking for this, ensure that it's sturdy enough and compatible with your hair clipper.
Top of the Line Barber Clippers — Our Top 5 Picks!
OUR TOP PICK: Oster Classic 76
Overall Performance

Design

Value for Money
Summary
All in all, the reason why we think it's number one for us, it's pretty obvious. It has an appeal (aesthetically), the motor is superb, the blades are stunningly efficient, the overall performance is absolutely one of a kind. Plus, it comes with different accessories that are a great accompaniment to your day-to-day haircut.
Pros
Strong motor
Works on both wet and dry hair
Detachable blades
Great handle
Cons
 Loudest among the listed products
---
RUNNERS-UP
BaBylissPRO Barber Clippers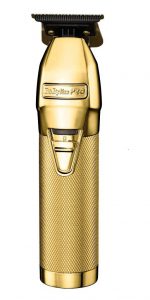 For those who own a classy and edgy barbershop, the BaBylissPro barber clipper should be included in your hair-cutting device. It's the boss of the boss because of its gold color making it grander and also it impresses your customers. But actually, this magnificent barber clipper offers more than what its visual appearance it can offer.
This is the brand's premium MetalFX series. The cool thing about this is that the performance is something you should look for in this. Did you know? That this barber clipper was designed and built by engineers of Ferrari Company. That's why it has a distinct style and its performance is superb. That said, it has a 7200 RPM engine. Powered by lithium-ion and provides up to 2 hours of continuous use.
The blade features ultra-thin zero-gap DLC Titanium-Coated Blades. DLC stands for Diamond-Like Coating. This prevents any corrosion and rusting, prolongs their durability, and keeps the blades stay sharper. With this, this is good for lines, designs, fades and can cut very precisely and accordingly.
Our takeaway with this product. If you are searching for a package deal of premium quality. Meaning, it has superb performance and a great aesthetic design, probably you will like this particular hair clipper. If you are also a car enthusiast, you know what's the value of this great product. No wonder it's among our top of the line barber clippers.
Panasonic ER1611 Barber Clippers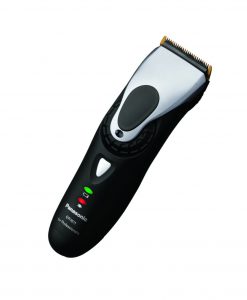 Japanese manufacturers, when it comes to technology, innovation is subpar. A prime example of this is the Panasonic ER1611 barber clipper. Most Japanese hairstylist uses this kind of barber clipper especially the premium stylists.
The blades of the Panasonic ER1611 are one of the best in the market right now. Because this features high precision blades with 45 edges. That said, it's capable of cutting any hair thickness. It also has an X Tape blade shape to cut a larger cutting surface. What's more interesting that this clipper not only powerful performance but also the cutting speed is unparalleled.
Moreover, it has a superb twin voltage clipper. Meaning, the blade can cut like a katana while also having a smooth operation. This is due to its powers the blade speed at 10,000 rpm.
With this barber clipper, you can style any hair. Professionals and even home users are capable of using this powerful clipper. When it comes to cutting length, it's 0.8 mm to 2.00 (without attachments) while the cutting length when using the attachments ranges from 3.00 mm to 15.00 mm.
Overall, our take on this product is that we think it's favorably good for you to have it. If you are considering a lightweight, yet it's capable of cutting with haste and precisely, there's no doubt choosing this is your best dibs. We also think that this is undeniably among the top-of-the-line barber clippers on the market right now.
Andis Slimline Pro Barber Clippers

Andis and Wahl's brand is comparable to Celtics and LA Lakers rivalries. Both have strong points and it has widely revered, most of all, both are well-loved by both customers. But in this case, we can't deny there's another innovation coming from Andis and it's Slimline Pro. It's lightweight, compact, and the design is remarkably astounding.
Powered by lithium-ion that lasts up to 2 hours of run time with charging time of 2 hours and 15 minutes. Runs with rotary motor with 120 volts (50/60 hertz). In addition, it is equipped with a close-cutting T-blade. The electric clipper vibrates less than most of its counterparts. That said, it is perfectly suited for professional barbers and even for home use.
The Andis Slimline Pro is coated with carbon-coated stainless steel blades. Perfectly built for high volumes of hair even thicker hair can cut through with this barber clipper. Great for professional needs and even for avid hairstylists.
One of the best features about this is even if it's coated with steel, it will not overheat and it's not too hot for you to handle. Instead, the Andis Slimline Pro's grip is cool to touch and it's easy to grip because it's lightweight.
All in all, this barber clipper is sleek in design and it's a great innovative feat for Andis. Is this worth buying? Definitely, it's worth it if you know what Andis is and we know that professional barbers know this very well. It's also our top-of-the-line barber clippers here.
Wahl Senior Barber Clippers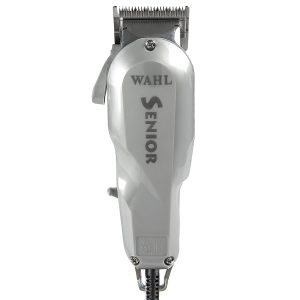 Not but definitely not least, we have Wahl model 8500 barber clippers for you. This is probably the definitive barber clippers to use. It has the classic touch and most likely this is Wahl's heavy artillery that it can offer to their long-time customers.
This has is not just about the looks but the overall performance. This barber clipper boasts a powerful engine combined with increased strokes per minute and ideal for heavy-duty use. Every long time barbers will approve of this remarkable product.
If you want a job that needs to be done quickly but with precision and efficiency, this is your takeaway. This is great for professional use. It has a nice chrome metal aesthetic cover. Great for fading, lining, blending, and tapering.
The Wahl Senior is 6.5 inches long and weighs 1 pound. Also, this comes with accessories and they're a great companion for this barber clipper. This includes a cleaning brush, red blade guard, 3 attachment cutting guides (1/16″, 1/8″, and 3/16″), and the clipper.
All in all, if you love the brand Wahl and you are a professional hairstylist, then this is worth buying for. In addition, it comes with accessories and the aesthetic appeal feels vintage. Above all, the killer in this product is its V9000 electromagnetic motor, it's perfectly suited for everyday use and it can last for several years to come.
How to perfectly maintain the top of the line hair clippers
Just because you have the premium quality and most expensive hair clippers doesn't mean you don't need to maintain them regularly. You are actually wrong. Even a cheaper hair clipper with regular maintenance can outlast any high quality clippers. Remember that maintenance plays a vital role in prolonging the lifespan of the hair clipper. Although the advantage of having premium hair clippers is that tools are also included in the package to keep them in good shape.
Change the blade
If you feel that the blade is becoming dull and having difficulty cutting hair, it's time to change your blade. Also, if it's bent or chipped out, the most preferable you can do is to change them and buy a new blade. It's not a good idea to put a broken blade because it will affect your hair cut. Furthermore, blade replacement is cheap and you can buy them in bulk so you don't have to go to the store and buy a single piece.
Wash the attachments and the combs
Wash the attachments and the combs before and after you use them, especially if you run a barbershop. It's good to practice proper hygiene and right now it's important to disinfect whatever products you have once it was exposed outside or touched by someone, the fact that the Covid 19 is still looming around. If you aren't used to washing your accessories ever use, it's better to build a habit of washing them from time to time in order to save yourself and protect yourself from the virus.
Oil and align the blade
Because the blade is the most used part of the hair clipper, they needed to align and oil most often. Always check your hair clipper, better if you test it first if it's aligned or not. So, take some simple tests and see if your hair clipper is working well.
Also, it's important to oil them regularly. Just a few drops on the corners and the teeth will do. This is to maintain its good condition and it will cut smoothly and efficiently.
Final thoughts — Top of the Line Barber Clippers
Investing in the best and top-of-the-line barber clippers is a good investment whether you are a home user or a professional stylist. Finding the right tool for you means that you are comfortable and you have the capacity to run them in convenient ways.
To search for your ideal hair clipper, one thing you must bear in mind is the question: Do I really need to buy a hair clipper? If you really want to buy one, you must devote time to research. The truth is, the top-of-the-line barber clippers will depend on your personal taste.
Like what you have read? Check also: Does Trimming Beard Make it Grow Thicker?