Every hairstylist and barber has their favorite pairs of shears. This cutting tool is a staple in reducing hair thickness, texturizing, or blending a layer. It's a very versatile tool that comes in different types. If you're an aspiring hairstylist or someone who's beefing up a personal kit, you should invest a trusty pair of shears. It will pay for itself once you start accepting clients. For this post, we've reviewed the best shears for hair stylist and barbers alike so you can pick one that suits your cutting needs.
SHEARS
BRAND
EXPERT
RATING
CHECK PRICE

 Our Top Pick! 


AEROLITE Japanese
Pro Cutting Shears

Check Price

Mosher Salon Tools
Japanese Handmade Shears

Check Price

Feather No. 64 Switch
Blade Shears

Check Price

Jaguar Shears Pre
Style Relax Shears

Check Price

SHARF Professional
Barber Shears

Check Price

Equinox Professional
Cutting Shears

Check Price

KINSARO Professional
Hair Shears

Check Price
---
Haircutting scissors vs. haircutting shears
One common question we often receive is about the difference of haircutting scissors and shears. Both are used in cutting, but in different ways.
Haircutting scissors are usually less than six inches long and used in typical cutting. It also has two symmetrical finger holes. This is typically used to remove length, but it's not popular in styling and blending. It's reserved for straightforward trimming and other simple cutting needs around the barbershop or salon.
Take note that you should never use paper scissors for haircuts. It will damage your hair tips, making you prone to split ends.
On the other hand, a pair of shears has two asymmetrical finger holes. Usually, only one blade moves – the one attached to the smaller finger hole. Such a design allows the hairstylists to make rapid snips without straining his or her hand too much. And as I mentioned above, haircutting shears come in different types and sizes.
---
Types of haircutting shears
Haircutting shears are available in different types, with each one playing different roles in the salon. Here are some of the widely used types that you can find in the market:
✔️Texturing shears
Texturizing shears are specialized shears. It has wider spaces on each tooth that have a noticeable effect on each cut. It's also used to add style and lift to the hair. Like how it's called, texturizing shears give character to the haircut, so it doesn't look weighed down.
✔️Thinning shears
On the other hand, thinning shears have tight teeth used in removing volumes of hair. It's also called blending shears because it can be used to blend layers on a haircut. Moreover, it can be used to add texture to the hair, but it's mostly reserved for removing bulk. However, thinning shears must be used properly to prevent cutting too much hair.
✔️Swivel shears
Swivel shears have rotating thumb rings that prevent your finger from being trapped and your hand from getting strained. Such a feature offers better control and flexibility while styling, especially if you have a long queue on the salon. If you're suffering from hand pain, a pair of swivel shears might be the answer.
✔️Wide-toothed shears
A pair of wide-toothed shears are used to remove chunks of hair. Since it has fewer teeth, more hair is being cut on every snip. It's a time-saving tool for hairstylists, especially if the client is asking for a short haircut on a long hair.
✔️Long-bladed shears
Lastly, there are the long-bladed shears. It's used to cover more hair area in a single snip. The blades can be as long as 7 inches, depending on the stylist's preference. Long-bladed shears help a lot in keeping a straight cut.
---
How to choose haircutting shears
If you're looking for the best shears for hair stylist, you must consider the following points:
✂️Materials
The first thing you should check is the material of the haircutting shears. For the most part, it will dictate how long the pair of shears will last. Most haircutting shears are made of the following steel types:
German steel. This material is also used on other cutting tools like knives. German steel is produced by forging bog iron ore with charcoal as the fuel – the result is durable carbon steel. It's considered to be one of the most durable and superior steel to be used on haircutting shears. German shears are often designed with beveled blades.
Japanese steel. This steel is also made of high-carbon material with a Rockwell hardness scale of 59-61. It tends to have a delicate yet very sharp edge. Like German steel, Japanese steel is lauded for its strength, but it tends to be a little heavier than the former.
Traditional stainless steel. Low-priced haircutting shears are often machine-manufactured. It's made of typical stainless steel that provides decent performance. It's not the best option, but it serves its purpose for casual haircutting.
✂️Handle design
Next, you must check the handle design. This will affect the comfort of using the haircutting shears, especially if you have larger than normal hands. The following are the most common handle designs and their purpose:
**Offset. With the offset handle, the thumb handle is shorter, so the hairstylist can perform natural movements. It also prevents the thumb from over-extending that will cause hand strain and difficulty cutting the hair. This is the most popular handle design since it's easy to use.
**Crane-style. Another shears handle design is called crane. This has an offset design, but its thumb handle points downward when the shears are held horizontally. Such a design boosts the ergonomics of the shears so the stylist can perform more open and freer cuts. This helps reduce the pain brought by a repetitive strain injury.
**Straight. A straight handle is a traditional option that tends to be less ergonomic than the other types. It has a symmetrical length where the two blades are joined using a center screw. If you use your thumb and middle finger when cutting, this is the right choice of handle for you.
✂️Blade edge design
The blade design of the haircutting shears refers to how the edge is cut. It can either be beveled, convex, and semi-convex. Below are the differences between the three.
**Beveled. Beveled blades are also referred to as 'Germanic' since it's the most popular cut used on German steel shears. It cuts well but requires more effort as compared to convex edges. The edge is angled, which makes it easier to sharpen. Also, its edge stays longer, although cutting may feel less smooth.
**Convex. On the other hand, convex edges are widely used on Japanese shears. It has a finely milled edge that gives smoother and easier cuts. However, since this edge is tenderer than beveled types, it can get damaged easily when misused or dropped. Also, sharpening convex blade shears is more expensive and difficult.
**Semi-convex. Lastly, semi-convex blades are a combination of both beveled and convex edges. It has a narrower bevel and a slight curve that resembles a convex design. With this edge, you can enjoy the best of both worlds while limiting the downsides of a fully convex edge.
✂️Size
Generally, those with slimmer hands will find 5″ to 6″ shears comfortable use. However, if you have thicker or bigger hands, you should consider shears that are 6.5″ to 8″ long. Such long shears are ideal for comb work and coming up with longer hairstyles. No matter what shears size you prefer, you must prioritize comfort at all times. Feel free to try different shears sizes to know which one works for you best when styling.
✂️Cost
While you can always get the cheapest pair of shears in the market, you should always consider the tool's overall quality. Shears at the lower price range can cut, but not as precise and smooth as well-made ones.
If you want the utmost quality, I advise investing in salon-quality shears with decent warranty terms. These pairs have adjustable tensions, movable thumb rings, and exquisite craftsmanship.
In the end, it's still about the right balance between the two. For beginners, a mid-priced pair of shears will work. However, those working on salons should get better pairs. Remember that a good pair of shears will pay for itself in the long run.
---
7 Best Shears For Hair Stylist
OUR #1 CHOICE
OUR TOP PICK: AEROLITE Japanese Hitachi Stainless Steel Pro Cutting Shears
Edge

Ergonomics

Material

Overall Value
Summary
Moreover, it's computer-aligned to guarantee precision on every cut. It can be used for both wet and dry cutting as well as methods like blunting, layering, tapering, and so on.
Overall, this has an ambidextrous design that suits all hairstylists. It also comes with a gift box that also serves as its case, complete with a felt lining.
The best thing about the AEROLITE Japanese Hitachi Shears is it's covered by a lifetime warranty. It comes at a price, but the guarantee makes it truly worth it.
Pros
Diamond point edge
Lifetime warranty
Extra durable
Cons
I wish the thumb hole is customized, but it's not a big deal
---
RUNNERS-UP
Mosher Salon Tools Japanese Handmade Shears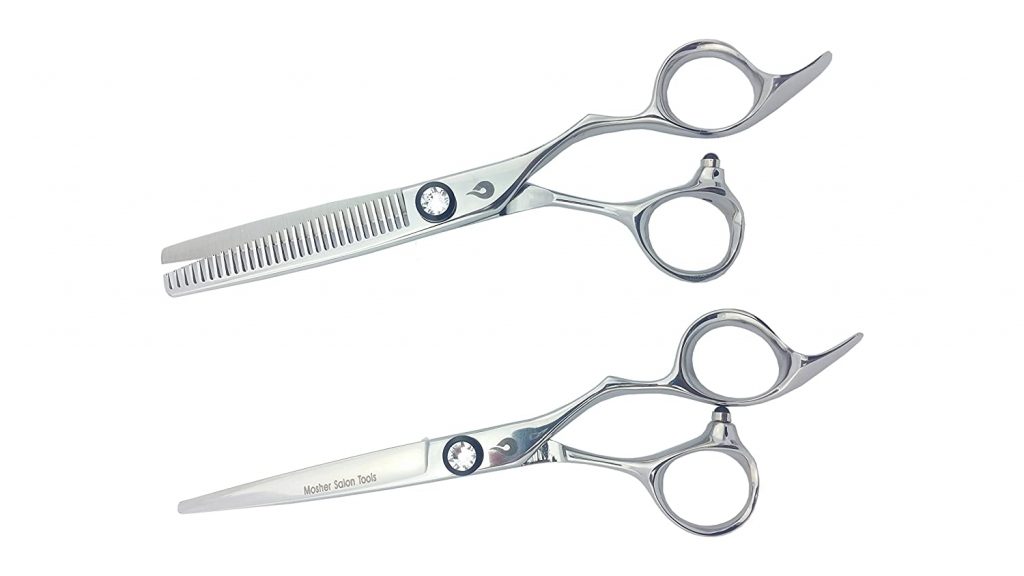 If you need both thinning and trimming shears, you should get this combo from Mosher Salon Tools. Both the shears are made of high-quality steel with ergonomically molded finger rests. These two shears are 6 inches long and suitable for professional and home use. Aside from that, it has well-oiled blades that give smooth cuts even on busy days at the salon.
These two pairs of shears are included in Mosher Salon's Diamond Series. It's made of Japanese steel that meets the standards of most professional stylists. It's affordable, considering that you will get two cutting tools. But if you don't need any of the shears, you can still purchase it separately.
Meanwhile, it has crane handles that give a comfy grip. It doesn't have any thumb rings, which can be an issue for some. But since it has a convex edge, it remains easy to use on every snip.
This shears set also comes with a leather case that zips up to prevent damages on your cutting tools. It's also a great gift set for the hairstylist in your life.
Lastly, these shears are covered by a 100% satisfaction guarantee. For a low price, this is already a great deal.
---
Feather No. 64 Switch Blade Shears

For those who are looking for a simple pair of shears, I recommend Feather No. 65. This one is available in 64.5 to 7.5-inch lengths with razor-sharp edges. It requires minimal sharpening, thanks to its Japanese craftsmanship. You can also switch the blades once the edges are worn out. You can purchase the replacement blades separately, which are made of ice-tempered steel.
As for this pair of shears, you'll get a cutting tool that's made of Swedish surgical steel. It's self-adjusting and precision-balanced for the best cuts. A lifetime guarantee also covers this pair for your peace of mind.
Based on my experience, this feels sharper than more expensive shears I've tried before. I used to have a 300-buck pair, which isn't as close to how sharp this is. And for its price range, the Feather shears are already a steal for every stylist. Replacing the blades is cheaper, too, as compared to buying another pair.
If you're looking for straightforward trimming shears, you'll never go wrong with this one from Feather. It doesn't have thumb rings, but it remains comfortable to use. This is understandable for switch-blade shears as well.
---
Jaguar Shears Pre Style Relax Shears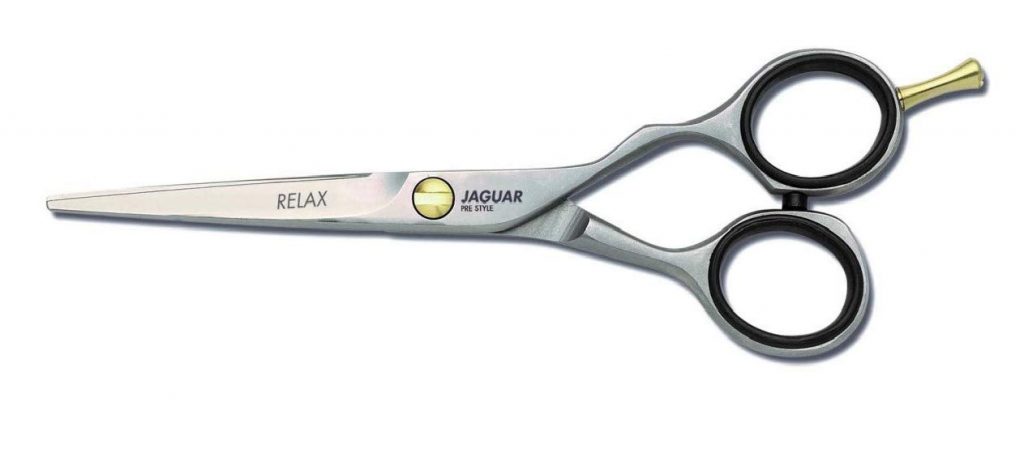 The Jaguar Shears Pre-Style Shears have an offset design that offers an ergonomic grip for every stylist. Like its name, it offers relaxed cutting with no hand and finger strain. It also has a satin finish that makes it less slippery. And for the best fit, it comes with finger rings that rotate to reduce strain and pressure.
Moreover, the Jaguar Pre Style Relax Shears have extra sharp blades. It has a micro-serrated edge to prevent slippage of the hair. The other edge has a flat cutting surface, so the shears cut like butter.
Aside from that, this has a crane-style handle design for a relaxed posture while haircutting. This is very comfortable to use, even if you're having a busy day at the salon.
For its price, I'm quite surprised by the salon-quality. If you're just getting started with hairstyling, this pair of shears is a good choice. Although it's not as sophisticated as other shears I've used before, I can say that this pair gives more value than its price.
The only thing I noticed is that the finger holes are quite small. If you have tubby fingers, it could be a problem.
---
SHARF Professional Barber Shears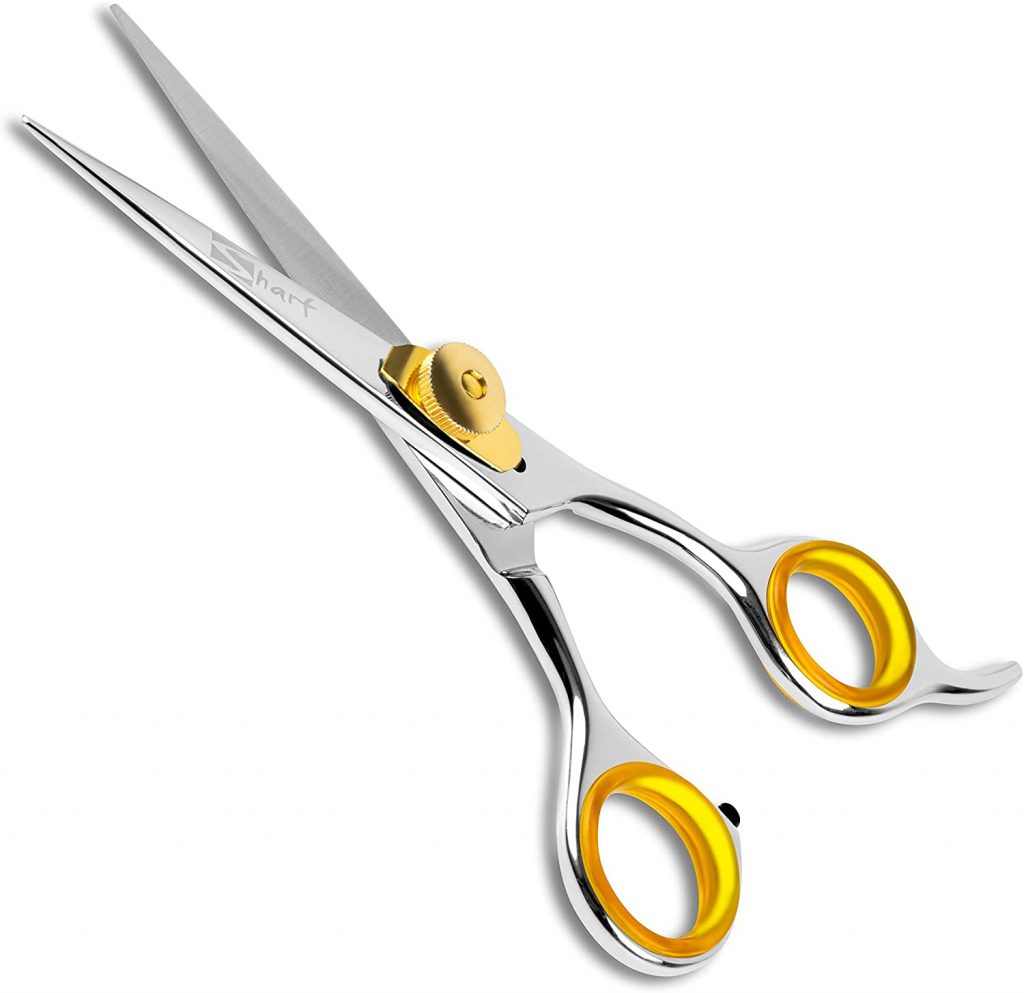 For those who are looking for a 440c pair of shears, the SHARF Professional Barber Shears might be a great choice. It's a 5.75-inch pair made of Japanese steel with Rockwell hardness of 59 to 61.
This has a beveled edge that doesn't lose its edge fast. It's not as smooth as convex edges, but it's still a great trade-off for its ease of sharpening.
Another thing I like about these shears is its adjustable tension screw so you can tweak it based on your preferred tightness. Also, it has comfortable finger rests. The finger rests reduce friction and pressure while cutting. You also have the option to remove it if you find the holes too small.
Aside from that, this pair of shears has a pointy tip and a shiny polish. It's an aesthetic and functional pair of shears for a low price. It even comes with a snap-close case so you can secure it when not in use.
The SHARF shears are covered by a 1-year warranty. If you're not happy with its performance, you can reach out to SHARF for a replacement or refund.
Overall, this affordable pair of shears will work well on salons and barbershops. For those who have a small salon and can't afford expensive shears, this from SHARF is an excellent choice. It's sharp and delivers A+ performance.
---
Equinox Professional Cutting Shears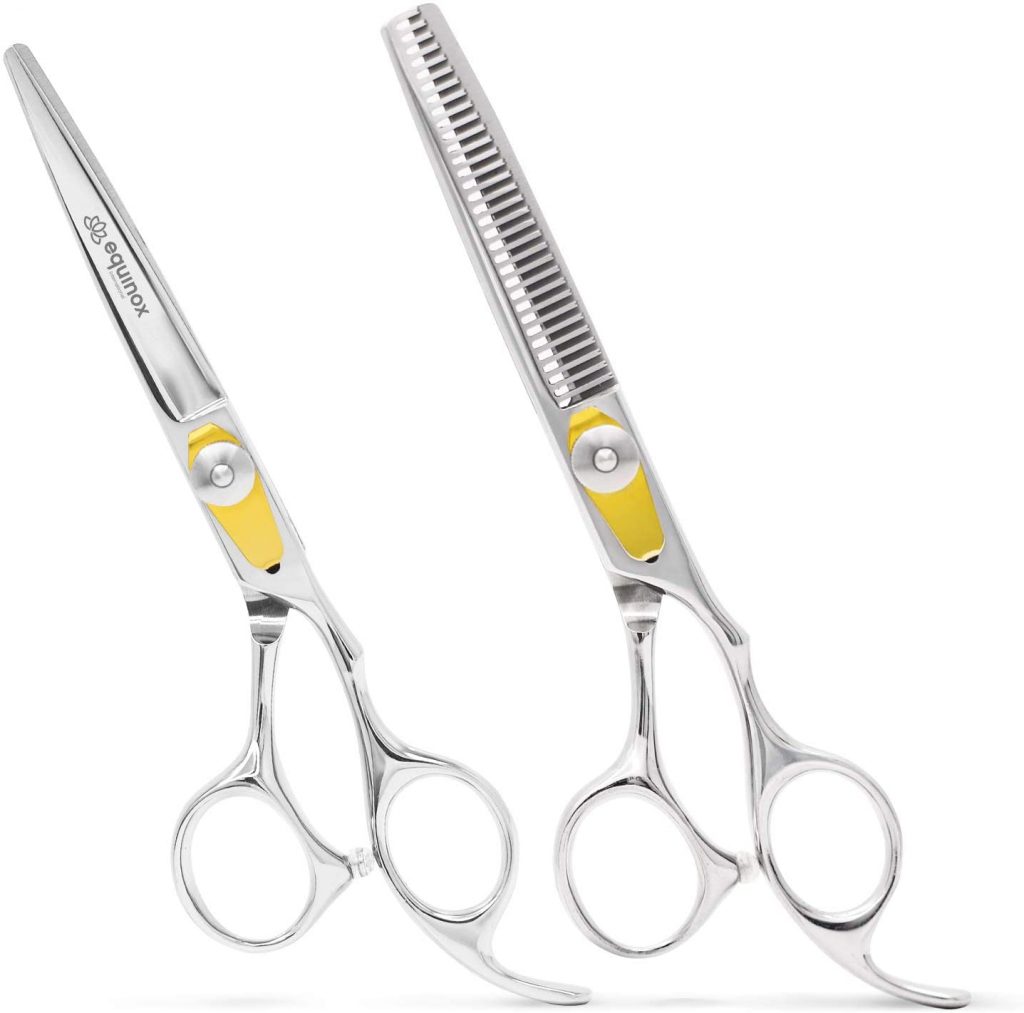 These Equinox Professional Cutting Shears come in a combo of a pair of trimming shears and a pair of thinning/texturizing shears. For a low price, you'll get two functional cutting tools for your hairstyling job.
Both of these shears are made of Japanese steel, tempered for the best strength. It's also hand-sharpened to ensure razor-quality edges.
Moreover, it has crane handles that make it easy to use for extended periods. It's available at 6.5″ length that suits as all-around shears on the salon or barbershop. And even though it's quite lengthy, the shears remain lightweight for just 4.8 ounces.
There's also an adjustable tension screw on each pair so you can tweak the tightness as you wish. For a low price, these adjustable cutting tools are a big steal.
Overall, this has a patented design that cradles the fingers for comfort and ease of use. It's very sharp, which really surprised me for its price range. It offers great value for those who are not yet ready to splurge on high-end pairs.
I also like how comfortable it is to hold even if there's no thumb ring included.
---
KINSARO Professional Hair Shears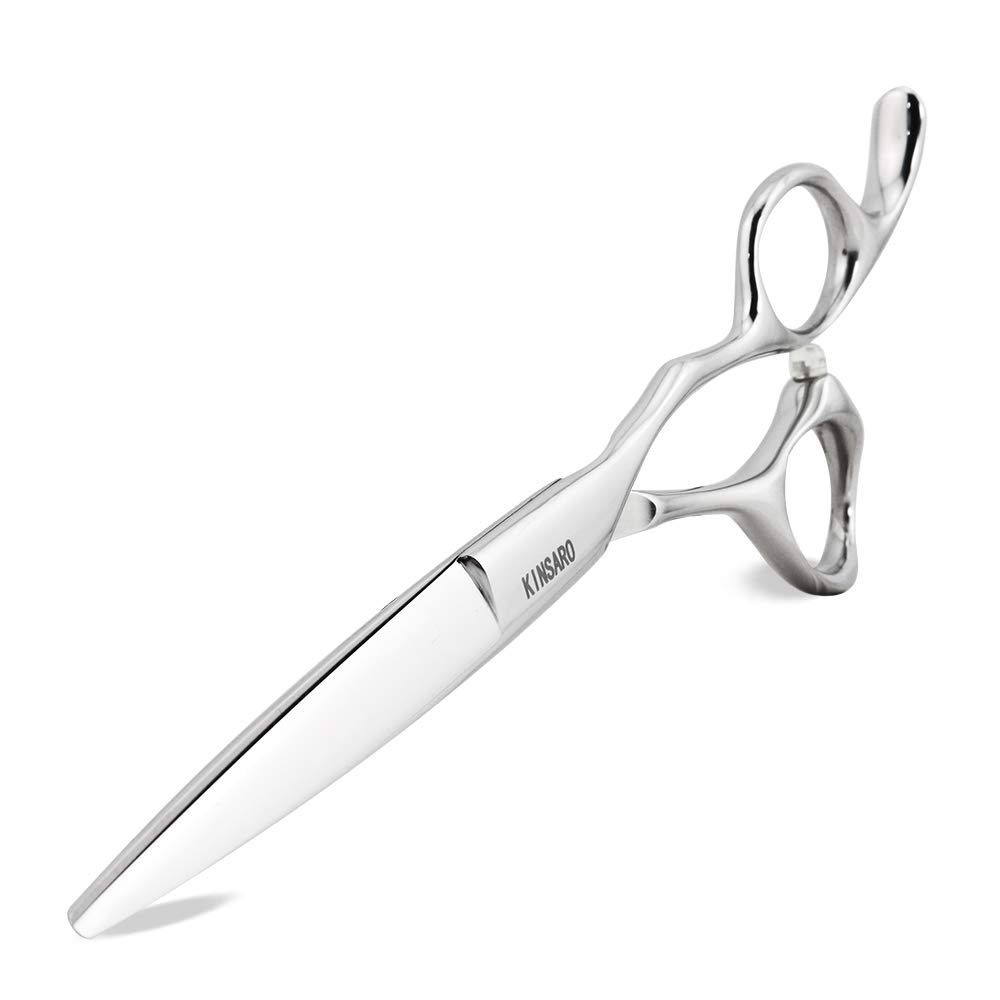 My last recommendation for this roundup is the KINSARO Professional Hair Shears. This 6″ cutting tool is made of Japanese 440c stainless steel with convex blades. It remains sharp even if used regularly.
Moreover, it has contoured handles that give the hands comfortable when used for long periods. Its edges are well-honed for the best sharpness that cut easily.
It uses a high-grade screw that remains in place for cutting precision. It may not be adjustable, but for this price range, it's not a big deal. This is a well-made pair that can perform well on every salon or barbershop.
Overall, it looks and works like a high-end pair. It's perfect for trimming jobs and as supplementary scissors on your toolkit. I want to commend the craftsmanship of these shears that made it look like an expensive pair.
If you're looking for your first pair of shears on a budget, you should consider this one from KINSARO. It's not as stellar as other options I reviewed here, but boy, it cuts like butter.
---
Frequently Asked Questions
Q: Do thinning shears ruin your hair?
A: If used incorrectly, then yes, a pair of thinning shears can damage your hair. If you're not familiar with this tool, it's best to leave it to the experts. Thinning shears are used to remove volumes of hair, so if not used properly, it can make your hair thinner than what you expected.
Q: What size of shears do barbers use?
A: Most barbers prefer a 5.5-inch pair of shears. It's also the same size used in beauty schools or when teaching barbers. However, if you have hands that are larger or thicker than normal, you may thrive with a 6.5-inch pair of shears. I the end, it depends on what you find comfortable.
Q: What scissors do hairdressers use?
A: Many hairdressers use serrated scissors and micro-serrated scissors. The serrations will help grip long hair so the hairdresser can make a straight cut. Also, serrated scissors are used by hairdressing students who are still learning the ropes on how to cut hair. It offers accuracy and a reduced risk of making wrong cuts.
Q: Do thinning shears make hair frizzy?
A: As long as the thinning shears are used correctly, it will not make your hair frizzy. What you need to watch out for is another method called 'razoring', which will make the hair look frizzy and dry. An experienced hairstylist will know what to do on each hair type to prevent damaging it.
Q: Can I use thinning shears myself?
A: There's a reason why thinning shears are usually reserved for barbers and hairstylists. It can be a tricky tool that can damage your hair if you don't use it properly. Those with thin hair should steer clear of thinning shears because it will only make their hair wispier. If you want to reduce your hair volume, you should seek the help of a hairstylist instead.
Q: Are texturizing shears good for thin hair?
A: Again, it's all about the haircut and the skill of the hairstylist. Caution should be observed for clients with thin hair because texturizing shears can cause the hair to be too thin. Also, layering using a pair of texturizing shears can be tricky.
---
Final words
The best shears for hair stylist will let you deliver the best service to your clients. You can cut with ease and produce seamless haircuts that will impress. Just make sure that you invest in a sharp pair with a design and material that suits your needs. In the end, spending a little more will go a long way for your haircutting job.
What do you think of the shears we reviewed here? Let us know in the comment section!