Long beards are fine and dandy – and hey, if they are your preference, then more power to you. However, if you have a long beard then chances are, you'll eventually want to be trimming it. After all, long beards do at times require a lot of upkeep. It makes sense to want to trim it down to a more manageable length, just to make daily life a lot easier. You would definitely need the best beard trimmer for long beards for this job.
Product
Brand
Expert Rating
Price
Panasonic
Beard Trimmer
(ER-GB80-S)

Check Price

Wahl Clipper
Trimmers

Check Price

Wahl 5-Star Cord/
Wireless Magic
Clip 8148

Check Price
Trimming a long beard can be a difficult and sometimes daunting task, most especially when you don't have the right kind of tools for the job. It's so important to look at the trimmer you are using to make sure it's capable of cutting all that luscious beard hair without hurting you or damaging your hair cuticles in the process.
So why don't we take a look at the contenders for best beard trimmer for long beards in 2019 below?
BEST BEARD TRIMMER FOR LONG BEARDS
Panasonic Beard Trimmer (ER-GB80-S)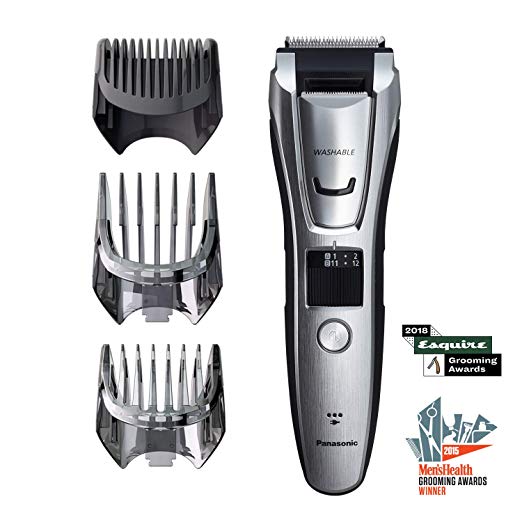 Panasonic is a brand well known the world over. They are known for their quality products. When it comes to beard trimmers, they don't exactly fall behind, either. Trimmers from this brand usually have two main features: blades for cutting that are set at a 45-degree angle, and rubber handles that were designed to be ergonomic.
This product is known for efficiency.
Both of these features were designed to make your trimming more efficient, and your entire shaving experience safer and more comfortable. The ER-GB80-S model trimmer is no different. This device is waterproof, making it possible to use while you are in the shower, if you need to be shaving or trimming in a rush. It has 45-degree angle stainless steel blades that are hypoallergenic, making it great for those who have sensitive skin. The ER-GB80-S will not cause irritation to your tender facial skin.
This trimmer is great for long beards.
The design of this trimmer makes it possible to cut through hair quite neatly, giving you more control and better precision for fine, detailed work. In terms of customization, this device has three attachments as well as a selection dial for quick settings. The dial has thirty-nine (yes, 39!) settings built in that allow you to adjust things like the blade's height. This allows you to have even more control over the amount of hair that you want to trim off and sculpt. Because of this precision, you can even use this device to trim and shave the other parts of your body – like your armpits, shoulders, and even your legs. The ergonomic handles (made of rubber) make this task even easier for you.
Pros and Cons
PROS
✔️Rubber handle increases the safety of this product, making it easier to work in all sorts of conditions – even in the shower
✔️Great for people with sensitive skin, considering the hypoallergenic blades
✔️Easy to use and to store due to compact, lightweight design
✔️Blades can be cleaned easily under a faucet or running water
CONS
❌Battery life of this device is not as long as other beard trimmers lasting only 50 minutes
❌It has an LED indicator to show that the device is charging, but no mechanisms built into stop the battery from charging when it is already full
Our Verdict:
If you are looking for a device that can be used in the shower, then this Panasonic is the right one for you. With the hypoallergenic blades, you don't risk any irritation for your skin at all. Additionally, the blades are also self-sharpening, making them a great economic choice for people who don't want to keep buying new trimmers every so often. With the ergonomic design on this device, how can we not recommend it to you?
Wahl Clipper Trimmers – Best Beard Trimmer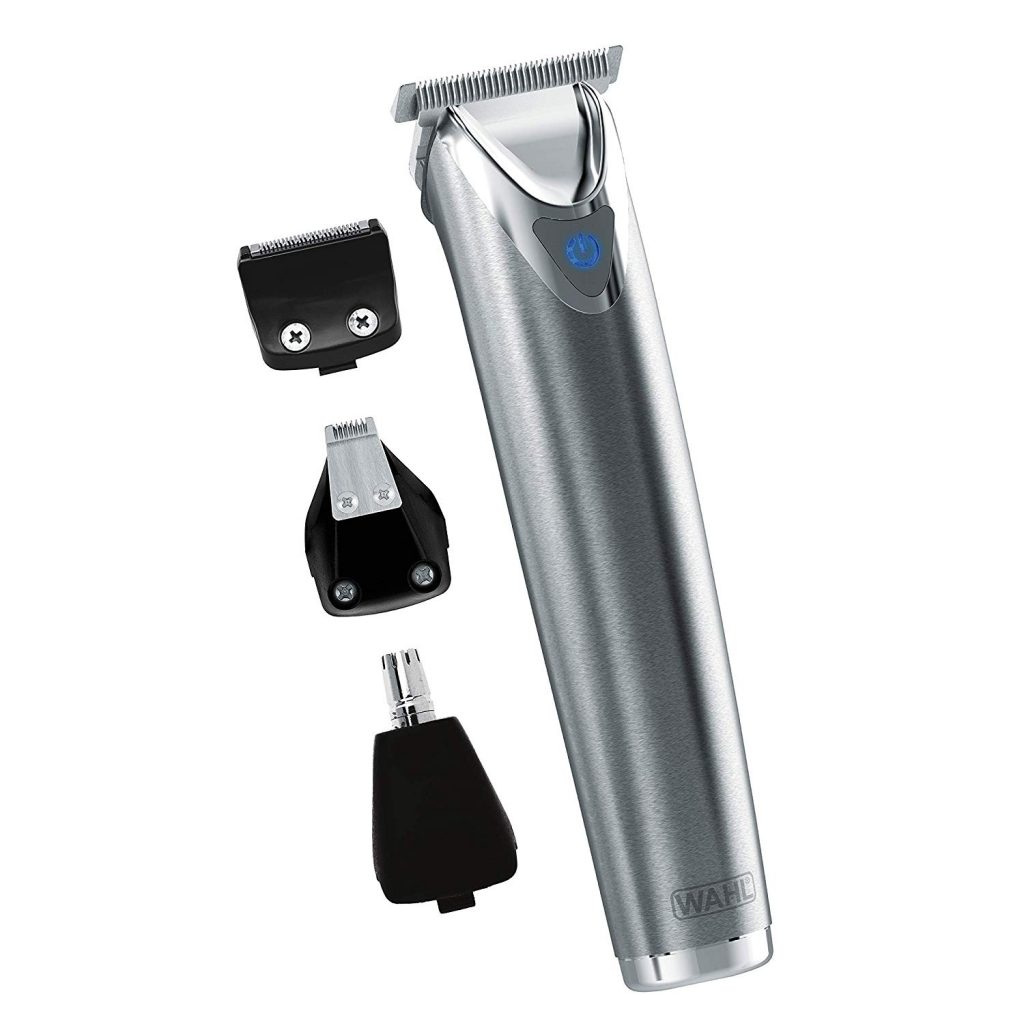 Wahl is a brand that has been known and used by hair professionals since the year 1919. It is a brand that comes recommended by many.
The Wahl #9818 trimmer is probably the most stylish one out there in the market today. The trimmers main body or housing is made from stainless steel. Because of this it looks sleek and elegant. Not only does the housing of this trimmer look great, but it is also quite comfortable to hold. The handle on this device is ergonomic, making trimming your beard much easier for your hands – especially if they are shaky. This well-designed to handle helps to reduce the feeling of pain and fatigue after using this device for a long time.
For your convenience, the Wahl trimmer includes blades that are self-sharpening, making it an economic choice for many. The blades on this device will remain sharp and even good as new, even after many years of use. The sheets of the blades move over each other very slightly in order to remove the dirt from the blades. As this process occurs, the blades then sharpen each other. Therefore, even after years of work you will continue to enjoy this trimmer.
This trimmer is stylish and sleek.
To fully charge this trimmer, you only need to leave it plugged in for one hour. The best part is it offers a total run time of 4 hours on one singular full charge. This is something that not a lot of other trimmers can do. The battery also lasts for years lessening your worry about needing to replace it every so often. On the body of this device is a smart LED display, indicating when your trimmer needs to be plugged in and charged. This unit is versatile, able to be charged via a 220 Volt or 110 Volt power outlet. If you were in a rush, you can also use the quick charging option, a feature that lets you quick charge this unit for only one minute. One-minute charge will be sufficient to trim your entire beard, but it is only really good for one use.
When you purchase the Wahl 9818, you get a T-Blade for your mustache and your beard, as well as a precision attachment (detailer) to help you work on fine details for your facial hair. On top of this, you also get different combs in varying sizes, a brush for cleaning, blade oil to lubricate your trimmer's blade sheets, as well as the carry bag to store everything. This makes this device great for traveling as well.
Pros and Cons
PROS
✔️This trimmer offers unbeatable battery life and fast charging options, making it possible to use it when you are in a big rush
✔️There are smart LED indicators to help you know the status of your device
✔️A universal socket adapter is included, which is great for traveling
✔️This device can be used when it is connected to a cable
CONS
❌The trimmer head cannot be rinsed under running water, making this device a little hard to clean
❌You must clean this trimmer with a dry brush regularly, otherwise you will experience rusting in the blades
❌Maintenance is a bit more tedious than other trimmers
Our Verdict:
This device comes with many advantages and disadvantages. How could you say no to a battery life that is unbeatable, lasting about 4 hours on a single charge? In a rush, this device works great because you can charge it for one minute and then trim your entire beard after. This trimmer is also amazing for traveling, with how portable and versatile it is. However, if you want an easier time rinsing and cleaning off the blades of your trimmer, this may not be the choice – this is because other users have experienced rust on the blades after rinsing it under running water. If you want the portability and the battery life, the Wahl is unbeatable. However, just be ready to manually maintain this device with a dry brush every so often. Still, we can recommend this device to you, simply because of its quality and its reputation. 
Wahl 5-Star Cord/Wireless Magic Clip 8148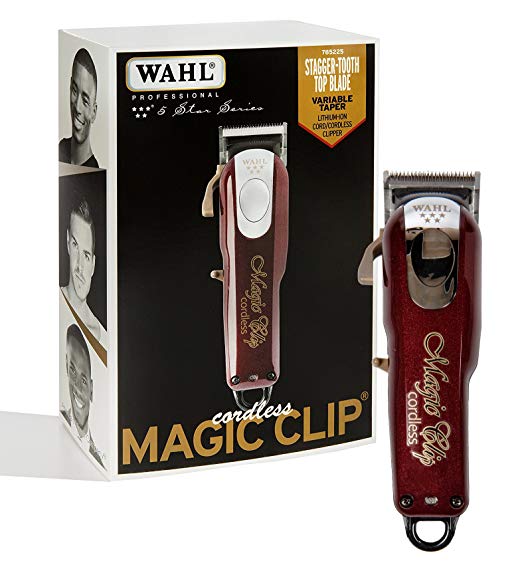 If you have a long beard, this trimmer might just be the magical answer to all your needs. The Wahl 5-Star trimmer was made and tailored for stylists, barbers, and hairdressers. But thankfully, you don't have to be a professional to be able to use this device.
Fully charged, the 5-Star will allow you to use it for just about 90 minutes. It is a long enough amount of time to allow you to properly trim and detail your long beard. However, if you run out of battery in the middle of working on your facial hair, you can fortunately use the cable that comes with this device. The truth is however, most people who use this device will not end up needing to use it with the cable. The cable is usually included, so if you need to use this day in and day out, this is for you.
For your convenience, the manufacturer of this product has added a lever on the side of the trimmer's head, making it easier for you to make adjustments that allow for haircut effects such as fades.
This trimmer works for professional and home use.
This device uses unique blades that are stagger-tooth in design. These blades begin to cut faster when you start moving them through your hair quicker. On top of that, the professional design of this device makes sure that cutting hair is effortless no matter how thick – therefore, you won't experience any sort of tugging or pulling. It's no wonder that the 8148 is a device that comes recommended for people who have longer beards.
This trimmer, despite being heavy-duty enough for professional use, is compact and lightweight, weighing only 10 ounces. The handle is ergonomically designed, and because of this it is possible for you to hold it more comfortably. The switch to turn this device on is on the side, which is convenient for some, but cumbersome for left-handed people. For your convenience, if you want to hang this device on a hook there is a loop at the base to make it easier for you to do this.
Pros and Cons
PROS
✔️This device is great for everybody – beginners and experts alike
✔️The housing is made of a hard plastic, making it durable enough to survive some accidental falls
✔️Very convenient, can be used cordless or with a cord
✔️The trimmer has adjustable blades so you can create different hairstyles and effects
✔️The motor on this device is quite durable, allowing it to be used for long periods of time
CONS
❌The handle is not designed as ergonomically as other products listed on this review
❌Because it is quite light, sometimes this trimmer may be somewhat difficult to maneuver
❌When used in corded mode, it is much less powerful than when it is used cordless
Our Verdict:
Whether you are a professional or you are a beginner at trimming beards and facial hair, we can definitely recommend the Wahl 5-Star to you. The device is durable, making it great to use for long periods of time, in wired or even wireless mode. This device is a little lighter than you would expect however, so do be careful as you adjust so that you don't end up over maneuvering your trimmer. This device does have its disadvantages, as we have listed above. We can definitely recommend this product – if you can get over the body not being as ergonomic as others on this list. Also if you don't mind it running less powerfully when corded instead of cordless, of course.
Conclusion
Having the right tools for grooming yourself is paramount to getting the results that you desire. If you want to be able to have a clean-cut effect, then it is important you make sure you have made the right choice among the best beard trimmer for long beards. Hopefully, our long and in-depth look at some of the best products out there on the market today have helped you to make a more informed decision when it comes to your purchase. No matter what product you buy, just don't forget to properly maintain it and use it according to what the manual says, so that you can have a device at lasts you for many, many years to come.